Reform or Revolution
Dr. Paul on Secession
Texas v. White - 74 U.S. 700 (1868
In the American end times, our government will take one of two forms.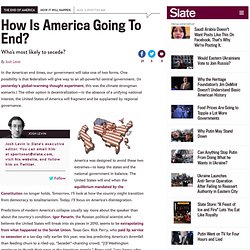 How is America going to end? Who most likely to secede?
Imagine Breaking Up The United States
15 States including Texas have filed a petition to secede from the United States - Dallas Top News
As of Saturday November 10, 2012, citizens from 15 States have petitioned the Obama Administration for withdrawal from the United States of America in order to create its own government. States following this action include: Louisiana, Texas, Montana, North Dakota, Indiana, Mississippi, Kentucky, North Carolina, Alabama, Florida, Georgia, New Jersey, Colorado, Oregon and New York. These States have requested that the Obama Administration grant a peaceful withdrawal from the United States.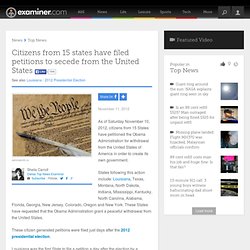 Full List - Top 10 Aspiring Nations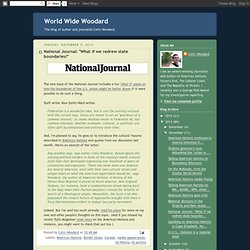 The new issue of the National Journal includes a fun "what-if" piece on how the boundaries of the U.S. states might be better drawn if it were possible to do such a thing.
National Journal: "What if we redrew state boundaries?"
The 'United' States? A house divided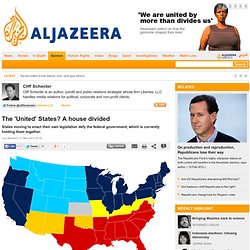 Columbus, OH - In the wake of the 2004 presidential election, a satirical map of "red" and "blue" states became an instant online hit.
The 1990s saw the rise and fall of the virulently antigovernment "Patriot" movement, made up of paramilitary militias, tax defiers and so-called "sovereign citizens."
The Second Wave: Return of the Militias | Southern Poverty Law Center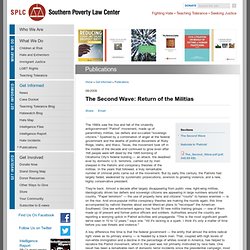 by Jonathan M. Kolkey by Jonathan M. Kolkey Recently by Jonathan M.
Secession: Getting It Right This Time Around by Jonathan M. Kolkey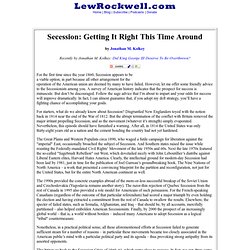 Imagine if German politicians, in order to bolster their chances of being elected chancellor, had to declare publically that they could see nothing wrong with flying the swastika, Germany's flag during the "War of British Aggression".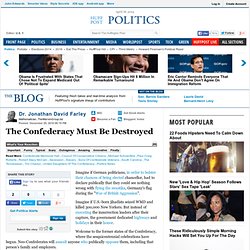 Dr. Jonathan David Farley: The Confederacy Must Be Destroyed
At 9:02 a.m. on April 19, 1995, a 7,000-pound truck bomb, constructed of ammonium nitrate fertilizer and nitromethane racing fuel and packed into 13 plastic barrels, ripped through the heart of the Alfred P. Murrah Federal Building in Oklahoma City. The explosion wrecked much of downtown Oklahoma City and killed 168 people, including 19 children in a day-care center.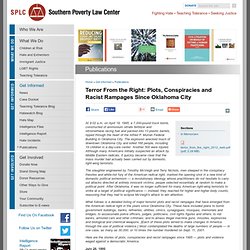 Terror From the Right: Plots, Conspiracies and Racist Rampages Since Oklahoma City | Southern Poverty Law Center
2009 DHS Report on Rightwing Extremism
America's 2nd Revolutionary War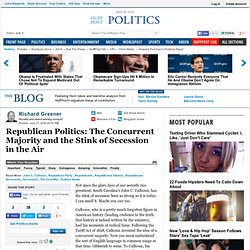 Richard Greener: Republican Politics: The Concurrent Majority and the Stink of Secession in the Air
Not since the glory days of our seventh vice president, South Carolina's John C.
Middlebury Institute
Divided We Stand Together -1/3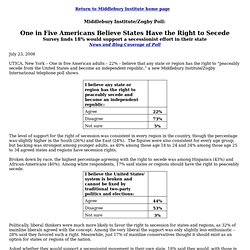 Middlebury Institute/Zogby Poll: One in Five Americans Believe States Have the Right to SecedeSurvey finds 18% would support a secessionist effort in their stateNews and Blog Coverage of Poll
Zogby Secession Poll 2008
Liberal Exodus? (Blue State Secession With Poll)
Rumblings on the Right
Christopher Ketcham: Vermont Revolutionaries and the Rise of a Green Tea Party
The most radical antiwar candidate in the US is not Dennis Kucinich or Rand or Ron Paul or any of the usual suspects.
Cascadia Commons Benevolent Society
CascadiaNow! -- The Cascadian Independence Project
Cascadian Order of Self-Determination Archives
Call an Article V Constitutional Convention to Save Our Democracy
Article V of the Constitution gives the states the power to call for a Constitutional Convention.
The 99% Declaration - The 99% Declaration
Photo: www.bethanybond.com We hold these truths to be self-evident: That the real, physical world is the source of our own lives, and the lives of others.
A New Declaration
An address delivered at Wells' Memorial Hall, Boston, Mass., January 26, 1896
1896: Reform or Revolution?
A People's Constitution, by Howard Zinn
Occupy Wall Street Movement: Its Roots, Ideological Features, and Future
Our Invisible Revolution
From Global Justice Movement to the Occupy Wall Street Movement and Beyond
Arab Uprisings: Heralds of a New Era of Social Revolutions in 21st Century?
America: Republic or Democracy?
'We the People' Loses Appeal With People Around the World
Let's Give Up on the Constitution
A Multimedia Introduction to the Communist Manifesto
What Makes a Revolution?