Liquid optics
Soap Bubble Interference Patterns
Strobe light makes water drops fall in slow motion
Levitating Water
Aquafect Glass Flowers & Laminar Jumpers
Sundance Water Design Inc.- Leaping fountains,Jumping fountains,Architectural fountains,Interactive fountains,Water Features,Custom Fountains,Laminar Fountains,Laminar Jetss,Fountain Nozzles,Play Fountains,Water Fountains,Play Fountains,Dancing Fountains,
IMPORTANT: Use house pressure if kids will attempt to drink from the jets. M ount the jets so they are not an impaling hazard. The valves need adequate pump screening on recirculating systems. Locate t he controller indoors or in an outdoor enclosure. W iring practice must conform to national, state and local electric codes.
Leaping and Jumping Jet Fountains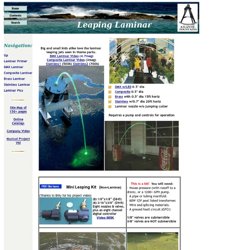 Home Made Laminar Water Jet $300.00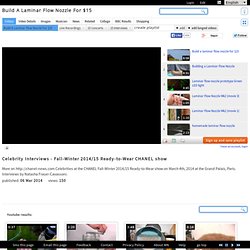 Send this Playlist by SMS Email this Page Order: Reorder Duration: 8:08
Build A Laminar Flow Nozzle For $15
Laminar Flow Fountain
Dancing water Entertainment and Fountain Technology for Pond, Patio & Garden.
Lima - Magical water circuit - Circuito Magico del Agua