Flipped Classroom
Flipped Learning Founders Set the Record Straight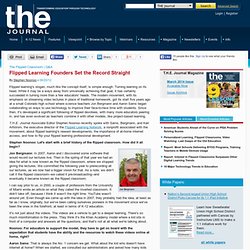 The Flipped Classroom | Q&A
Promise of the 'flipped classroom' eludes poorer school districts
By Sarah Butrymowicz Jasmine Redeaux (left) and Nakesha Wilkerson team up to finish a worksheet in a "flipped" chemistry class at their Macon, Ga., high school, while other classmates work on a lab. (Photo by Sarah Butrymowicz)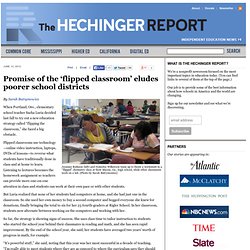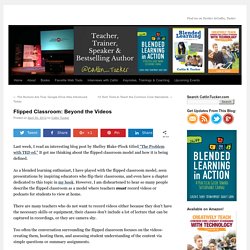 Last week, I read an interesting blog post by Shelley Blake-Plock titled "The Problem with TED ed."
Flipped Classroom
Flipped Classrooms
How flipping works for you
Blended Learning - Flipped Classroom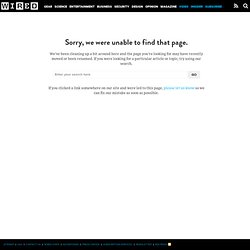 In 2004, a former hedge fund analyst began recording and posting videos of himself explaining some math techniques.
I recently attended the ISTE conference in San Diego, CA. While I was only there for about 36 hours, it was easy for me to pick up on one of the hottest topics for the three-day event.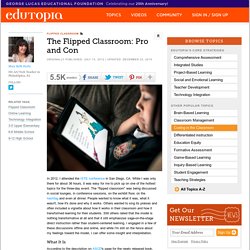 Flipped classrooms
Teacher Shelley Wright is on leave from her classroom, working with teachers in a half-dozen high schools to promote inquiry and connected learning. I think the revised Bloom's Taxonomy is wrong. Hear me out.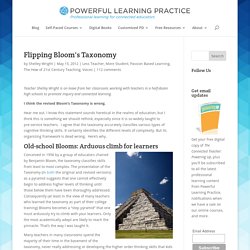 Flipped Classroom - what it is and my reservations of it
"Flipped Classroom" is a relatively new idea, where the teacher works with students on projects and what would be typically homework instead of a lecture and the students get the "lecture" at home, usually through a video (like from Kahn Academy).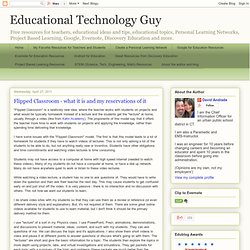 I have jumped onto the Flipped Classroom craze to take the opportunity to propose and discuss an experiential model of education (ala John Dewey and Kurt Hahn), one that has experience at its core and provides learning options for all types of learners. In this model, the videos, as they are discussed in the flipped classroom. support the learning rather than drive it.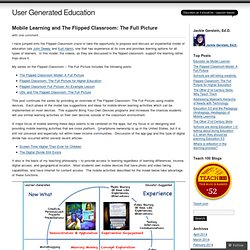 Mobile Learning and The Flipped Classroom: The Full Picture
Editor's Note: This is Part 3 of 3 of The Flipped Class Series at The Daily Riff.
The Flipped Class Revealed
Can the Flipped Classroom Benefit Low-Income Students?
Teaching Strategies
Flipped Learning Founders Set the Record Straight
The Flipped Classroom | Q&A
How to implement the 'flipped classroom'
Read more by eSchool News
The Flipped Classroom is Hot, Hot, Hot
There are news stories and web articles about reverse instruction, or 'flipping the classroom', published just about every day lately.
Five Reasons I'm Not Flipping Over The Flipped Classroom | The 21st Century
Inside the Flipped Classroom
Curriculum Update | In Print Inside the Flipped Classroom
'Flipped Classroom' Model's Promise Eludes Poorer School Districts
Three Questions to Consider Before We All Flip
The "Flipped Classroom" starts with one question: what is the best use of my face-to-face class time?
Implementing a Flipped Classroom: An Instructional Module
Flipped Classrooms — Tennessee Teaching and Learning Center
Humanizing the Classroom by Flipping the Homework versus Lecture Equation
'Flipped' classes take learning to new places
Flip this lesson! A new way to teach with video from TED-Ed