Flipped Classroom
As we move into a more self-paced unit, some of you independent readers are going to want to move ahead in the videos. I am putting all of the videos in a playlist on sophia.org for the novel Night. Think of the tutorials as the daily lesson in class that we have "flipped" and moved home for homework. The tutorials are then put into a playlist, or a unit of study.
Mrs.Carter's HLA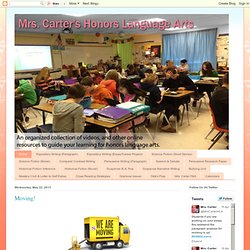 Flip Your Classroom Reach Every Student in Every Class Every Day By Jonathan Bergmann and Aaron Sams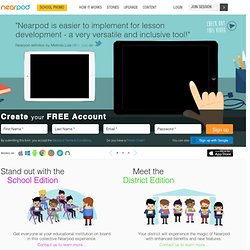 Homework has finally arrived!
Posted by The Nearpod Team on 2nd May 2013 Update your Nearpod app now to enjoy this highly anticipated feature. Your students can now navigate your Nearpod Presentations at their own pace. With Nearpod Homework, teachers can share their NPPs with their students via email, and students can review them at their own pace by simply swiping through the slides. Once at home – or even on the go – students can launch the presentation from their own devices and interact with it by reviewing videos, slideshows, and webpages. Students can also submit responses to teacher-made Q&As, Quizzes or Open-Ended questions.
Videos For Flipped Classrooms
LearnZillion
Disclaimer If a quiet classroom of students sitting neatly in rows, in alphabetical order, is your idea of a successful learning environment, you might want to click the next button on your browser. But if you are interested in learning how to create an engaging, student-centered learning environment, this might be the blog for you! Students in my classroom actively participate in the learning process as independent thinkers, but they don't all come to me on the first day of school that way. I start on day1 establishing classroom norms and procedures and spend the better part of the first week setting the standard for 6th grade English Language Arts in room B317. Students work collaboratively to find shared similarities during a team building activity!
WirEDteach — The Buzz on All Things Teaching and Technology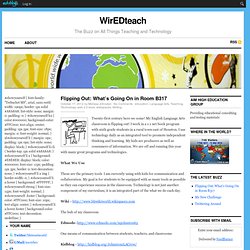 16 Flipped Classrooms In Action Right Now
Flipped classrooms require educators to reconstruct traditional classrooms by sending lectures home and providing more face-to-face time at school, but elementary- through university-level instructors are finding good reasons to try them out. Frequently traced back to Colorado teachers Aaron Sams and JonathanBergmann, who were quick to experiment with posting videos online in 2008, the flipped classroom concept is small, simple and has shown positive results. The general idea is that students work at their own pace, receiving lectures at home via online video or podcasts and then devoting class time to more in-depth discussion and traditional "homework." Where: Clear Brook High School, Harris County, Texas At the beginning of the school year, geometry teacher Leticia Allred told her Pre-AP Geometry class at Texas' Clear Brook High School that their only homework would be watching 15-minute YouTube videos and taking notes.
Edcanvas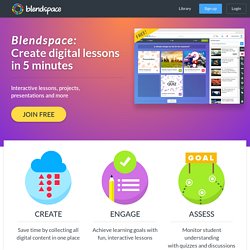 Blend your classroom. Make the most of class time Organize Collect web resources in one place and share with just one link Assess Measure student understanding with built-in quizzes
unnamed pearl
21st Century Learning Tools : Flipped Class Conference 2011
Friday Institute for Educational Innovation - FIZZ
Concluded in August, 2013. The FIZZ method refers to the use of extraordinarily simple video recording techniques that educators can use to transform teaching and learning. This method can be used to successfully flip the classroom by having teachers film and reflect on their lecture content. These teacher-created videos give students the ability to watch the lecture outside of the classroom, freeing up class time that can be used to challenge students to think critically and creatively.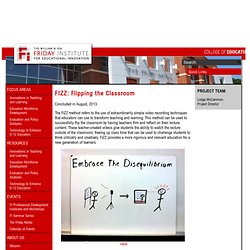 What If Students Don't Watch The Videos? - FAQ - Katie Gimbar's Flipped Classroom
Why I Flipped My Classroom
Flipped Classroom Infographic #flippedclassroom #blendedlearning #edtech
12 Screencasting Tools For Creating Video Tutorials
Ever wondered how people show you so clearly what is happening on their computer, like in the Photoshop Video Tutorials we shared with you? Thanks to screencasting software, anyone can do it. So what's stopping you now from making your own how-to videos? Try out one of these 12 tools and get to making your first video! Free
Camtasia screen recorder from TechSmith
Jing, screenshot and screencast software from TechSmith
Flipped Classroom | The Flipped Classroom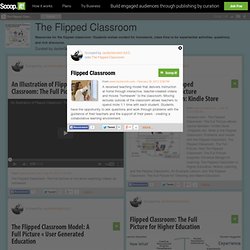 As I describe in The Flipped Classroom: The Full Picture, I believe, as Chris Dede does, that the problem with the flipped classroom is that the major focus is on the didactic presentation of information, that it is still at the center of the learning experience. The flipped classroom, given that is currently getting so much press, provides an opportunity to change the paradigm of learning, whereby learning–by-doing, the experiences along with the understanding and application of those experiences become core to the learning process.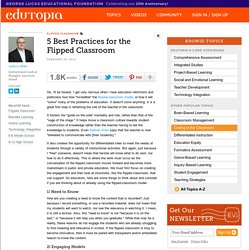 Ok, I'll be honest. I get very nervous when I hear education reformists and politicians tout how "incredible" the flipped classroom model, or how it will "solve" many of the problems of education. It doesn't solve anything.
5 Best Practices for FC
How to Flip Your Classroom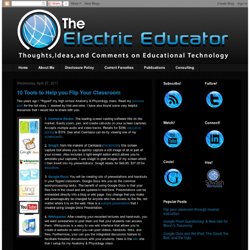 Two years ago I "flipped" my high school Anatomy & Physiology class. Read my previous post for the full story. I learned by trial and error.
10 Tools to Help you Flip Your Classroom
FC Management Practices
Naima Khandaker, Battelle for Kids Human Capital Specialist, contributed to this post. Naima is a former teacher and current education policy nerd who believes that one day soon, education will be great for all kids. Most school districts across the country operate under a similar organizational structure.
K-12 Education & Learning Innovations with Proven Strategies that Work
Due to Khan Academy's popularity, the idea of the flipped classroom has gained press and credibility within education circles. Briefly, the Flipped Classroom as described by Jonathan Martin is: Flip your instruction so that students watch and listen to your lectures… for homework, and then use your precious class-time for what previously, often, was done in homework: tackling difficult problems, working in groups, researching, collaborating, crafting and creating. Classrooms become laboratories or studios, and yet content delivery is preserved. Flip your instruction so that students watch and listen to your lectures… for homework, and then use your precious class-time for what previously, often, was done in homework: tackling difficult problems, working in groups, researching, collaborating, crafting and creating.
The Flipped Classroom Model: A Full Picture