Mobile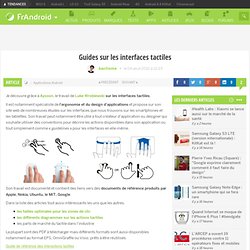 Je découvre grâce à Aysoon, le travail de Luke Wroblewski sur les interfaces tactiles. Il est notamment spécialiste de l'ergonomie et du design d'applications et propose sur son site web de nombreuses études sur les interfaces que nous trouvons sur les smartphones et les tablettes. Son travail peut notamment être utile à tout créateur d'application ou designer qui souhaite utiliser des conventions pour décrire les actions disponibles dans son application ou tout simplement comme "guidelines" pour les interfaces en elle-même. Son travail est documenté et contient des liens vers des documents de référence produits par Apple, Nokia, Ubuntu, le MIT, Google.
Guides sur les interfaces tactiles « FrAndroid Communauté Android
Tour de Mobile Flex – Now Available for Android!
AIR * Setting mobile application properties
We Recommend These Resources
Building a mobile RSS reader with Flash Builder "Burrito"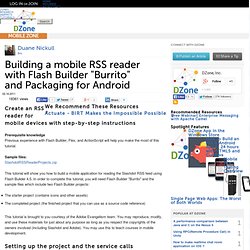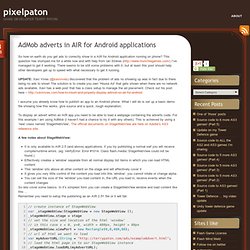 So how on earth do you get ads to correctly show in a AIR for Android application running on phone?
AdMob adverts in AIR for Android applications « pixelpaton
AIR pour iOS – Compiler une MobileApplication Flex 4.5 pour iOS avec PFI - Adobe Flex Tutorial - Tutoriaux Flex Builder, MXML, ActionScript, AS3
Optimize Flash Content and Improving Usability on Mobile Devices - Part #1 - DevelopRIA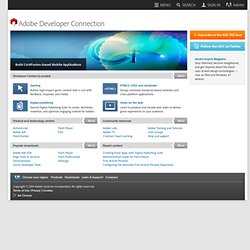 In this 3-part series for InsideRIA I will be covering best practices, tips, tricks, and other useful information to help you create optimized Flash applications for mobile devices. In this part I will cover the following subtitles:
Optimize Flash Content and Improving Usability on Mobile Devices - Part #1 - DevelopRIA