Mobile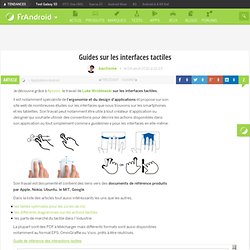 bactisme • le 04 aout 2010 à 12:23 04 aout 2010 Tous ses articles Vous ne me voyez pas souvent, je suis le mécanicien de FrAndroid ! Je suis celui qui fait que tout tourne rond et sans accrocs, tout simplement !
Guides sur les interfaces tactiles « FrAndroid Communauté Android
Tour de Mobile Flex – Now Available for Android!
AIR * Setting mobile application properties
Create an RSS reader for mobile devices with step-by-step instructions Prerequisite knowledgePrevious experience with Flash Builder, Flex, and ActionScript will help you make the most of this tutorial. Sample files:SlashdotRSSReaderProjects.zip This tutorial will show you how to build a mobile application for reading the Slashdot RSS feed using Flash Builder 4.5.
Building a mobile RSS reader with Flash Builder "Burrito"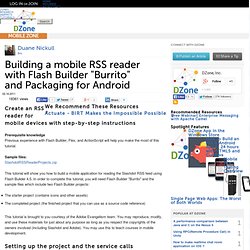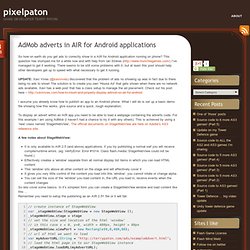 So how on earth do you get ads to correctly show in a AIR for Android application running on phone? This question has stumped me for a while now and with help from Ian Stokes (http://www.munchiegames.com/) I've managed to get it working. There seems to be still some problems with it, but at least this post should help other developers get up to speed with what necessary to get it running. UPDATE: Xavi Vives (@xavivives) discovered that the problem of ads no showing up was in fact due to there being no ads to show!
AdMob adverts in AIR for Android applications « pixelpaton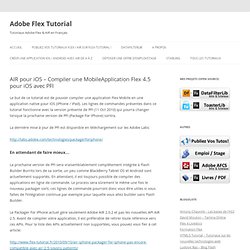 AIR pour iOS – Compiler une MobileApplication Flex 4.5 pour iOS avec PFI - Adobe Flex Tutorial - Tutoriaux Flex Builder, MXML, ActionScript, AS3
Le but de ce tutorial est de pouvoir compiler une application Flex Mobile en une application native pour iOS (iPhone / iPad). Les lignes de commandes présentes dans ce tutorial fonctionne avec la version présente de PFI (11 Oct 2010) qui pourra changer lorsque la prochaine version de PFI (Package For IPhone) sortira. La dernière mise à jour de PFI est disponible en téléchargement sur les Adobe Labs: http://labs.adobe.com/technologies/packagerforiphone/ En attendant de faire mieux… La prochaine version de PFI sera vraisemblablement complètement intégrée à Flash Builder Burrito lors de sa sortie, un peu comme BlackBerry Tablet OS et Android sont actuellement supportés.