Flash
Get flash to fully experience Pearltrees
This circuit is an astable multivibrator , or oscillator . The two transistors are cross-coupled in such a way that the circuit switches back and forth between two states. In one state, the base of Q1 is about one diode drop above ground, allowing a base current to flow. This keeps Q1 switched on, in saturation mode, allowing a current to flow through the collector, keeping Q1's collector voltage low, and discharging C1. Q2 is switched off, because its base voltage is not high enough to switch it on.
Olivier ERNST F5LVG Retour sur la page d'accueil : de multiples autres documents sur la radio vous attendent L'emploi des bobinages est fréquent dans les réalisations d'amateurs. S'il existait autrefois des bobinages dans le commerce, ce n'est plus le cas aujourd'hui. Heureusement il est possible de réaliser facilement des bobines de bon rendement avec des éléments simples.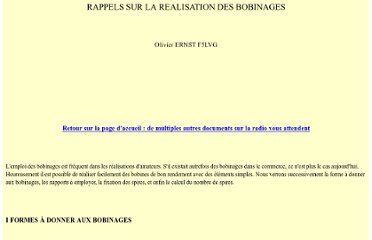 Relaxateur à néon La résistance interne d'une ampoule à néon éteinte est pratiquement infinie. Elle ne s'allume que si la différence de potentiel entre ses bornes est supérieure à la valeur V A (potentiel d'allumage voisin de 65 V). Le gaz ionisé dans l'ampoule est faiblement conducteur est la lampe se comporte alors comme une résistance R N . La lampe reste allumée tant que la différence de potentiel entre ses bornes reste supérieure à V E (potentiel d'extinction voisin de 55 V).
This circuit is an oscillator that generates a square wave . The op-amp starts with its two inputs in an unknown state; let's say it starts with + slightly higher than –. The op-amp greatly amplifies this difference, bringing its output to the op-amp's positive power supply voltage, its maximum output (15 V in this case). The two 100k resistors act as a voltage divider which put the + input at half the output voltage, or 7.5 V. The – input is at ground, lower than the + input, so the op-amp output stays at 15 V.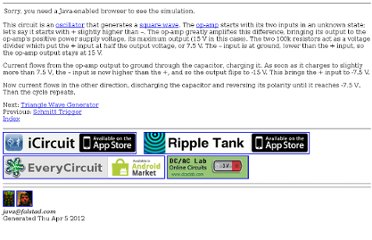 Multivibrateur à transistors L'animation : Sur l'animation, les transistors sont modélisés par la jonction base-émetteur et par un interrupteur (fermé si le transistor est saturé, ouvert s'il est bloqué). La résistance de charge du collecteur est figurée par une ampoule. Les pointillés blancs représentent le courant collecteur des transistors saturés.
This page presents general information and tips for using the LM555 timer and devices with other letter prefixes. There will be minor internal circuitry differences between 555 timer IC's from the various manufacturers but they all should be useable for the circuits on this page. If you would like to use any of these ideas, take the time to do some testing before using the LM555 timer in an actual circuit. All of the solutions on this page can also be applied to the LM556 - Dual timer. Some of the circuits on this page were developed just to see if they would work and have no intended use.
Après avoir vu les fonctionnements des multivibrateurs astables, monostables et bistables à tubes électroniques ( 22ème leçon ), nous allons voir les multivibrateurs à base de transistors. Étant donné que les montages similaires à tubes électroniques sont tous étudiés dans les leçons théoriques 21 et 22 ( voir sommaire électronique de base ), donc groupés dans deux leçons, il est inutile de revoir ceux-ci dans cette théorie. Qu'il s'agisse de multivibrateur à tubes ou à transistors , on distingue trois types de montage :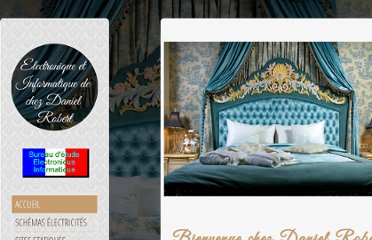 NE555 monté en astable Description : Ce circuit créé en 1970 est toujours utilisé. Il comporte un réseau de trois résistances de précision R = 5,0 kΩ montées en diviseur de tension, deux comparateurs, une bascule RS, un amplificateur de sortie et un transistor à collecteur ouvert. Il existe des versions doubles (NE556), quadruples (NE558) et CMOS (7555).
Oscillogrammes : Calibre de la base de temps : 50 ms / division Calibre d'amplitude de la voie 1 : 50 V / division Calibre d'amplitude de la voie 2 : 10 V / division Toutes les mesures ont été réalisées avec une sonde différentielle, en respectant les normes en vigueur. Une personne non habilitée n'a pas le droit d'intervenir sur un montage alimenté en basse tension. Pour ces relevés, les valeurs des composants sont : - R1A et R1B = 470 k - R2A et R2B = 15 k La voie 1 représente la tension aux bornes du condensateur C1 : Le condensateur se charge au-travers de R2A, R2B, D2 et D1 lors de l'alternance positive, lorsque la tension secteur est supérieure à celle du condensateur.
Les flash des appareils jettable sont assez facile a recuperer mais pour pouvoir s'en servir il faut pouvoir les syncroniser avec un appareil photo. Voici le demontage d'un appareil photo pour récuperer le circuit du flash : Attention : Pour fonctionner un flash utilise de la haute tension et le condensateur du flash peut rester charger très longtemps même une fois la pile retirée. Pour éviter les problèmes il convient de toujours bien décharger les condesateurs avant de manipuler les circuits. Pour cela j'utilise un gros tournevis pour mettre en court-circuit le condensateur.
Copyright © 1994-2013 Samuel M. Goldwasser --- All Rights Reserved --- For contact info, please see the Sci.Electronics.Repair FAQ Email Links Page . Reproduction of this document in whole or in part is permitted if both of the following conditions are satisfied: This notice is included in its entirety at the beginning. There is no charge except to cover the costs of copying.
Comment fonctionne un Appareil photo jetable avec le FLASH ? 1.0.Notions sur les appareils photos compacts Vous avez tous utilisé un appareil photo jetable un jour , il y en a de toutes les couleurs avec ou sans flash , étanche , panoramique. Qui a t 'il a l' intérieur et surtout quel est ce bruit que l' on entend lorsque le flash fonctionne ?.... 1.2 Principe du prêt à photographier Les appareils prêt à photographier sont des appareils photos que l' on utilise qu' une seule fois, en effet vous l' achetez , vous faite vos photos puis votre laboratoire va casser la partie basse pour extraire la pellicule .Ils sont conçus pour ne pas resservir et sont détruits .