Paiement
The Future of Money is Dependent on the Transparency of Data - Tradeshift. Today I'm speaking at the Future of Money & Technology summit.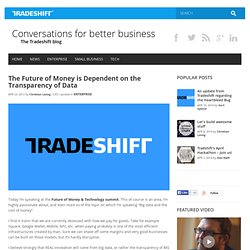 This of course is an area, I'm highly passionate about, and even more so of the topic on which I'm speaking "Big data and the cost of money". I find it ironic that we are currently obsessed with how we pay for goods. Take for example Square, Google Wallet, Mobile, NFC, etc. when paying probably is one of the most efficient infrastructures created by man. New Payment APIs: a Survey of Innovation, Pride, and Suspicion. Exchanging currency for items or services is such an old time tradition and yet there are so many ways it can be done.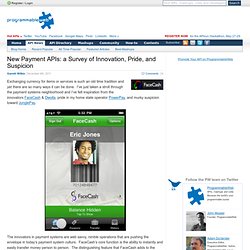 I've just taken a stroll through the payment systems neighborhood and I've felt inspiration from the innovators FaceCash & Dwolla, pride in my home state operator PowerPay, and murky suspicion toward JunglePay. The innovators in payment systems are web savvy, nimble operations that are pushing the envelope in today's payment system culture. FaceCash's core function is the ability to instantly and easily transfer money person to person. API Directory - ProgrammableWeb. Google/TXVIA « FinVentures. 3 April 2012 Congrats to Google and the TXVIA team.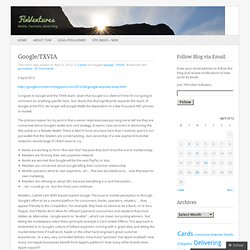 Given that Google is a client of mine I'm not going to comment on anything specific here.. but clearly this deal significantly expands the reach of Google at the POS. No longer will Google Wallet be dependent on a few thousand NFC phones in market. The Five Faceless Companies That Control Your Money - Business Insider. In late March, a payments processor called Global Payments experienced an enormous security breach, and 1.5 million credit and debit cards from Visa and MasterCard were compromised in the process.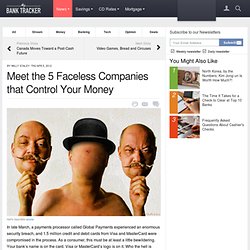 As a consumer, this must be at least a little bewildering. Your bank's name is on the card. Visa or MasterCard's logo is on it. Who the hell is Global Payments and why did they get to build the sloppy security protocols that led to my data being compromised? It's not a bad question, after all. Payment systems. YESpay API Profile. YESpay is a payments services company that provides secure EMV Chip and PIN credit and debit cards, and e-commerce card payment processing services.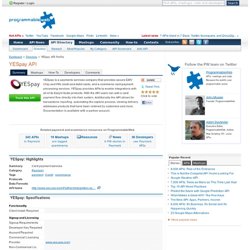 YESpay provides APIs to enable integrations with all of its EasyV-Suite products. With the API users can add a card payment flow directly into their system. Additionally the API allows for transactions reporting, automating the capture process, viewing delivery addresses products that have been ordered by customers and more. Grocery POS Systems: What to Look For | Getting started with business automation. Hits: 6256 Walk into a grocery store or your neighborhood specialty market today and you'll see the basics of a high level point of sale system: bar code scanners, thermal receipt printers, cash drawers, pole displays, and cashier work stations.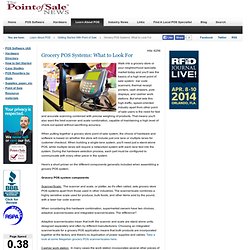 But what sets this high-traffic, speed-oriented industry apart from other point of sale users is the need for fast and accurate scanning combined with precise weighing of products. That means you'll also want the best scanner and scale combination, capable of maintaining a high level of check-out speed without sacrificing accuracy. When putting together a grocery store point of sale system, the choice of hardware and software is based on whether the store will include just one lane or multiple lanes for customer checkout. Payments Ecosystem: Online, In-Store, and Mobile Payments Market. The payments market is changing at lightspeed.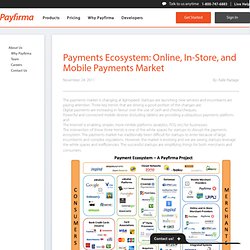 Startups are launching new services and incumbants are paying attention. Three key trends that are driving a good portion of the changes are: Digital payments are increasing in favour over the use of cash and checks/cheques, Powerful and connected mobile devices (including tablets) are providing a ubiquitous payments platform, and The Internet is enabling simpler, more nimble platforms (analytics, POS, etc) for businesses. The intersection of these three trends is one of the white spaces for startups to disrupt the payments ecosystem. Stripe. Powering products for the underserved | PayPerks. Where Security Fits In The Payments Processing Chain. With over 20 billion credit card purchase transactions in the US in 2009 and a highly complex system for processing those transactions, it's not surprising that credit card information is a key target for thieves.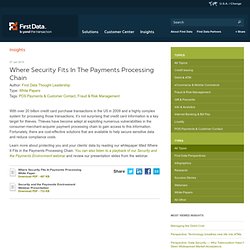 Thieves have become adept at exploiting numerous vulnerabilities in the consumer-merchant-acquirer payment processing chain to gain access to this information. Fortunately, there are cost-effective solutions that are available to help secure sensitive data and reduce compliance costs. Learn more about protecting you and your clients' data by reading our whitepaper titled Where It Fits in the Payments Processing Chain. You can also listen to a playback of our Security and the Payments Environment webinar and review our presentation slides from the webinar. Utiba. Corduro. iZettle.
Alternative Payments and Airlines: ATPS2009 Day 1 — Payments Vie. Alternative payments were the first topic of the day at ATPS 2009.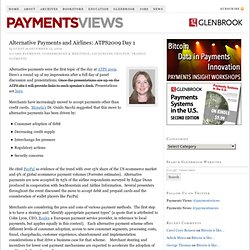 Here's a round up of my impressions after a full day of panel discussion and presentations. Once the presentations are up on the ATPS site I will provide links to each speaker's deck. Why cash is such a tough competitor; last cash markets « Non-Lin. I've been spending a bunch of time recently thinking about last cash markets – markets that are still dominated by cash payment – and how electronic payment can penetrate these markets.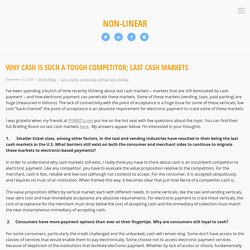 Some of these markets (vending, taxis, paid parking) are huge (measured in billions). The lack of connectivity with the point of acceptance is a huge issue for some of these verticals; low cost "back-channel" the point of acceptance is an absolute requirement for electronic payment to crack some of these markets. I was grateful when my friends at PYMNTS.com put me on the hot seat with five questions about the topic. You can find their full Briefing Room on last cash markets here. Small businesses use Square for credit deals. SAN FRANCISCO – Cabbie David Mendoza reaches for his iPhone and plugs in a spiffy Square Reader to process a ride's fare. "When customers see it, they either say 'What is that cool device?'
Or 'Hey, that's Square,' " says Mendoza, 32, who used to struggle with a bulky payment device that was slow to pay him and hard to store records on. Increase your sales - payment solutions for e-commerce | Klarna. Payment Wars - Corduro Takes on Square, PayPal. What's Next In Payments. The year of APIs and the reshaping of the payment ecosystem: Part 1 | eCommerce Tactics. Rating: 0.0/10 (0 votes cast) Hi all – Patrick Gauthier, head of market intelligence here. I recently joined the PayPal team, and am responsible for identifying industry trends and providing insight into clients' needs. It has been over a year since PayPal shook the payment industry with the introduction of Adaptive Payments and the PayPal X platform, making it an opportune time to evaluate how open payment platforms may help further weave payments in the fabric of commerce. Google goes for loyalty, not payments at the check-out.
French eftpos terminal manufacturer Ingenico has confirmed that it has been contracted by Google to provide retailer check-outs with NFC hardware capable of redeeming discount coupons downloaded over an Android phone. Ingenico CEO Philippe Lazare told AFP news agency that the kit will be used by Google during a series of live trials at selected retailers in New York and San Francisco. Earlier reports had assumed that the search engine giant was interested in expanding its remit to bricks and mortar payments. But Ingenico says the trials will instead focus on the willingness of consumers to redeem retailer tokens at the till. Customers signing up for the service would tap their phone at the check-out to redeem their tokens and reduce their shopping bill. FederalCARDActAppliestoLoyaltyandPromotionalOffersWhatYouNeedtoKnow.pdf (Objet application/pdf)
Paypal X aka Paypal As A Platform, Objectives for 2011: Mobile, Offline and B2B. Last week, Paypal did its second developer conference called Paypal X Innovate 2010 aka Paypal As A Platform (you can find all the information on Twitter with the hashtag #XInnovate). The two days were all about crazy announcements in all payment areas: new microtransaction pricing for digital goods, fixed price for B2B payments (50 cents per transaction), Paypal Mobile Express Checkout, Facebook will continue to use Paypal as an option for Facebook credits purchasing and which will also pay its developers through Paypal and last but not least, a partnership with Verifone to reach the offline world.
Even if Mobile transaction processed represents merely 1% of Paypal global transaction for 2010 ($700M expected in 2010 compare to $72B transaction processed globally in 2009), Paypal bets a lot on it in the near future and their new Mobile express checkout will be a real test for them. Banks and Credit Card Issuers beware – Apple just stole your business. MasterCard Announces Open Application Programming Interfaces (AP. Financements.
---