Future of banking
Get flash to fully experience Pearltrees
Written evidence submitted by Cut Loose 1. Cut Loose welcomes this inquiry as an important further contribution to the debate on the future shape of the banking industry. 2.
16 Jan 2012 http://www.reuters.com/finance/stocks/GDOT.N/key-developments/article/2447460 GDOT Bank - Federal Reserve Authorization GDOT bought Bonneville Bancorp for $15.7M + $14M Capital Infusion on 8 Dec 2011. Bonneville was a Utah licensed state bank and a Fed member (regulated by Fed).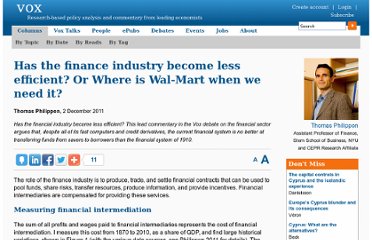 The role of the finance industry is to produce, trade, and settle financial contracts that can be used to pool funds, share risks, transfer resources, produce information, and provide incentives. Financial intermediaries are compensated for providing these services. The sum of all profits and wages paid to financial intermediaries represents the cost of financial intermediation. I measure this cost from 1870 to 2010, as a share of GDP, and find large historical variations, shown in Figure 1 (with the various data sources, see Philippon 2011 for details). The cost of intermediation grows from 2% to 6% from 1870 to 1930.
As we wrap up 2011 and head into the New Year, we asked some of our readers to share their thoughts on the banking industry in 2012. This past year has been filled with mobile and tablet innovation, but will that carry on in 2012? How will social media impact financial institutions in the next year?
http://www.bai.org/bankingstrategies/marketing-and-sales/marketing-and-promotion/digital-banking-gets-personal?