Complementary currencies
Monnaies complémentaires & alternatives - Future of money. Les monnaies virtuelles à la conquête de l'économie réelle | ParisTech Review. La dématérialisation de la monnaie n'a pas attendu Mark Zuckerberg: nos salaires et notre épargne ne nous sont pas comptés en pièces d'or, ni même en billets de banque, ce ne sont que des lignes inscrites sur nos comptes bancaires.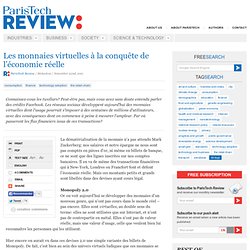 Il en va de même des transactions financières qui à New-York, Londres ou Francfort font et défont l'économie réelle. Mais ces montants petits et grands sont libellés dans des devises ayant cours légal. Monopoly 2.0 Or on voit aujourd'hui se développer des monnaies d'un nouveau genre, qui n'ont pas cours dans le monde réel – pas encore.
Welcome to the Metacurrency Project | The MetaCurrency Project. OFX Direct Connect Bank Settings - GnuCash. Here are some settings for banks and credit cards.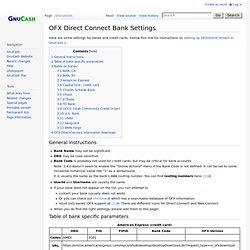 Follow this link for instructions on setting up OFXDirectConnect in GnuCash 2. General instructions Bank Name may not be significant. ORG may be case sensitive. The Future of Money. Stéphane Laborde (Galuel) Arthur Brock (artbrock) Oscurrency (oscurrency) Money : Future Agenda – A Global Debate. Posted on October 14, 2009 by Dave Birch Money has four basic functions, each of which can be implemented in a different way and so each of which are available for different types of change.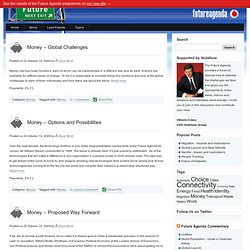 To me it is reasonable to consider these four functions and look at the global challenges to each of them individually and from there ask about the future. Read more. Un grand pas vers le nouveau monde. Pour savoir où nous allons, il faut savoir qui nous sommes, d'où nous venons.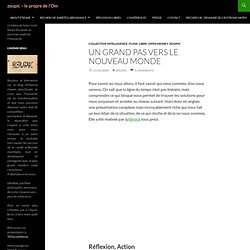 On sait que la ligne du temps n'est pas linéaire, mais comprendre ce qui bloque nous permet de trouver les solutions pour nous surpasser et accéder au niveau suivant. Voici donc en anglais une présentation complexe mais incroyablement riche qui nous fait un bon bilan de la situation, de ce qui cloche et de là où nous sommes. Elle a été réalisée par Artbrock sous prezi. Tales of Change. The Oil Drum: Campfire | Food-backed Local Money. Rethinking Food Security Most institutions, such as food aid NGOs or the US Department of Agriculture, express concern about food security in terms of the ability for low income people to purchase adequate food.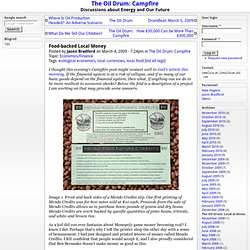 This is a valid way to think of food security. If food prices are high relative to income, or if other compelling expenses such as housing, health care and transportation also require a large portion of income, then securing adequate food on an individual or family level will be problematic. Programs that disperse food to the needy, redistribute income through tax policies, assist with the high costs of non-food expenses, guarantee a living wage, etc. all address distribution inequity and are laudable. Digital Money Forum: Innovation that matters for the majority.
[Dave Birch] That there is an interplay between the technology and monetary policy is obvious.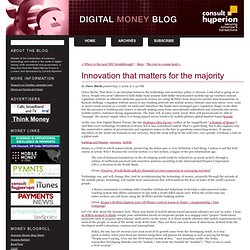 Look what is going on in Africa. People who aren't allowed to hold dollar bank account hold dollar-denominated mobile top-up vouchers instead. Ugandans without an effective electronic payment system are using M-PESA from Kenya to execute local transactions in Kenyan shillings. Congolese without access to any banking network use mobile money instead (and may never, ever, want or need a bank account as a result). In India and elsewhere the banks have managed put a regulatory finger in the dyke but the pressure is building and money is already leaking away from conventional institutions and networks into newer, mobile-centric, customer-facing organisations. Kashklash:: exchanging the future » Blog Archive » Locality, aga. Www.cyclos-france.org. Community Currency Magazine. Dividende Universel et TCP/IP.
D'aucuns, tel Jean François Noubel, promoteur du transitionner, voient la transformation en cours arriver à une pléiade de monnaies, interagissant entre elles via un protocole universel tel le HTTP ou le TCP/IP (c'est l'image utilisée).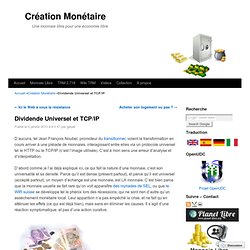 C'est à mon sens une erreur d'analyse et d'interprétation. D'abord comme je l'ai déjà expliqué ici, ce qui fait la nature d'une monnaie, c'est son universalité et sa densité. Parce qu'il est dense (présent partout), et parce qu'il est universel (accepté partout), un moyen d'échange est une monnaie, est LA monnaie. C'est bien parce que la monnaie usuelle se fait rare qu'on voit apparaître des myriades de SEL, ou que le WIR suisse se développe tel le phénix lors des récessions, qui ne sont rien d'autre qu'un assèchement monétaire local. Company - An exorbitant privilege? Implications of reserve curre. Sharp exchange rate volatility is a sign of stress in the world currency system and has reignited debate about whether the dollar will continue to be the world's primary reserve currency and what system could emerge in its place.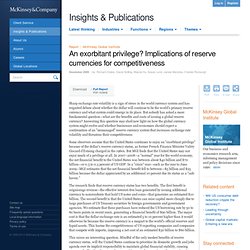 But nobody has asked a more fundamental question—what are the benefits and costs of issuing a global reserve currency? Answering this question may shed new light on how the global currency system might evolve and whether businesses and economies should expect a continuation of an "unmanaged" reserve currency system that increases exchange rate volatility and threatens their competitiveness Some observers assume that the United States continues to enjoy an "exorbitant privilege" because of the dollar's reserve currency status, as former French Finance Minister Valéry Giscard d'Estaing charged in the 1960s. But MGI finds that the United States may not enjoy much of a privilege at all.
Oikonomics: a social life of money: Brixton Pound - does local m. On the basis of the two reports (One from the Guardian and One from the Times) the jury is out on the social benefits of Transition Towns new local Brixton pound.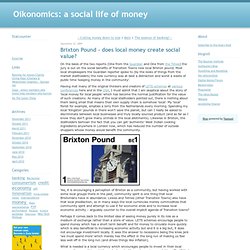 Most local shopkeepers the Guardian reporter spoke to (by the looks of things from the market stallholders) the new currency was at best a distraction and worst a waste of public time 'keeping money in the community'. Having met many of the original thinkers and creators of LETS schemes at various conferences here and in the USA, I must admit that I am skeptical about the story of 'local money for local people' which has become the normal justification for the value of such creations. As many of the local stallholders pointed out, there is nothing about them being small that means their own supply chain is somehow 'local'. My 'local' florist for example, empties a lorry from the Netherlands every morning. Oikonomics: a social life of money.
It is a recurring debate within most financial services companies to ask "does this constitute advice?'.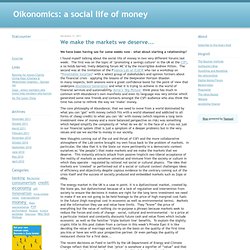 Advice in financial services is highly regulated as a result of Financial Services somewhat chequered history on the matter. You don't have to go very far back in history to find repeated examples of sharp sales practices masquerading as advice. My main 'stuck record' when talking to FS companies is to try to convince them that such practices reflect their own skewed view of the world and have very little to do with the meaning and value of advice in society at large. Open Money (openmoney) Alan rosenblith. IRS May Push for Tax Compliance in Virtual Worlds. By Sharon McLooneThe Washington PostThursday, January 8, 2009 The IRS soon may keep a closer watch on the thousands, if not millions, of small firms and the self-employed that have sprouted up in virtual worlds.
[1007.0515] Liquidity in Credit Networks: A Little Trust Goes a. Facebook-MOL Partnership Brings Virtual Credits to Real Stores | Facebook is partnering with MOL Global to deliver a new way to buy Facebook credits--in person at a MOL-connected store. It's a strange real world/virtual world crossover, and definitely a sign of the way future digital finances will work. MOL is a hot-topic Internet financial company, though if you haven't heard about it it's not surprising--while it operates in 75 countries, mainly its operations are centered in Malaysia, Singapore, Indonesia, Philippines, Thailand, India, Australia, and New Zealand. According to its press data, the company handles "over 60 million transactions" annually, leveraging "a network of more than 540,000 physical payment collection points" that connect to 88 banks in nine different countries.
It's also a name you may have heard of in relation to Friendster, since it acquired the social network back in December 2009.
---