Filmmaking
Bodycard 0114
The Future of Digital Media. Steampunk past,present future. 5 Ridiculous Origins of Movie Sound Effects. Sound design is one of those things that makes a huge difference in a film production, but that you never really think about.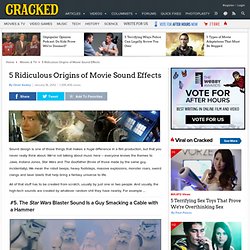 We're not talking about music here -- everyone knows the themes to Jaws, Indiana Jones, Star Wars and The Godfather (three of those made by the same guy, incidentally). We mean the robot beeps, heavy footsteps, massive explosions, monster roars, sword clangs and laser blasts that help bring a fantasy universe to life. All of that stuff has to be created from scratch, usually by just one or two people. And usually, the high-tech sounds are created by whatever random shit they have nearby. For example ... Inbox (6) - heezels. Opening Scenes of Alfred Hitchcock films (film directing, criticism, story settings) Borgus.com - Geography and space were important factors in Alfred Hitchcock's storytelling technique.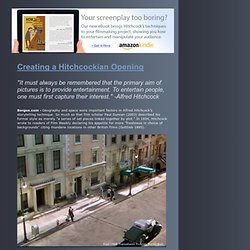 So much so that film scholar Paul Duncan (2003) described his formal style as merely "a series of set pieces linked together by plot. " In 1934, Hitchcock wrote to readers of Film Weekly declaring his appetite for more "freshness in choice of backgrounds" citing mundane locations in other British films (Gottlieb 1995). Here we will examine more specifically the opening scenes of Alfred Hitchcock films and examine his strategy for introducing his stories to the viewer. How to write a good short film script - Bulletfilm Blogs. This is a short article in which to deal with a big subject: how to write a good script for a short film.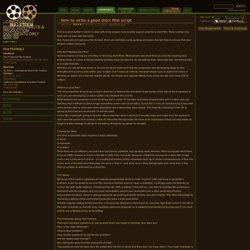 Rule number one: there are no hard and fast rules. But, if your aim is to get your film funded, there are definitely some guiding principles that will help to ensure that your project is taken seriously. Why Am I Making this Film? No-one makes a living out of writing or directing short films. Most people see short films as a tool for learning and testing ideas, or a way of demonstrating that they have the talent to do something else. 588 Free Film Contracts and Forms. Looking to make a film but need a little help with the paperwork?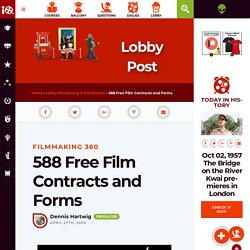 We've painstakingly searched the internets and collected 588 free forms and contracts to help get you started. Now before we start, everyone repeat after me: "THIS ARTICLE IS NOT A REPLACEMENT FOR PROPER LEGAL ADVICE" You probably won't need all of these forms for your production, but hopefully this article will remind you the "boring" parts of filmmaking are just as important as everything else. Also check out these great feature articles: Top 10 Screenwriting Tips Introduction to Screenwriting How to become a screenwriter. Over the last quarter century I've stumbled and lurched my way to some understanding of the screenwriter's craft.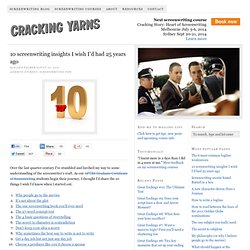 As our AFTRS Graduate Certificate of Screenwriting students begin their journey, I thought I'd share the 10 things I wish I'd know when I started out. 1. Why people go to the movies If you're making films to be viewed by the cinema-going public, it would seem pretty obvious that you should seek to understand why people go the movies, wouldn't it? Mental_floss Blog » 15 Film Production Credits Explained. Ever wonder what all those strange credits are when they roll by at the end of a film?
I used to, until I moved to LA, where I started meeting Best Boys and Dolly Grips with their kids when I took my son to the playground—yes, Hollywood, where you meet Gaffers and Armourers at your average Saturday night house party. So I started asking questions, and here's what I've learned: 1. 666 DIY Horror Filmmaking Tutorials. It's that time of year again, so we thought it was time to update last years killer feature "Horror Filmmaking: From Script to Scream."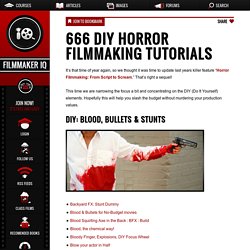 That's right a sequel! This time we are narrowing the focus a bit and concentrating on the DIY (Do It Yourself) elements. Hopefully this will help you slash the budget without murdering your production values. DIY: Blood, Bullets & Stunts DIY: Stage Effects/Green Screen. The 7-Step Film Directing Formula. I've been working professionally in the film and TV business for 37 years.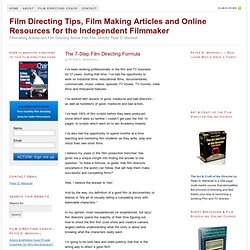 During that time, I've had the opportunity to work on industrial films, educational films, documentaries, commercials, music videos, episodic TV shows, TV movies, Indie films and Hollywood features. I've worked with dozens of good, mediocre and bad directors - as well as hundred's of good, mediocre and bad actors.
---