Filme Asia (Anime)
Monkey Fist Floating Snake (1979)
Monkey Fist, Floating Snake
John Chang in Snake in the Monkey's Shadow 1979
Stroke Of Death - Monkey Kung Fu
Mad Monkey Kung Fu
Kategorie: Anime
Exemplarische moderne Animefigur Anime (japanisch アニメ, [anime], im Deutschen häufig [ˈaniːmeː]) ist eine Verkürzung des japanischen Lehnwortes animēshon (japanisch アニメーション, von englisch animation)[1] und bezeichnet in Japan produzierte Zeichentrickfilme. In Japan selbst steht Anime für alle Arten von Animationsfilmen, für die im eigenen Land produzierten ebenso wie für importierte. Er bildet das Pendant zum Manga, dem japanischen Comic. Stile und Genres Animes decken ein breitgefächertes Themenspektrum für alle Altersstufen ab.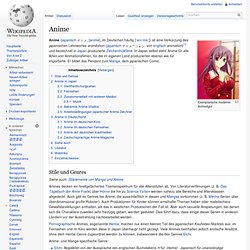 Anime
Category:Anime
Anime (Japanese: アニメ?, [anime] ( ); English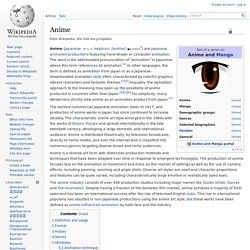 ASIAN CINEMA FORUM Forum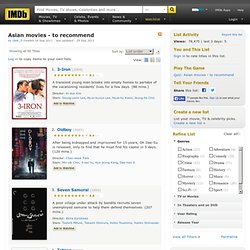 Asian movies - to recommend - a list by Ubik_0
by Ubik_0 created 18 Sep 2011 | last updated - 29 Sep 2012 3-Iron (2004) A transient young man breaks into empty homes to partake of the vacationing residents' lives for a few days. (88 mins.) Oldboy (2003) After being kidnapped and imprisoned for 15 years, Oh Dae-Su is released, only to find that he must find his captor in 5 days. (120 mins.) Seven Samurai (1954)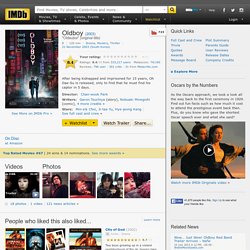 Edit Storyline An average man is kidnapped and imprisoned in a shabby cell for 15 years without explanation. He then is released, equipped with money, a cellphone and expensive clothes. As he strives to explain his imprisonment and get his revenge, Oh Dae-Su soon finds out that his kidnapper has a greater plan for him and is set onto a path of pain and suffering in an attempt to uncover the motive of his mysterious tormentor. Written by Jacksrevenge
Zatôichi (2003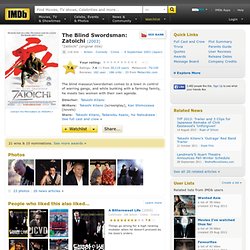 Edit Storyline Blind Zatoichi makes his living by gambling and giving massages. But behind his humble facade, Zatoichi is a master swordsman, gifted with lightning-fast draw and strokes of breathtaking precision. Zatoichi wanders into a town run by sinister gangs and a powerful samurai.
Ichi the Killer (2001
Edit Storyline When a Yakuza boss named Anjo disappears with 300 million yen, his chief henchman, a sadomasochistic man named Kakihara, and the rest of his mob goons go looking for him. After capturing and torturing a rival Yakuza member looking for answers, they soon realize they have the wrong man and begin looking for the man named Jijii who tipped them off in the first place. Soon enough Kakihara and his men encounter Ichi, a psychotic, sexually-repressed young man with amazing martial arts abilities and blades that come out of his shoes. One by one Ichi takes out members of the Yakuza and all the while Kakihara intensifies his pursuit of Ichi and Ichi's controller Jijii.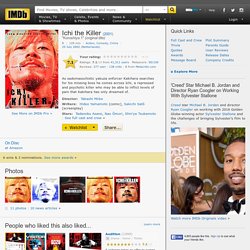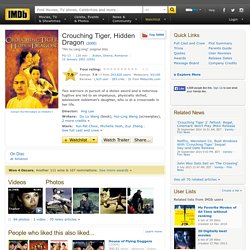 Tigre et dragon (2000
Edit Storyline The disappearance of a magical jade sword spurs a breathtaking quest for the missing treasure. Li is embittered by the loss of his jade sword, and his unrequited pursuit of Yu is further complicated by the mysterious intrusion of an assassin.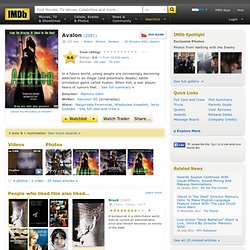 Quotes Bishop: Just as I thought, you are the only one who got through the gate. Ash: Is this "Special A"? Bishop: We call it "Class Real". Building it has taken huge amounts of very sophisticated data.
Avalon (2001
Quotes US Doctor trying to operate Gang-Du: [speaking to his colleague in private] The late Sgt. Donald, the first one classified as a victim of the virus, was given an extensive autopsy and no virus was found. He died of shock during the operation. Also, no traces of the virus were found in any of the patients quarantined.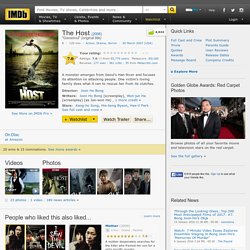 The Host (2006
Edit Storyline A guksu western. Three Korean gunslingers are in Manchuria circa World War II: Do-wan, an upright bounty hunter, Chang-yi, a thin-skinned and ruthless killer, and Tae-goo, a train robber with nine lives. Tae-goo finds a map he's convinced leads to buried treasure; Chang-yi wants it as well for less clear reasons.
Le bon, la brute et le cinglé (2008
Ip Man (2008)
Edit Storyline A veteran samurai, who has fallen on hard times, answers a village's request for protection from bandits. He gathers 6 other samurai to help him, and they teach the townspeople how to defend themselves, and they supply the samurai with three small meals a day. The film culminates in a giant battle when 40 bandits attack the village.
asiancineweb.de - Information
ACF Index