FBlog/East
ASM Magazine » Fashion Blog » Carla Estévez. Gossips made me famous! Marilyn'S CloseT Blog. INTRIGUE ME NOW. Inside am-lul's closet. Crimenes de la Moda. Hace un par de días tuve el placer de organizar la fiesta de presentación de Dresseos, un nuevo vestidor de alquiler online que cuenta con piezas exclusivas de diseñadores muy reconocidos como Angel Schlesser, Amaya Arzuaga, Ion Fiz , Devota … [LEER TODO] Esta semana he podido permitirme un look más primaveral y estrenar mi nuevo crop top.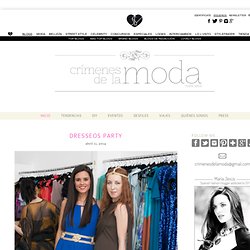 Mira que hace tiempo odiaba los crop tops y no los consideraba nada elegantes. Pero como todo en esta vida, hay que adaptarlo al estilo … [LEER TODO] Hoy queremos presentaros una nueva firma española de calzado que seguro os va a encantar. Se llama Okaaspain y tienen zapatitos de piel para niños, jóvenes y adultos fabricados en España y con unos diseños monísimos y muy de tendencia. … [LEER TODO]
Midnight Couture. *UNIVERSITY LIFESTYLE* There Is Not Sense. Bikinis and passports. El Blog de Chuchus. The Blonde Salad. The golden mode. Fashionfazer. Www.nanysklozet.com. LLYMLRS. RoHa. Youth Gone Wild. Ellevictoire. Nicola Claire. Seams for a desire. B a r t a b a c. Lovely Pepa.
La revue de Kenza. Laetitia. Style Diary | Millie Mackintosh. Stylorectic. India Rose. Fashionhype. FASHIONVIBE. Anouska Proetta Brandon. Style Encounters. KaoriAnne. SO IN CARMEL. Jestem Kasia. Charlize Mystery. Frassy. D E Y N N. RASPBERRY AND RED. Do It Yasself. Madame de Rosa. Cab.LOOK. Tranquilacosita. DAISY'S HEELS. Cats and Rocking Chairs. Collage Vintage. Gabrielle Mode. *Valentine* The Fashion Fruit - fresh looks and fashion tips by Veronica Ferraro.
Café Mode, l'oeil d'une parisienne (presque) à la page - Lexpress Styles. A-t-on jamais autant pensé à ce qu'on mange?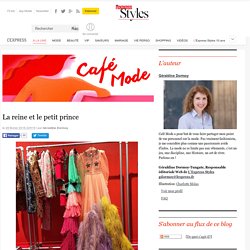 Je ne peux plus ouvrir un magazine sans lire quelque chose sur l'alimentation sans gluten. Sur Instagram, c'est à qui photographiera l'assiette la plus appétissante. Autour de moi, tout le monde a un avis sur les cures détox et chacun cherche son AMAP.
---