FBlog/East
ASM Magazine » Fashion Blog » Carla Estévez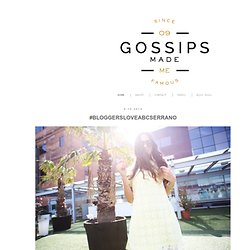 Sweater: Choies (new- click here) / Jeans: Primark (old) / Boots: Stradivarius (new season) Desde que vi este sweater en Choies me enamoré de él, estaba deseando de que me llegara a casa y llegó por fin! Lo combiné con ripped jeans en negros y botines, un look muy simple pero de los que a mi me encantan.
Gossips made me famous!
Marilyn'S CloseT Blog
INTRIGUE ME NOW
¡Por fin viernes! Y qué mejor manera de celebrarlo que con un sorteazo de Pedro Miralles, una de nuestras firmas de calzado favoritas. Sigue leyendo Lo que estáis viendo en vuestro monitor es cierto…¡otro abrigo rosa! Sigue leyendo Hace tiempo os comentaba que no acostumbro a ponerme sombreros a menudo.
Crimenes de la Moda
Zola Jesus - Skin Probably the most famous love story of all time - Romeo & Juliet. We remember when we had to read the script in school, write an essay about it and even play some parts of it. Ever since we loved this play and the plot. Some years ago we performed it on stage as a crossover project, a mix of modern dance, hip hop, breakdance and ballet.
Midnight Couture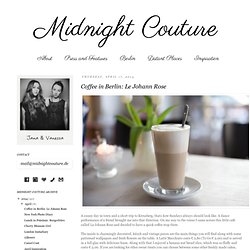 *UNIVERSITY LIFESTYLE*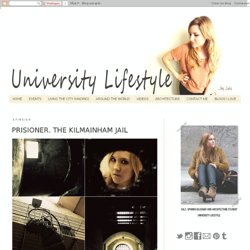 Una cosa que me encanta es llevar colores claros en invierno, me parece que queda genial y aquí lo he visto mucho. El otro día recibí este abrigo blanco de Romwe . En otro momento a lo mejor me habría planteado si tenerlo o no porque es muy delicado, pero estando en Milán definitivamente si :) y no me arrepiento
De "nude" va la historia...y, es que, este tono lleva siendo tendencia durante varias temporadas en las colecciones de primavera/verano, un tono que podrás combinar desde con el blanco más neutro hasta con colores ácidos y flúor, también muy de tendencia esta temporada. En mi caso, suelo decantarme por la mezcla con tonos pasteles, maquillajes, dorados y blancos; que suelen favorecer también a las pieles más morenas. Las tachas, muy repetidas esta estación, vinieron para permanecer en la temporada de otoño/invierno (mirar los avances de colección, ya disponibles en la mayoría de las firmas). Podréis encontrarlas desde en complementos, hasta adornando cuellos de blusas, cazadoras e incluso, pantalones. Y, por último, los plisados en vestidos y faldas (y, por qué no, también en shorts y pantalones); una tendencia ultrarepetida, pero que nos encanta. Falda/skirt: Zara WomanTop: Zara WomanCinturón/belt: MangoClutch: Zara WomanSandalias/heels: Zara Basic
There Is Not Sense
bikinis and passports
Hemorrhoids? Get rid of them with Venapro If you have hemorrhoids and are eager to get rid of them as soon as possible (and I can find no reason not to do that), you've probably already considered several methods of doing that and one of them might even be surgery. But wait, before you decide on doing something as aggressive as that, you should know a little more about the natural products for treating hemorrhoids, more specifficaly one called Venapro. Okay, but what exactly is Venapro? Venapro can be used both as a preventive measure against hemorrhoids and in order to speed the hemorrhoid treatment.
El Blog de Chuchus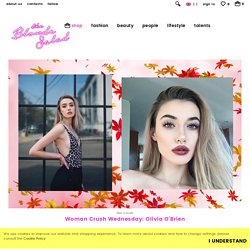 From last week in Berlin Memories of the 24 hours I spent in Berlin last week, in a night which had the flavour of spring Ricordi delle 24 ore passate a Berlino la scorsa settimana, in una serata che aveva il sapore di primavera. Continue Reading
The golden mode
fashionfazer
I haven't done a "celebrity inspired/look for less" in a while (check all out by clicking here). Lately, I'm drawn to edgier looks with a carefree attitude...and I think those two words really represent Cara's style. I saw this look and I immediately wanted to recreate it.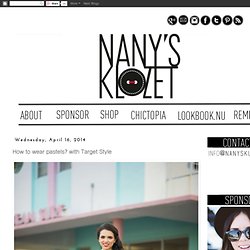 RoHa
Youth Gone Wild
ellevictoire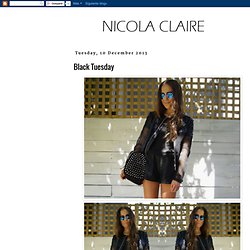 Hello from my new apartment! Firstly, I want to say sorry for my crappiness recently- its been a stressful old time over here with moving house, getting sick and a whole lot of other things going on in my life!! But enough with the excuses! I'm going to make it up to you all in the next few weeks by showering you with an abundance of items old and new that I haven't had the chance to blog yet.
Nicola Claire
Seams for a desire
With new styles surfacing all the time it can be a challenge to keep up but, even more so, figuring out what to do about yesterday's fashions can be a real pain. Anyone with kids also knows how quickly children and teens outgrow clothes and furniture. Closets, attics, and basements quickly become dumping grounds for clutter and junk. It's good to know that there are ways to keep pace with new trends AND clear out old ones. Learn what you can do to keep your habitat as fresh as your style.
b a r t a b a c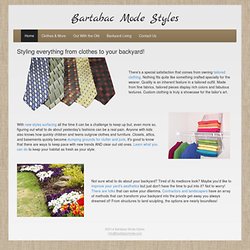 another week, another resume by instagram! you can search my nick @lovelypepa Otra semana, otro resumen a través de instagram!
Lovely Pepa
Laetitia
El pasado mes de Abril fue el cumple de una de mis mejores amigas , nos conocemos desde que éramos pequeñas y siempre ha sido inseparable para mi . Vive a escasos metros de mi casa en Valencia y desde hace un tiempo esta viviendo en Londres donde cada día su ingles es mas perfeccionado. No pude verla a si que le hice unas cuantas sorpresas vía Internet , para mi una de las mejores cosas que me ha pasado en la vida es conocerla , aunque hayamos tenido miles de discusiones estúpidas ,pero en eso consisten las amigas .
Style Diary | Millie Mackintosh
stylorectic
Fashionhype
1SILLAPARAMIBOLSO
Anouska Proetta Brandon
Style Encounters
KaoriAnne
SO IN CARMEL
Jestem Kasia
Charlize Mystery
Frassy
D E Y N N
Madame de Rosa
cab.LOOK
Tranquilacosita
DAISY'S HEELS
Cats and Rocking Chairs
Gabrielle Mode