Recipies
Swedishchef. Juicer Recipes. Free Juicer Recipes. Free, delicious and healthy juicer recipesto make with your juice extractor.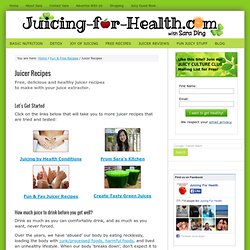 Let's Get Started Click on the links below that will take you to more juicer recipes that are tried and tested: How much juice to drink before you get well? Juicer Recipes. These juices and cocktails are tasty and refreshing.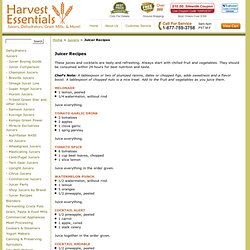 Always start with chilled fruit and vegetables. They should be consumed within 24 hours for best nutrition and taste. Juicer Recipes. Happy Wednesday folks and good day to you!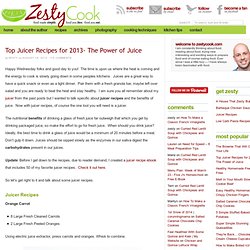 The time is upon us where the heat is coming and the energy to cook is slowly going down in some peoples kitchens. Juices are a great way to have a quick snack or even as a light dinner. Pair them with a fresh granola bar, maybe left over salad and you are ready to beat the heat and stay healthy. I am sure you all remember about my juicer from the past posts but I wanted to talk specific about juicer recipes and the benefits of juice. Now with juicer recipes, of course the one tool you will need is a juicer. Delicious juicing recipes. Choosing a juicer that is right for you is discussed here.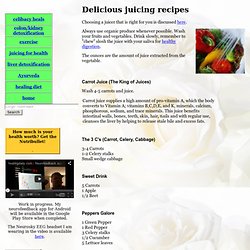 Carrot Juice (The King of Juices) Wash 4-5 carrots and juice. The 3 C's (Carrot, Celery, Cabbage) Healthy Juicing Recipes. Juicer Recipes for Power Juicers. Juicer Pulp Recipes | Juicer Recipes. Juicer Recipes. Pages. Videos Page 1 | Green Smoothie Girl | 12 Steps to Whole Food Eating. GreenSmoothieGirl.com Green Smoothie Basics Robyn shows you, step-by-step, how to make green smoothies, choose ingredients from the store, and continue your journey in 12 Steps to Whole Foods.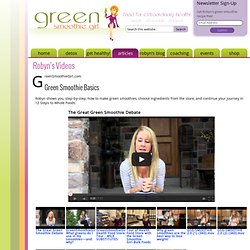 The Great Green Smoothie Debate Recipes The journey to whole foods is within your reach. Green Smoothie Girl | 12 Steps to Whole Food Eating.
---