Favorite Tattoo Artists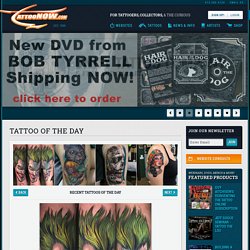 submitted on 1/7/14 by - Phipps Tattoo Body art tip of the day: Lettering! Too much is too much and if you make it small it's not going to look good ever!
Tattoo Art Works Al-Haut
ink
Madame Lazonga's Tattoo - Seattle, WA
Warrior-Tattoo
Chicks with tats
For centuries, the tattoo industry has been dominated by men – for both the pitcher and the catcher, if you will. Body art has certainly undergone a modern renaissance , and some of the best tattoo artists in the world are now women. And many a tattoo collector attest that there is nothing sexier than having an incredible female artist penetrate your skin with her ink stick. The following 25 women, in no particular order, are some of the most sought-after tattoo artists in the world, holding it down at some of the most popular tattoo parlors across the globe.
Top 25 Hottest Female Tattoo Artists | Rank My Tattoos Magazine
5093# « TopTattooGirls
Salvador Dali Star Wars Tattoo Surrealy is Awesome