What went wrong with finance?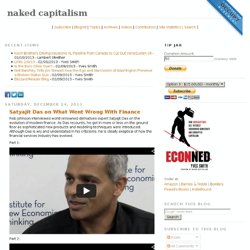 Satyajit Das on What Went Wrong With Finance
Satyajit Das on What Went Wrong With Finance
Why is the financial system so fragile?
Banking, Finance & Politics
At the recent Occupy debate on "Socially Useful Banking", Andy Haldane argued strongly for culture change in banking, and particularly in retail banking - the sort of banking that ordinary people rely on for their payments, their short-term savings and their loans. And he claimed that structural separation of retail banking from what are viewed as "higher-risk" activities such as investment banking and trading would end cross-contamination of culture and enable retail banking to return to its roots in relationship management and judgement based on local knowledge.
Supermarket banking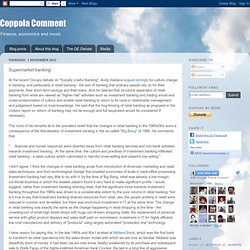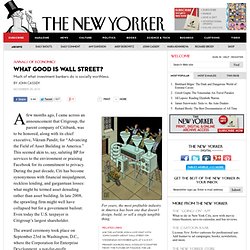 A few months ago, I came across an announcement that Citigroup, the parent company of Citibank, was to be honored, along with its chief executive, Vikram Pandit, for "Advancing the Field of Asset Building in America." This seemed akin to, say, saluting BP for services to the environment or praising Facebook for its commitment to privacy. During the past decade, Citi has become synonymous with financial misjudgment, reckless lending, and gargantuan losses: what might be termed asset denuding rather than asset building. In late 2008, the sprawling firm might well have collapsed but for a government bailout. Even today the U.S. taxpayer is Citigroup's largest shareholder.
John Lanchester · The Art of Financial Disaster · LRB 15 December 2011
No essay in English has a better title than De Quincey's 'On Murder Considered as One of the Fine Arts'.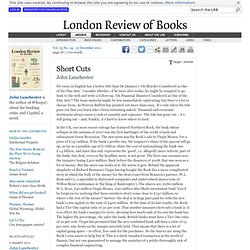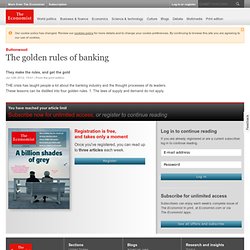 Buttonwood: The golden rules of banking
THE crisis has taught people a lot about the banking industry and the thought processes of its leaders.
Frank Pasquale: Big Finance's Best Friend (Robert Shiller)
Cognitive Regulatory Capture