Rating agencies?
Why the Ratings Agencies Deserve the Death Penalty
The very belated Federal civil suit against Standard & Poors is based on one very specific deal, with an extremely egregious email trail. Looking at the entirety of the crisis, the Credit Rating Agencies (the properly blamed CRA) were major players. Standard & Poor's and Moody's as well as the much smaller Fitch ratings agencies all appear to be culpable for similar frauds. Here is what I accuse them of doing: 1.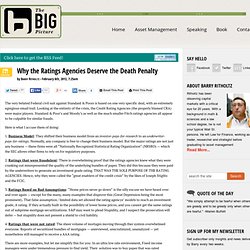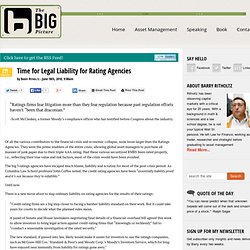 Time for Legal Liability for Rating Agencies
"Ratings firms fear litigation more than they fear regulation because past regulation efforts haven't "been that draconian." -Scott McCleskey, a former Moody's compliance officer who has testified before Congress about the industry.
Rating agency worker: 'I am genuinely frightened' | Joris Luyendijk | Comment is free
We are meeting in the heart of the City after the banking blog called on rating agency employees to talk about their experiences. The man I am meeting is British, in his early 40s, a fast talker and very friendly, the sort of person to apologise profusely when arriving four minutes late. He orders an orange juice. "Every time I read about a new financial product, I think: 'Uh-oh.' Every new product is described in those same warm, fuzzy phrases: how great they are and how safe.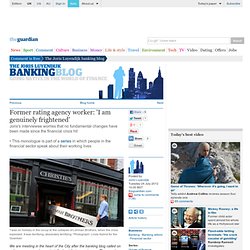 Rating Agencies and sovereign debt markets
S&P was Flat-Out Wrong — No Caveats"
Rating Agencies and the securitization process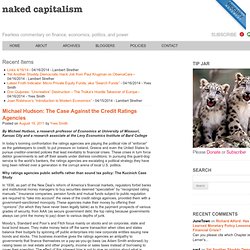 Michael Hudson: The Case Against the Credit Ratings Agencies
By Michael Hudson, a research professor of Economics at University of Missouri, Kansas City and a research associate at the Levy Economics Institute of Bard College In today's looming confrontation the ratings agencies are playing the political role of "enforcer" as the gatekeepers to credit, to put pressure on Iceland, Greece and even the United States to pursue creditor-oriented policies that lead inevitably to financial crises.
Nationally recognized statistical rating organization
A Nationally Recognized Statistical Rating Organization (NRSRO) is a credit rating agency (CRA) that issues credit ratings that the U.S. Securities and Exchange Commission (SEC) permits other financial firms to use for certain regulatory purposes. Originally, seven rating agencies were recognized as NRSROs, a number that dwindled as a result of mergers to six by the mid-1990s[1] and then to three by 2003.[2] As of November 2011, nine organizations were designated as NRSROs.[3] Ratings by NRSROs are used for a variety of regulatory purposes in the United States.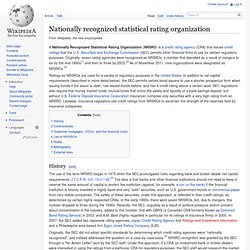 The reaction of politicians to Moody's decision to put the UK's AAA rating on "negative outlook" was predictable - and predictably tendentious.
Not the Treasury view...: Moody's downgrade: both Osborne and Balls get it wrong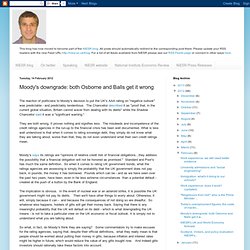 Rating Agencies and the subprime crisis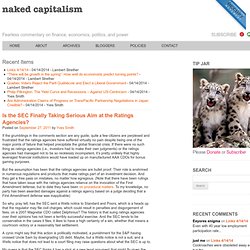 Is the SEC Finally Taking Serious Aim at the Ratings Agencies?
If the grumblings in the comments section are any guide, quite a few citizens are perplexed and frustrated that the ratings agencies have suffered virtually no pain despite being one of the major points of failure that helped precipitate the global financial crisis. If there were no such thing as ratings agencies (i.e., investors had to make their own judgments) or the ratings agencies had managed not to be so recklessly incompetent, it's pretty unlikely that highly leveraged financial institutions would have loaded up on manufactured AAA CDOs for bonus gaming purposes. But the assumption has been that the ratings agencies are bullet proof.
More shocking news about the inept rating agencies:
Surprise! Ratings Agencies Still Suck!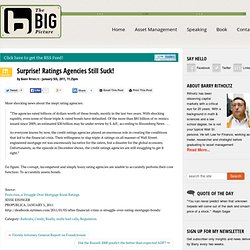 Rating Agencies - curators...
In 1996 Thomas Friedman said: "There are two superpowers in the world today in my opinion. There's the United States and there's Moody's Bond Rating Service.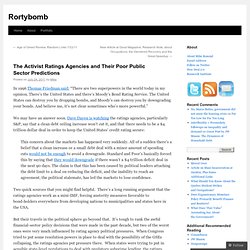 The Activist Ratings Agencies and Their Poor Public Sector Predictions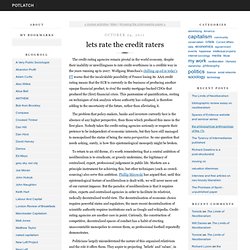 The credit-rating agencies remain pivotal in the world economy, despite their inability or unwillingness to rate credit-worthiness in a credible way in the years running up to 2007.
potlatch: lets rate the credit raters
Al Jazeera interview on Rating Agencies
EmailShare 0EmailShare