Fashion
Regent Belt Company :: shirts, braces, cufflinks, ties, classic clothing at Bromleys. UglyBROS Armoured Cargos. UglyBROS is a Korean motorcycle gear company that prides itself on its unique, slightly offbeat designs.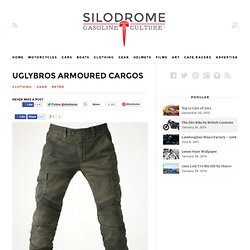 The popularity of the brand has been growing in significantly in Japan, Korea, Thailand and the United States, leading the company to set up a base of operations in Los Angeles in 2013. The uglyBROS Armoured Cargos (called "Motorpool") you see here have the signature elasticated knees and lowe back section for comfort, coupled to removable CE-approved knee and hip Powertector® armour, a YKK® zipper and full 11oz stretched cotton construction. The Cordial Gentleman. Steel Feather 21oz SF0121 jean - Steel Feather - Brands - raw japanese selvedge denim | raw indigo denim.
Hawkings McGill Menswear Wool Trouser. 1246 rue Sainte-Catherine O.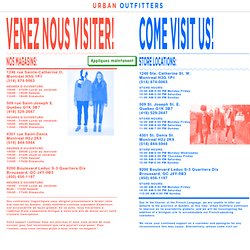 Montréal H3G 1P1 (514) 874-0063 HEURES D'OUVERTURE: 10h00 - 21h00 Lundi au vendredi 10h00 - 19h00 Samedi 11h00 - 18h00 Dimanche 509 rue Saint-Joseph E. Québec G1K 3B7 (418) 529-2647 HEURES D'OUVERTURE: 10h00 - 21h00 Lundi au vendredi 10h00 - 20h00 Samedi 11h00 - 19h00 Dimanche.
Shorts. Hard graft | Purveyors of fine lifestyle accessories. Saddleback Leather Co. : Leather Bags, Leather Briefcases, & Luggage. JANSPORT – Fall 2010 – Urban Framework Collection. This is JANSPORT, but it isn't that fraying canvas number with sharpie tags scarred eternally with punctured holes from pins you totted around in high school.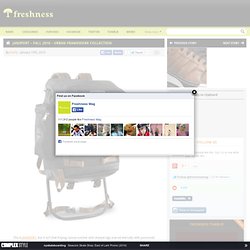 In the past few seasons, JANSPORT has successfully revamped its image not buy creating something entirely new, but by reviving archival classics. As such, its heritage series which journeyed all the way back to 1967 had garnered attention around the world. Keeping up with the success of the heritage series, JANSPORT, has just unveiled a brand new Urban Framework Collection for Fall 2010 at (capsule). Multipurpose Tool: Chinese Military Shovel. FIDM Museum Blog: See-through dresses of the 1930s. In deciding which objects to showcase on our blog, I often scrutinize the cataloged and photographed objects in our collections management system.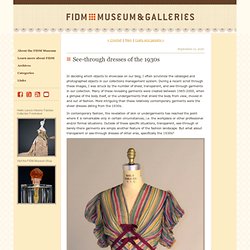 During a recent scroll through these images, I was struck by the number of sheer, transparent, and see-through garments in our collection. Many of these revealing garments were created between 1965-2000, when a glimpse of the body itself, or the undergarments that shield the body from view, moved in and out of fashion. Who Shot the Couch? Vintage Bad Fashions. Grand Prix Originals > Steve McQueen Collection, Le Mans, Gulf ... Welcome to THE GRANDPRIX ORIGINALS, the brand for drive and lifestyle - past and present!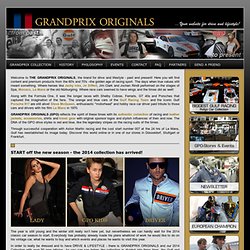 Here you will find content and premium products from the 60's and 70's –the golden age of racing sport. The days when true values still meant something. Where heroes like Jacky Ickx, Jo Siffert, Jim Clark and Jochen Rindt performed on the stages of Spa, Monaco, Le Mans or the old Nürburgring.
Shades. The Art of Manliness | Men's Interests and Lifestyle. Shoes. WPages. Accessories. Dresscodes. Shirts.
---