Fantasy and scifi artworks - Blogs
Nuare Studio
JANDITLEV.com
Illustrateurs Magic The Gathering
Army of Two
Last weekend, I had the pleasure of stopping by Matt Stewart's studio. For those of you who don't know him, Matt is a fantasy illustrator working in book publishing and the gaming industry. As an oil painter, his work is epic and beautiful. Whether he's painting scenes from the Lord of the Rings stories or illustrating cards for Magic: The Gathering, his work will leave a lasting impression.
Matt Stewart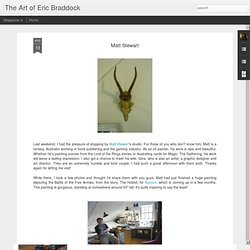 digital painting
chippywork
I got my comp. copies of the Forgotten Realms Players Guide through and thought I'd share some of the finer details in the pieces.They were commissioned as 1/3 pages but it looks like they ran out of room for them and they got reduced more than I thought they might...plus they turned out a little darker than I thought anticipated so a lot of cool little details were lost. I continued with a new way of working on these that I'd started on some of the WoW cards Ive done. Inspired by the detail mentalist himself, Clint Langley, I borrowed his method of 'painting with photographs' (stop me if I'm getting too technical). I don't use them as raw as Clint does, his can almost be collage like, as I still prefer to retain a more traditional feel to the pieces, I try to get a more painterly effect on them so I do a bit more, well, over painting.
hello all,CGMA Master classes offers a new course for those who are wanting to create and evolve their environment portfolio. It is a 8 week, project based course that outlines production based concept illustrations, high concept vision painting, interior spaces and ideation exploration. It is the next step for those who are now getting used to the digital media and want to now start creating worlds of your own! For more information....please visithttp://www.cgmwmasterclasses.com/environment-design-for-games-2.html examples of demo's from course lectures: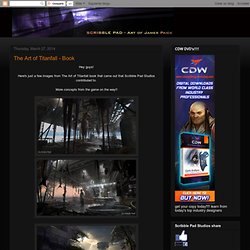 scribble pad
The new book is at the printer! It's called one hundred drawings and consists of, you guessed it, one hundred drawings. I couldn't decide on which cover I wanted to use, so I made it a flip book. Side A is made up of original drawings done on the end papers of the deluxe version of my art book, and Side B is made up of other various sketches and even a couple color pieces. This puppy should be arriving in the beginning of May, just in time for the Spectrum Live!
db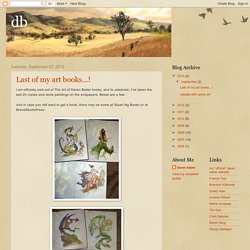 fuh-fuh-flying milk pig?!
Moteurs de recherche Artwork