Fantasy and scifi artworks - Blogs
Nuare Studio. JANDITLEV.com. Illustrateurs Magic The Gathering. Army of Two. Matt Stewart. Last weekend, I had the pleasure of stopping by Matt Stewart's studio.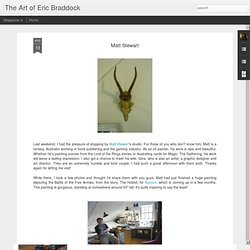 For those of you who don't know him, Matt is a fantasy illustrator working in book publishing and the gaming industry. As an oil painter, his work is epic and beautiful. Whether he's painting scenes from the Lord of the Rings stories or illustrating cards for Magic: The Gathering, his work will leave a lasting impression. Digital painting. Chippywork. Scribble pad. Db. Fuh-fuh-flying milk pig?! Moteurs de recherche Artwork.
---