Fantasy Football
Average Draft Position (ADP) - Fantasy Football Calculator
Harris' fantasy football top 200 - ESPN
Player Rankings: Top 200 - PRESEASON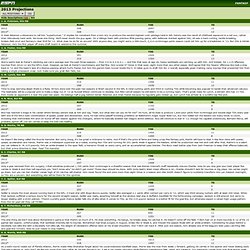 2012 Projections 1. A. Foster, Hou RB Foster had the first three games of '11 wrecked by a hamstring injury and he sat out the season finale, and he still finished fourth in fantasy points among all RBs. On a per-game basis, he was fantasy's No. 1 back, and the scarcity of elites at his position explains why we rank Foster as the best choice for your draft's first overall pick.
ESPN Fantasy 2012 Projections
For a fantasy football owner, there is nothing more frustrating than learning of a player injury on a Sunday morning or afternoon when you are away from your computer. Having to wrestle with the mobile version of your fantasy league's website interface to change your lineup can be frustrating at best, and can cause you to lose your matchup to an inferior opponent at worst. Fantasy Football Monster eliminates this hassle by allowing you to easily edit your Yahoo, ESPN.com, and NFL.com fantasy teams from a restaurant, your friend's place, or, um, your couch when you're too lazy to walk to your laptop. Its drag-and-drop interface is attractive, easy-to-read, and easy-to-use; it is an essential app for owners with teams in multiple leagues.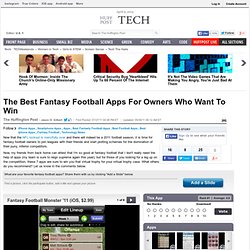 The Best Fantasy Football Apps For Owners Who Want To Win
FOX Sports Fantasy Football - Game Home
Fantasy Football Draft Board for iPad - 2012
Fantasy Football - Free Fantasy Football Games, Leagues, News, Videos and more - FOX Sports on MSN
Fantasy Football League Management from MyFantasyLeague.com
Depth charts at footballguys.com
Fantasy Football 2011-2012
RealTime Fantasy Sports - 23Lehman
Mid-Draft Targets
Updated Tuesday, November 5, 2013 Here are the top 200 player rankings for a 12 team performance-based league that requires starters of 1QB, 2RB, 2WR, 1TE, 1K, and 1DEF. To see rankings tailored for your league, Login or Register -- it's free! For additional scoring options, please login or register -- it's free!
Free Fantasy Football Top 200 Rankings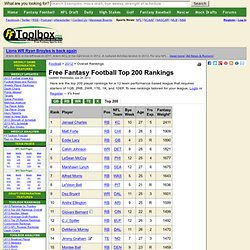 What is Fantasy Football?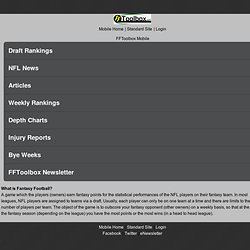 Mobile Fantasy Football - FFToolbox.com