Fantasy Football
Average Draft Position (ADP) Harris' fantasy football top 200. Player Rankings: Top 200 - PRESEASON. ESPN Fantasy 2012 Projections. The Best Fantasy Football Apps For Owners Who Want To Win. For a fantasy football owner, there is nothing more frustrating than learning of a player injury on a Sunday morning or afternoon when you are away from your computer.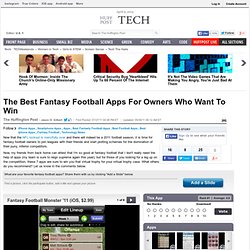 Having to wrestle with the mobile version of your fantasy league's website interface to change your lineup can be frustrating at best, and can cause you to lose your matchup to an inferior opponent at worst. Fantasy Football Monster eliminates this hassle by allowing you to easily edit your Yahoo, ESPN.com, and NFL.com fantasy teams from a restaurant, your friend's place, or, um, your couch when you're too lazy to walk to your laptop. Its drag-and-drop interface is attractive, easy-to-read, and easy-to-use; it is an essential app for owners with teams in multiple leagues. FOX Sports Fantasy Football - Game Home. Fantasy Football Draft Board for iPad - 2012. Fantasy Football. FOOTBALL OUTSIDERS: Innovative Statistics, Intelligent Analysis. Fantasy Football - Free Fantasy Football Games, Leagues, News, Videos and more - FOX Sports on MSN.
Fantasy Football League Management from MyFantasyLeague.com. Depth charts at footballguys.com. Fantasy on Yahoo! Sports - News, Scores, Standings, Rumors, Fantasy Games. Rotoworld - Fantasy Baseball, Basketball, Football, Baseball and Hockey. Draft guide, news, projections, cheatsheets, depth charts and more. Fantasy Football 2011-2012. RealTime Fantasy Sports - 23Lehman. Fantasy Football Today. NFL Football - CBSSports.com News, Rumors, Scores, Stats, Fantasy. Mid-Draft Targets. Well-known players who can't be sleepers, but will likely have a better season than is assumed by the public.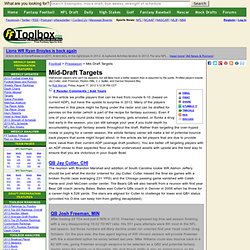 Profiled players include Jay Cutler, Josh Freeman, Peyton Hillis, C.J. Spiller, and Darrius Heyward-Bey. Free Fantasy Football Top 200 Rankings. Updated Wednesday, July 24, 2013 Here are the top 200 player rankings for a 12 team performance-based league that requires starters of 1QB, 2RB, 2WR, 1TE, 1K, and 1DEF.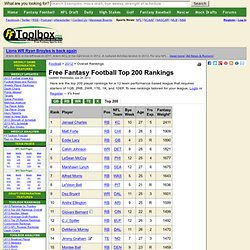 To see rankings tailored for your league, Login or Register -- it's free! For additional scoring options, please login or register -- it's free! Mobile Fantasy Football - FFToolbox.com. What is Fantasy Football?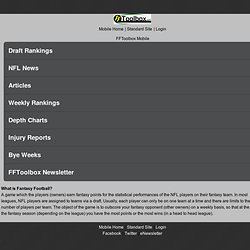 A game which the players (owners) earn fantasy points for the statistical performances of the NFL players on their fantasy team. In most leagues, NFL players are assigned to teams via a draft. Usually, each player can only be on one team at a time and there are limits to the total number of players per team. The object of the game is to outscore your fantasy opponent (other owners) on a weekly basis, so that at the end of the fantasy season (depending on the league) you have the most points or the most wins (in a head to head league).
---
lehmanmatt Dec 2 2012

Pretty good collection of websites!
---