Fanfic
Nym:Fanfic Main Menu. Lira_Snape themed lists.
Switchknife :: I slash, therefore I am :: recommendations. Potter Slash Archive :: RestrictedSection.org. Archives :: :: book :: Harry Potter. Next generation characters [ Date 2008-08-30 ] [ ID 232 ] [ Tien Riu ] As per the request at the forums, we have added in the following next generation characters Albus Severus Potter James Sirius Potter Lily Potter Scorpius Malfoy Teddy Lupin Rose Weasley.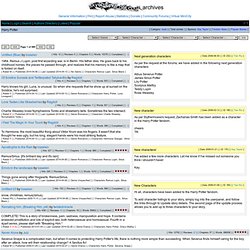 AdultFanFiction.net. HP Fandom :: Where your Harry Potter Fan Fiction needs are met. Harry Potter FanFiction Archive. Oh no!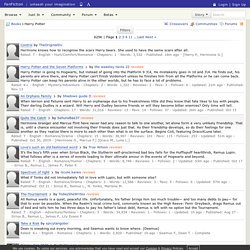 What am i doing here? How do i get home- wait a minute, is that James! What do you mean no! Wai- What! Sirius Black? Astronomy Tower - Dark Lord Potter Forums. Forever Fandom :: Unlock your inner muse. Despoiling harry by Amanuensis- Home Page. *Last updated: Jan 4, 2008- "You Didn't Think They Just Sold It To Him, Did You?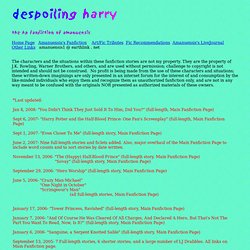 " (full-length, Main Fanfiction Page) Sept 6, 2007- "Harry Potter and the Half-Blood Prince: One Fan's Screenplay" (full-length, Main Fanfiction Page) Sept 1, 2007- "Even Closer To Me" (full-length story, Main Fanfiction Page) June 2, 2007- Nine full-length stories and ficlets added. Ship Listing. The Quidditch Pitch :: Let Your ImaginationTake Flight. FictionAlley. Darkest Midnight - A Harry/Draco/Snape Slash Archive. Ink Stained Fingers - Main Page.
---