Fanfic
Nym:Fanfic Main Menu
Lira_Snape themed lists
switchknife :: I slash, therefore I am :: recommendations
Potter Slash Archive ::
Two generations of dark hair, glasses, scarlet quidditch robes, invisibility cloaks and an effortless affinity with rule-breaking and mischief. Welcome to The Potter Slash Archive, a site dedicated to Harry and James Potter and their adventurous exploits and beautiful endeavours in relationships. If you are offended by homosexual themes or would rather not imagine Harry Potter characters in gay/homoerotic situations, hit the back button now.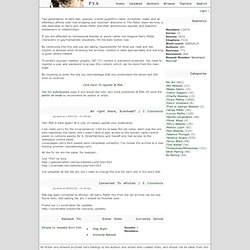 RestrictedSection.org
Hello, and welcome to the Restricted Section. In the wake of fanfiction.net's decision to remove all NC-17 content, a group of Harry Potter fanfiction authors decided to open a new archive devoted to adult Potterfic. This means that this site is strictly for people over the age of 18. If you are underage, perhaps the The Leaky Cauldron or FictionAlley would be more to your liking. If you are underage, or do not wish to read the stories in this archive, please Leave By Clicking Here.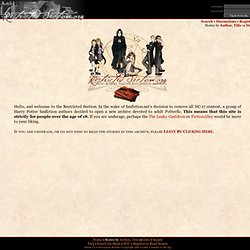 archives :: :: book :: Harry Potter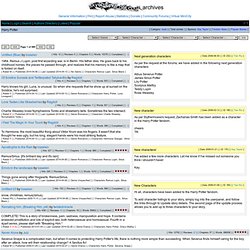 Next generation characters [ Date 2008-08-30 ] [ ID 232 ] [ Tien Riu ] As per the request at the forums, we have added in the following next generation characters Albus Severus Potter James Sirius Potter Lily Potter Scorpius Malfoy Teddy Lupin Rose Weasley
Welcome to adult-fanfiction.org. In order to proceed, you must be at least 18 years of age (21 years of age in some jurisdictions), and legally permitted to view Adult Content in your area. This is an archive of literature written by and for Adults, only.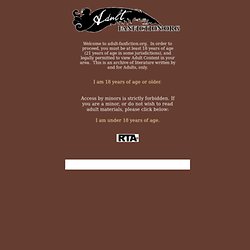 AdultFanFiction.net
HP Fandom :: Where your Harry Potter Fan Fiction needs are met
Through the Fire by Giovanna (M) Harry comes into his magical inheritance on his birthday. He finds out that... Taken by Surprise by BabblingSquirrel (M) Innocent and harmless as he appears, Harry Potter is anything but - and aft... What Happened To Harry Potter? by DarkJediQueen (M) Its 1991 and the sorting is nearly complete.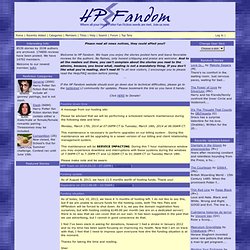 Harry Potter FanFiction Archive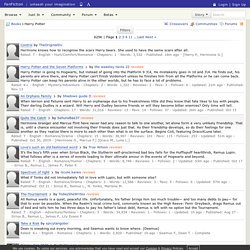 Ron and Hermione have been together since Hogwarts. Now, as the real world sinks in, life has become dull for Ron. He wants spark in his life, and as for Hermione, she wants to settle down. Ron finds his spark, and in doing so, crumbles their relationship. 3 years later, Ron is miserable and still thinking about the girl that left him. What is she up to? Where has she been?
Astronomy Tower -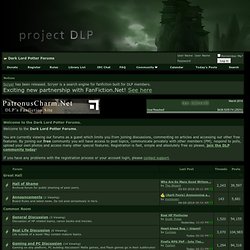 Welcome to the Dark Lord Potter Forums. You are currently viewing our forums as a guest which limits you from joining discussions, commenting on articles and accessing our other free features. By joining our free community you will have access to post topics, communicate privately with other members (PM), respond to polls, upload your own photos and access many other special features.
Dark Lord Potter Forums
Forever Fandom :: Unlock your inner muse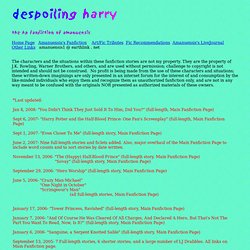 *Last updated: Jan 4, 2008- "You Didn't Think They Just Sold It To Him, Did You?" (full-length, Main Fanfiction Page) Sept 6, 2007- "Harry Potter and the Half-Blood Prince: One Fan's Screenplay" (full-length, Main Fanfiction Page) Sept 1, 2007- "Even Closer To Me" (full-length story, Main Fanfiction Page) June 2, 2007- Nine full-length stories and ficlets added.
despoiling harry by Amanuensis- Home Page
Ship Listing
The Quidditch Pitch :: Let Your ImaginationTake Flight
If you're a fan of YA, general book geekery or an aspiring writer (original or fanfiction!), Ascendio has the programming track for you! The Quill Track will be an entire track of programming (both formal and informal!) dedicated to all things books and writing. Best of all, the Quill Track is 100% included in your Ascendio registration! Ascendio is the eighth event put on by HPEF, a nonprofit organized by Harry Potter fans to put on amazing, educational and fun events for fans, academics, writers, authors, Quidditch players, debaters, and anyone who loves discussing - or has been inspired by - the Harry Potter series of books and films.
FictionAlley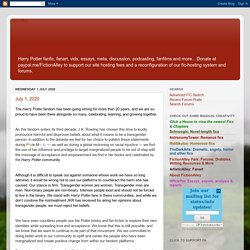 Darkest Midnight - A Harry/Draco/Snape Slash Archive
Ink Stained Fingers - Main Page