Facebook
Bodycard 0096
Will Facebook adapt to mobile or will mobile adapt to Facebook? — Mobile Technology News. Exclusive: a behind-the-scenes look at Facebook release engineering. Facebook is headquartered in Menlo Park, California at a site that used belong to Sun Microsystems.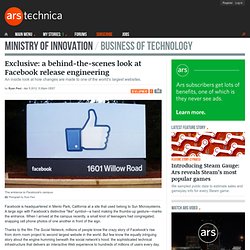 A large sign with Facebook's distinctive "like" symbol—a hand making the thumbs-up gesture—marks the entrance. When I arrived at the campus recently, a small knot of teenagers had congregated, snapping cell phone photos of one another in front of the sign. Inside Social Games · Vostu is Betting In-Game Radio Service for Social Games Will Be A Chart Topper.
Latin American social gaming company Vostu is taking to the airwaves with new in-game radio stations for its two most popular social games, MiniFazenda and MegaCity.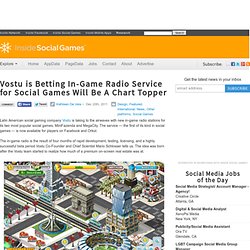 The service — the first of its kind in social games — is now available for players on Facebook and Orkut. The in-game radio is the result of four months of rapid development, testing, licensing, and a highly successful beta period Vostu Co-Founder and Chief Scientist Mario Schlosser tells us. Dépôt de règlement et tirage au sort auprès d'un Huissier de Justice. Facebook Ad Click Through Rate Up 18%, Cost Per Click Down 10% Says TBG Digital. Facebook ads are getting cheaper and users are clicking them more, says a new report from Facebook Ads API partner TBG Digital.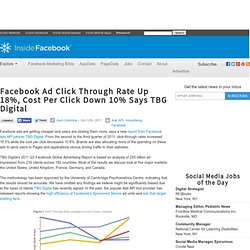 From the second to the third quarter of 2011, click-through rates increased 18.5% while the cost per click decreased 10.8%. Brands are also allocating more of the spending on these ads to send users to Pages and applications versus driving traffic to their websites. TBG Digital's 2011 Q3 Facebook Global Advertising Report is based on analysis of 255 billion ad impression from 216 clients across 192 countries. Most of the results we discuss look at five major markets: the United States, United Kingdom, France, Germany, and Canada. Facebook To Launch 'Relationships' At f8, Teams With Zynga To Sp. Later this month Facebook is holding its f8 conference, where it will be launching a slew of new features (we've already broken the news on quite a few of them).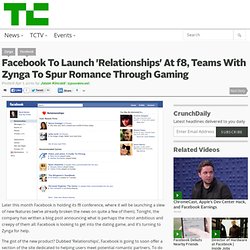 Tonight, the company has written a blog post announcing what is perhaps the most ambitious and creepy of them all: Facebook is looking to get into the dating game, and it's turning to Zynga for help. The gist of the new product? Dubbed 'Relationships', Facebook is going to soon offer a section of the site dedicated to helping users meet potential romantic partners. To do that, the company has been working with Zynga over the last four months to develop games that "synthesize romance and foster relationships through social gaming mechanics", helping users flirt and get to know each other using Farmville-like games to help break the ice.
FACEBOOK BOMBSHELL – How DID EVERYONE miss this! #facebook #f8 | At 24.17 minutes into the presentation.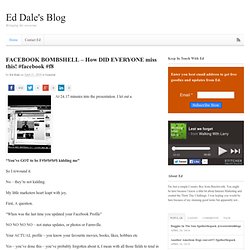 I let out a "You've GOT to be F#$#$#$#$ kidding me" So I rewound it. Facebook's Alternative Internet Vision And Its Search Implicatio. I attended the F8 Facebook developer event this morning and might have live blogged it but the public WiFi connection was extremely slow.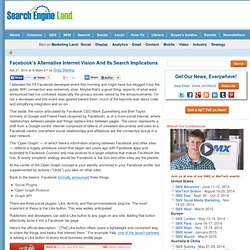 Maybe that's a good thing; aspects of what were announced had me confused, especially the privacy issues raised by the announcements. I'm not a developer and this event was geared toward them; much of the keynote was about code and simplifying integration and so on. That aside, the vision articulated by Facebook CEO Mark Zuckerberg and Bret Taylor, formerly of Google and Friend Feed (acquired by Facebook), is of a more social internet, where relationships between people and things replace links between pages. The vision represents a shift from a Google-centric internet comprised of billions of unrelated documents and sites to a Facebook centric one where social relationships and affiliations are the connective tissue in a vast network. Facebook's ambition.
Ambition.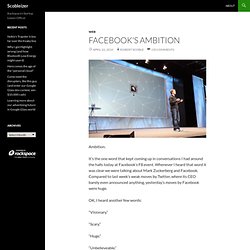 It's the one word that kept coming up in conversations I had around the halls today at Facebook's F8 event. Whenever I heard that word it was clear we were talking about Mark Zuckerberg and Facebook. Compared to last week's weak moves by Twitter, where its CEO barely even announced anything, yesterday's moves by Facebook were huge. Facebook va-t-il révolutionner le web ? Jeudi dernier a eu lieu la grande conférence annuelle des développeurs Facebook.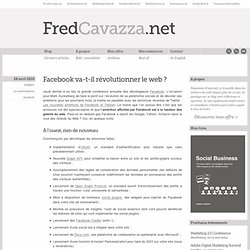 L'occasion pour Mark Zuckerberg de faire le point sur l'évolution de sa plateforme sociale et de dévoiler ses ambitions pour les prochains mois (à mettre en parallèle avec les annonces récentes de Twitter : Les nouvelles ambitions de Facebook et Twitter). Le moins que l'on puisse dire c'est que les annonces ont été spectaculaires et que l'ambition affichée par Facebook est à la hauteur des géants du web. Peut-on en déduire que Facebook a rejoint les Google, Yahoo! , Amazon dans la cour des Grands du Web ? Does Facebook Really Want a Semantic Web? Two weeks ago, Facebook has announced a major new initiative called Facebook Open Graph.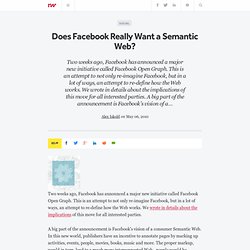 This is an attempt to not only re-imagine Facebook, but in a lot of ways, an attempt to re-define how the Web works. We wrote in details about the implications of this move for all interested parties. A big part of the announcement is Facebook's vision of a consumer Semantic Web. In this new world, publishers have an incentive to annotate pages by marking up activities, events, people, movies, books, music and more.
7 Tools, Apps and Mashups that Use Facebook's New Features. The tech world is still reeling from the impact of Facebook's radical changes, announced last week a the F8 developer's conference, and their implications for privacy, the open Web and the future of social networking.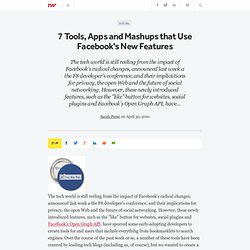 However, these newly introduced features, such as the "like" button for websites, social plugins and Facebook's Open Graph API, have spurred some early-adopting developers to create tools for end users that include everything from bookmarklets to search engines. Over the course of the past week or so, a number of these tools have been covered by leading tech blogs (including us, of course), but we wanted to create a resource that lists all of them in one place. 1. EdgeRank: The Secret Sauce That Makes Facebook's News Feed Tick. Yesterday at its f8 developer conference, Facebook engineers Ruchi Sanghvi and Ari Steinberg gave what may be the first thorough walkthrough of the underpinnings of Facebook News Feed, the all-important page that users see when they first log on to the site.
After giving an overview of the history of News Feed, which has evolved quite a bit since it launched in 2006, they offered some insight into the algorithms that allow News Feed to show you relevant content, collectively called EdgeRank. You may not realize it, but News Feed only displays a subset of the stories generated by your friends — if it displayed everything, there's a good chance you'd be overwhelmed. Hey, 'Friend,' Do You 'Like' My Sad Story? - Bits Blog - NYTimes. Nick Bilton/The New York TimesButtons with the word "like" from Facebook, Tumblr, Google Buzz and Vimeo.
I recently "liked" a story about five people dying in an explosion in Connecticut. I didn't actually "like" the fact that five people had died in a terrible accident. An Inch Closer To The End Of Privacy (Thanks Facebook!) Facebook Asks You To 'Become A Fan' Of All Your Interests. With f8 only two days away it's going to be a big week for Facebook news— and the first wave of launches just hit. Today, Facebook is officially rolling out a new class of profile called 'Community Pages', which are meant to serve as a knowledge base of sorts for general topics like Yoga (see our full coverage of the new feature here).
Alongside the launch of Communities, Facebook is making change that could lead you to become a fan of dozens of Facebook Pages in a single click. What Happens When You Deactivate Your Facebook Account. Facebook is a big part of millions and millions of peoples' lives, but what happens when you pull the plug? Last night I met a man who walked to the edge of the cliff and nearly deactivated his Facebook account. He took a screenshot of what he saw after clicking the "deactivate my account" link on his account page - and it is pretty far-out. Mark Zuckerberg: The evolution of a remarkable CEO. About six months ago, critics pummeled Facebook founder and CEO Mark Zuckerberg. He'd made questionable management decisions, or so it appeared from the outside.
He'd fumbled the site's redesign and botched the company's terms of service agreement — moves that whipped up negative publicity and user backlash. Some people asked whether it was time for Zuckerberg to go. Six months later, those critics have gone. The company is enjoying astounding momentum — blowing through user growth forecasts and becoming cash-flow positive earlier than expected. Whoops -- Facebook Is Once Again Overhyped. How Facebook Was Founded. The Age Of Facebook: Excerpts From The New Book By David Kirkpat. Facebook is about to try to dominate display ads the way Google.
Facebook & The Semantic Web. Why Facebook badly needs Steve Jobs.
---