Fanpages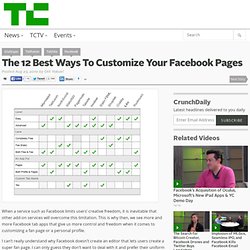 When a service such as Facebook limits users' creative freedom, it is inevitable that other add-on services will overcome this limitation. This is why then, we see more and more Facebook tab apps that give us more control and freedom when it comes to customizing a fan page or a personal profile. I can't really understand why Facebook doesn't create an editor that lets users create a super fan page. I can only guess they don't want to deal with it and prefer their uniform design, which may be boring but at least it is consistent and familiar. Instead, Facebook lets other people get creative and offer an array of Facebook related apps built on the API.
Thousands of ecommerce businesses have Facebook Fan pages. But making those pages stand out from competitors' pages is a challenge. One of the ways to distinguish yours is through the use of a custom landing page, also known as a Welcome tab. In the past, to create a landing page you would need to know Facebook markup language, HTML, and staticFBML. Now, there are several apps that make page creation easier to do.
Four Apps to Create Facebook 'Welcome' Pages
// Mise à jour juillet 2011 >> Remarque importante : depuis quelques mois déjà, Facebook ne permet plus l'ajout de l'application Static FBML permettant d'intégrer un formulaire comme décrit ci-dessous. Si celle-ci a déjà été ajoutée à votre page, elle reste active et ce tutoriel est toujours d'actualité; dans le cas contraire, vous devez désormais créer votre propre application. Nouveau tutoriel à venir prochainement ! // Après un premier tutoriel vidéo où je vous expliquais comment intégrer un onglet d'accueil à votre page Facebook (ou tout autre onglet – à (re)découvrir donc pour créer éventuellement un onglet dédié à votre newsletter par exemple), vous trouverez ici les bases pour intégrer un formulaire et récupérer les données dans une table SQL. Pas d'affolement, rien de si compliqué et parce que l'email reste un canal de communication incontournable, un formulaire sur une page Facebook, avec quelques champs, est le bienvenu.
» Intégrer un formulaire à sa page Facebook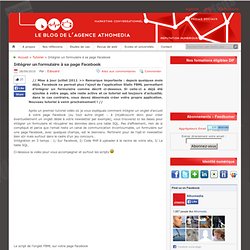 Vous l'aurez sans doute remarqué si vous me suivez sur différents réseaux sociaux via mon profil Twitter (@Kriisiis) ou mon profil Facebook, je passe actuellement un certain temps à m'intéresser aux « Landing Pages » des Fan-Pages Facebook. De quoi s'agit-il, exactement ? Tout simplement de l'onglet sur lequel arrive un internaute lorsqu'il souhaite visiter une Fan-Page. Lorsque celui-ci n'a pas encore « aimé » celle-ci, il est possible de le diriger vers un onglet personnalisé, customisé en HTML, et donc bien plus accrocheur, d'où une accentuation parfois très marquante du taux de conversion. Je souhaiterais aujourd'hui vous proposer « 10 conseils et étapes pour créer sa Landing-Page sur Facebook », billet que j'ai organisé selon mon expérience et mon ressenti de la semaine.