Bon Plan Facebook
Les Bons Plans de Facebook arrivent en France
Après son lancement aux États-Unis, Facebook annonce le 31 janvier 2011 l'arrivée en France, au Royaume-Uni, en Allemagne, en Italie et en Espagne des "Bons Plans". Ce nouveau service met à disposition des 20 millions d'utilisateurs "actifs" mensuels des bons plans dans les magasins autour d'eux, depuis la fonctionnalité "Lieux". Il se décline sous quatre formes. Les Bons Plans Individuels offrent une promotion unique, un produit gratuit ou une autre récompense. Les Bons Plans Fidélité qui récompensent la fidélité des clients.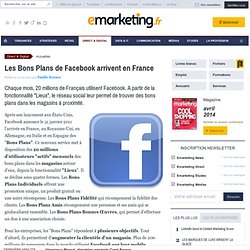 3 étapes pour intégrer votre entreprise à Facebook Places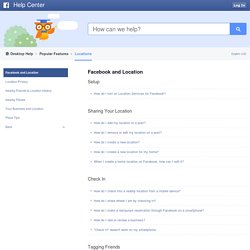 Sharing your location lets you tell family and friends where you are as you're posting: Tell people you're at a specific placeTo include a specific location when you post, like a restaurant or park, click the icon and type in the name of the place or event. To say you're there with others, click the icon and add their names. You can control who sees this post by choosing an audience before you publish it. If you tag anyone with you, that person and their friends may see the post, including where you are.Include your general locationInstead of a specific place, you can choose to include the city or area you're nearby.
Introducing Deals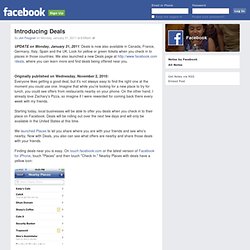 UPDATE on Monday, January 31, 2011: Deals is now also available in Canada, France, Germany, Italy, Spain and the UK. Look for yellow or green tickets when you check in to places in those countries. We also launched a new Deals page at http://www.facebook.com/deals, where you can learn more and find deals being offered near you. Originally published on Wednesday, November 2, 2010: Everyone likes getting a good deal, but it's not always easy to find the right one at the moment you could use one. Imagine that while you're looking for a new place to try for lunch, you could see offers from restaurants nearby on your phone.
Trouvez des bons plans sur Facebook
Trouvez des bons plans sur Facebook
Les Bons Plans De Facebook Enfin Disponibles En France – Video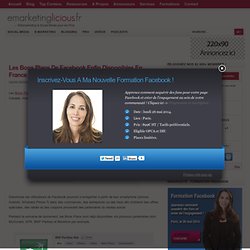 Les Bons Plans de Facebook sont enfin disponibles en France mais également dans d'autres pays : Canada, Allemagne, Italie, Espagne et Royaume-Uni. Désormais les utilisateurs de Facebook pourront s'enregistrer à partir de leur smartphone (Iphone, Android, Windows Phone 7) dans des commerces, des entreprises ou des lieux afin d'obtenir des offres spéciales, des rabais et des coupons provenant des partenaires du réseau social. Pendant la semaine de lancement, les Bons Plans sont déjà disponibles via plusieurs partenaires dont McDonald, SFR, BNP Paribas et Benetton par exemple.