Facebook mobile
MyPad Creator Launches iPad App That's 'StumbleUpon For Facebook Timelines'
App Center : les médias pourront-ils se passer de Facebook ?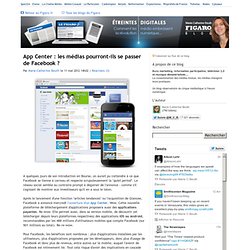 A quelques jours de son introduction en Bourse, on aurait pu s'attendre à ce que Facebook se tienne à carreau et respecte scrupuleusement la "quiet period".
Facebook today announced that it will begin supporting paid apps on its platform to be featured and sold in the new App Center also revealed today.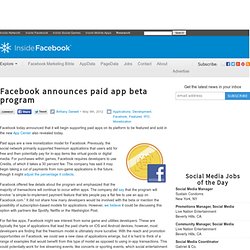 Facebook announces paid app beta program
The U.S.'s place at the forefront of mobile advertising is quickly coming to a close as Brazil, China, and India (the BRIC nations minus Russia) prepare to take center stage. That's the conclusion of a new Yankee Group study projecting that mobile ad spending across the three countries will grow sixfold to more than $6 billion by 2016, while the U.S. total flattens to about half that amount in four years. Europe will see even less expansion, with mobile ad revenue expected to rise little from the estimated $1 billion total this year.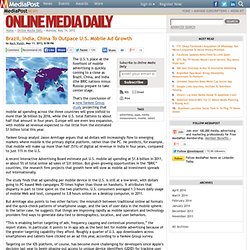 Publications Brazil, India, China To Outpace U.S. Mobile Ad Growth 05/14
Mobile usage pushes Facebook engagement to new heights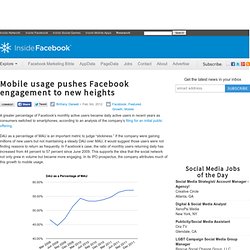 Mobile usage pushes Facebook engagement to new heights