Facebook mobile
MyPad Creator Launches iPad App That's 'StumbleUpon For Facebook Timelines' App Center : les médias pourront-ils se passer de Facebook ? A quelques jours de son introduction en Bourse, on aurait pu s'attendre à ce que Facebook se tienne à carreau et respecte scrupuleusement la "quiet period".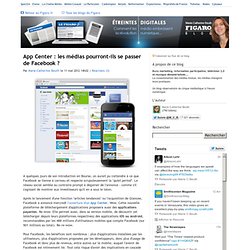 Le réseau social semble au contraire prompt à dégainer de l'annonce - comme s'il s'agissait de montrer aux investisseurs qu'il en a sous le talon. Après le lancement d'une fonction "articles tendances" ou l'acquisition de Glancee, Facebook a annoncé mercredi l'ouverture d'un App Center. Wow. Cette nouvelle plateforme de téléchargement d'applications proposera aussi des applications payantes.
Facebook announces paid app beta program. Facebook today announced that it will begin supporting paid apps on its platform to be featured and sold in the new App Center also revealed today.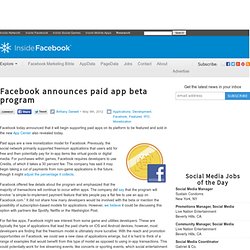 Paid apps are a new monetization model for Facebook. Previously, the social network primarily supported freemium applications that users add for free and then potentially pay for in-app items like virtual goods or digital media. For purchases within games, Facebook requires developers to use Credits, of which it takes a 30 percent fee. The company has said it may begin taking a cut of payments from non-game applications in the future, though it might adjust the percentage it collects. Publications Brazil, India, China To Outpace U.S. Mobile Ad Growth 05/14. The U.S.'s place at the forefront of mobile advertising is quickly coming to a close as Brazil, China, and India (the BRIC nations minus Russia) prepare to take center stage.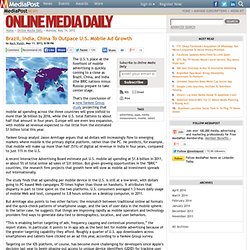 That's the conclusion of a new Yankee Group study projecting that mobile ad spending across the three countries will grow sixfold to more than $6 billion by 2016, while the U.S. total flattens to about half that amount in four years. Europe will see even less expansion, with mobile ad revenue expected to rise little from the estimated $1 billion total this year. Mobile usage pushes Facebook engagement to new heights. Mobile usage pushes Facebook engagement to new heights A greater percentage of Facebook's monthly active users became daily active users in recent years as consumers switched to smartphones, according to an analysis of the company's filing for an initial public offering.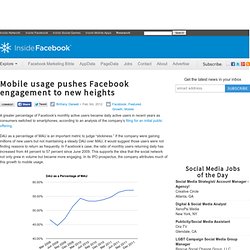 DAU as a percentage of MAU is an important metric to judge "stickiness." If the company were gaining millions of new users but not maintaining a steady DAU over MAU, it would suggest those users were not finding reasons to return as frequently. In Facebook's case, the ratio of monthly users returning daily has increased from 44 percent to 57 percent since June 2009.
---