FB places
Your Facebook Friends Are Watching You—Did We Just Move Closer to 1984?
George Orwell's novel 1984 begins with Winston Smith, the main character, seeing posters saying BIG BROTHER IS WATCHING YOU. In 2010, that could be replaced with FACEBOOK IS WATCHING YOU.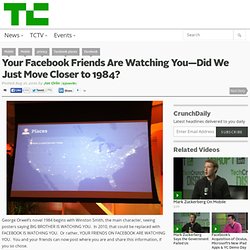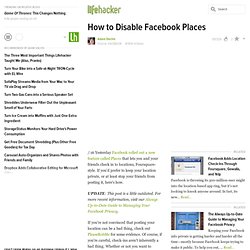 /:16 Yesterday Facebook rolled out a new feature called Places that lets you and your friends check in to locations, Foursquare-style. If you'd prefer to keep your location private, or at least stop your friends from posting it, here's how. UPDATE: This post is a little outdated.
How to Disable Facebook Places
Is It ONLY ME? Disabling Facebook Places In Pursuit of Privacy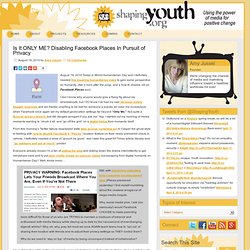 I don't know why anyone would give a flying fig about my whereabouts, but I DO know I've had my own and am frankly unwilling to be bait for someone's pranks, so color me incredulous when Facebook once again set my default geolocation settings far beyond Not quite a but still danged arrogant if you ask me. Yep, I started out my morning of media moments wanting to 'chuck it all' and "go off the grid" on a from humanity itself. From this morning's Twitter tabula rasa/wiped slate in Casper the ghost style to fiddling with location feature on their newly premiered check-in vehicle, I definitely needed a dose of "grouch be gone" lest I take this great NYTimes article and pronto! Everyone already I'm a fan of and dialing down the drama intermittently to get mindshare back and to put but escaping from digital humanity on Humanitarian Day? Well, kinda ironic…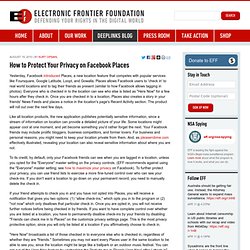 How to Protect Your Privacy on Facebook Places
Yesterday, Facebook introduced Places, a new location feature that competes with popular services like Foursquare, Google Latitude, Loopt, and Gowalla.
Facebook "Places" Embeds Privacy Risks, Complicated and Ephemeral Opt-Out Unfair to Users