Extensions
Akeeba Ltd specialises in building Open Source PHP software for backing up and securing web sites. Our goal is producing the highest quality PHP software, always honouring the core values of Freedom of choice and access to the software's source code. We go even further than that, by providing the most thorough documentation you've seen in PHP software and making it available to everyone. We're here to redefine how PHP software is made, documented and supported!
We have just finished the migration of the K2 code repository from Google Code to Github. The new code repo is now located at: https://github.com/joomlaworks/k2 So why this move to Github you ask? Well, Github will now make it a lot easier for casual developers (and experts of course) to submit code to the K2 code base. Previously this was a very tedious process with Google Code, such that most third-party additions or improvements were essentially completed manually via the bug tracker. This also means that bug solving will now be a lot faster and more transparent.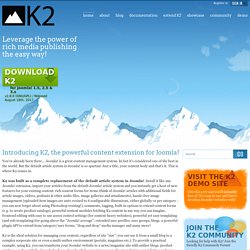 JoomDalf
ACL Manager for Joomla!, simplified one page permission settings overview - ACL Manager for Joomla!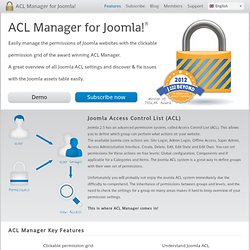 Understand Joomla ACL Dozens of permission screens, nested User Groups, inherited permissions... It can be very confusing.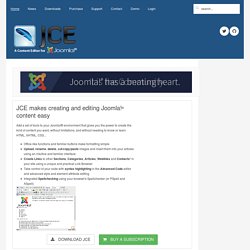 JCE is extendable Install Add-ons to extend JCE funcitonality² File Manager - Insert links to files of any type with customizable descriptions that include file date, size and icon.Media Manager - Upload and insert media files (flash, windows media, quicktime etc), embed Youtube movies² and create popups³ to any media type! The Media Manager also includes a custom built FLV Player!
AceFTP - Joomla File Manager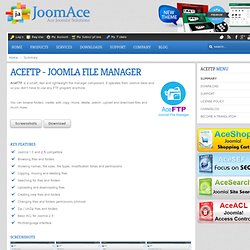 AceFTP is a smart, fast and lightweight file manager component. It operates from Joomla back-end so you don't have to use any FTP program anymore. You can browse folders, create, edit, copy, move, delete, search, upload and download files and much more. Key Features