Right & law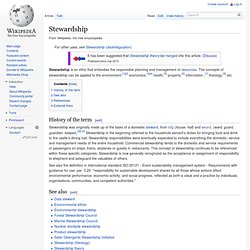 Stewardship
Stewardship is an ethic that embodies the responsible planning and management of resources . The concepts of stewardship can be applied to the environment, economics, health, property, information, religion etc. Stewardship is often linked to the principles of sustainability . [ edit ] History of the term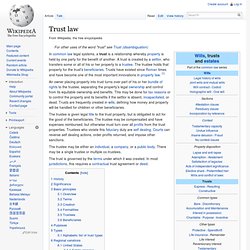 In common law legal systems, a trust is a relationship whereby property (real or personal, tangible or intangible) is held by one party for the benefit of another. A trust conventionally arises when property is transferred by one party to be held by another party for the benefit of a third party, although it is also possible for a legal owner to create a trust of property without transferring it to anyone else, simply by declaring that the property will henceforth be held for the benefit of the beneficiary. A trust is created by a settlor , who transfers some or all of his property to a trustee , who holds that trust property (also called the principal or corpus) for the benefit of the beneficiaries .
Mosaic representing both the judicial and legislative aspects of law. The woman on the throne holds a sword to chastise the guilty and a palm branch to reward the meritorious. Glory surrounds her head, and the aegis of Minerva signifies the armor of righteousness and wisdom. [ 1 ] The rule of law is the "supremacy of regular power as opposed to arbitrary power." [ 2 ] The phrase can be traced back to the 17th century, and it was popularized in the 19th century by British jurist A. V. Dicey .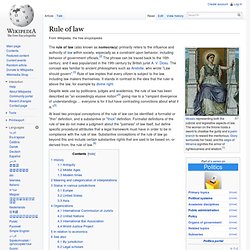 Rule of law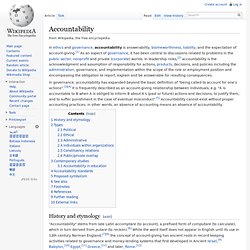 In ethics and governance , accountability is answerability, blameworthiness , liability , and the expectation of account-giving. [ 1 ] As an aspect of governance , it has been central to discussions related to problems in the public sector , nonprofit and private ( corporate ) worlds. In leadership roles, [ 2 ] accountability is the acknowledgment and assumption of responsibility for actions, products , decisions, and policies including the administration , governance, and implementation within the scope of the role or employment position and encompassing the obligation to report, explain and be answerable for resulting consequences. In governance, accountability has expanded beyond the basic definition of "being called to account for one's actions". [ 3 ] [ 4 ] It is frequently described as an account-giving relationship between individuals, e.g.
Accountability
The term environmental justice emerged as a concept in the United States in the early 1980s.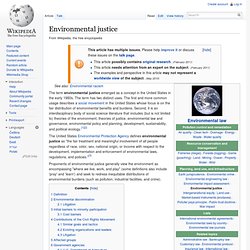 Environmental justice
Thinkers often use the metaphor of a race to describe equality of opportunity. Photo: a sprinter at the starting block.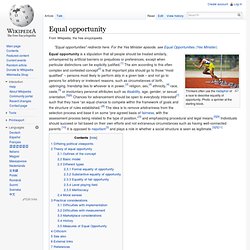 Equal opportunity
Property is any physical or intangible entity that is owned by a person or jointly by a group of people or a legal entity like a corporation . [ citation needed ] Depending on the nature of the property, an owner of property has the right to consume , sell , rent , mortgage , transfer , exchange or destroy it, or to exclude others from doing these things. [ 1 ] [ 2 ] [ 3 ] The Restatement (First) of Property defines Property as any thing, tangible or intangible whereby a legal relationship between persons and the State enforces a possessory interest or legal title in that thing. This mediating relationship between individual, property and state is called as property regimes. [ 4 ]
Property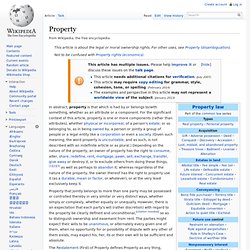 Enclosure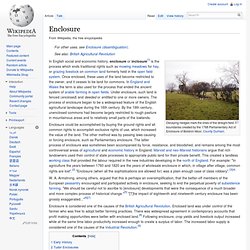 In English social and economic history, enclosure or inclosure [ 1 ] is the process which ends traditional rights such as mowing meadows for hay , or grazing livestock on common land formerly held in the open field system . Once enclosed, these uses of the land become restricted to the owner, and it ceases to be land for commons. In England and Wales the term is also used for the process that ended the ancient system of arable farming in open fields .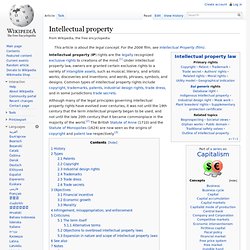 Intellectual property ( IP ) is a legal concept which refers to creations of the mind for which exclusive rights are recognized. [ 1 ] Under intellectual property law, owners are granted certain exclusive rights to a variety of intangible assets , such as musical, literary, and artistic works; discoveries and inventions; and words, phrases, symbols, and designs.
Property rights (economics)
Property rights are a controversial, theoretical construct in economics for determining how a resource is used, and who owns that resource - government, collective bodies, or by individuals. [ 1 ] Property rights can be viewed as an attribute of an economic good. This attribute has four broad components [ 2 ] and is often referred to as a bundle of rights : [ 3 ] the right to use the good the right to earn income from the good the right to transfer the good to others the right to enforcement of property rights. In economics, property usually refers to ownership (rights to the proceeds of output generated) and control over the use of the means of production .
Traditional knowledge
Traditional knowledge (TK), indigenous knowledge (IK), traditional environmental knowledge (TEK) and local knowledge generally refer to knowledge systems embedded in the cultural traditions of regional , indigenous , or local communities . Traditional knowledge includes types of knowledge about traditional technologies of subsistence (e.g. tools and techniques for hunting or agriculture), midwifery , ethnobotany and ecological knowledge , celestial navigation , ethnoastronomy , etc. These kinds of knowledge are crucial for the subsistence and survival and are generally based on accumulations of empirical observation and interaction with the environment.
Indigenous rights are those rights that exist in recognition of the specific condition of the indigenous peoples . This includes not only the most basic human rights of physical survival and integrity, but also the preservation of their land , language , religion , and other elements of cultural heritage that are a part of their existence as a people. This can be used as an expression for advocacy of social organizations or form a part of the national law in establishing the relation between a government and the right of self-determination among the indigenous people living within its borders, or in international law as a protection against violation by actions of governments or groups of private interests. [ edit ] Definition and historical background
Indigenous rights
Indigenous land rights
Indigenous land rights are the rights of indigenous peoples to land , either individually or collectively . Land and resource-related rights are of fundamental importance to indigenous peoples for a range of reasons, including: the religious significance of the land, self-determination , identity, and economic factors. [ 1 ] Land is a major economic asset. The majority of indigenous peoples living in forest areas depend on the natural resources of their lands to fulfill their subsistence needs. Hunting , fishing , gathering of forest products, and small garden plots still form the basis of their household economy. The security and permanence of their control and use of the natural resource base is actually more important to most indigenous groups than direct ownership of the land itself.
Portal:Human rights
Human rights are commonly understood as "inalienable fundamental rights to which a person is inherently entitled simply because she or he is a human being." Human rights are thus conceived as universal (applicable everywhere) and egalitarian (the same for everyone). These rights may exist as natural rights or as legal rights , in both national and international law . The doctrine of human rights in international practice, within international law, global and regional institutions, in the policies of states and in the activities of non-governmental organizations, has been a cornerstone of public policy around the world. In The idea of human rights it says: "if the public discourse of peacetime global society can be said to have a common moral language, it is that of human rights."
Natural and legal rights are two types of rights theoretically distinct according to philosophers and political scientists . Natural rights are rights not contingent upon the laws, customs, or beliefs of any particular culture or government, and therefore universal and inalienable. In contrast, legal rights are those bestowed onto a person by a given legal system . The theory of natural law is closely related to the theory of natural rights. During the Age of Enlightenment , natural law theory challenged the divine right of kings , and became an alternative justification for the establishment of a social contract , positive law , and government — and thus legal rights — in the form of classical republicanism . Conversely, the concept of natural rights is used by some anarchists to challenge the legitimacy of all such establishments. [ 1 ] [ 2 ]
Natural and legal rights
Social rights
Social safety net
Welfare
Social justice