Why Explore the Universe & Outer Space? (team curated)
in Your Life
Space Shuttle Endeavour Inspires Los Angeles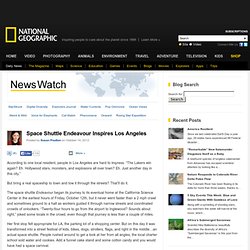 According to one local resident, people in Los Angeles are hard to impress. "The Lakers win again? Eh. Hollywood stars, monsters, and explosions all over town? Eh.
Why We Explore
Welcome to Celestia ... The free space simulation that lets you explore our universe in three dimensions.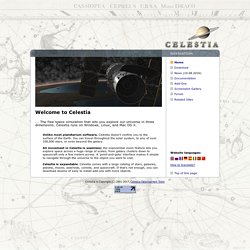 The debate whether people or robots should explore outer space has caused quite a bit of contention recently, so I thought that a more detailed investigation between both sides of the argument was needed.
Space Exploration: Humans versus Robots « Phil for Humanity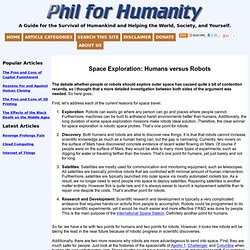 The main purpose of N.A.S.A. is space exploration and discovery. This purpose is neither practical nor directly helps all of humanity, with the exception of asteroid tracking that could potentially save lives.
A Better Purpose for NASA « Phil for Humanity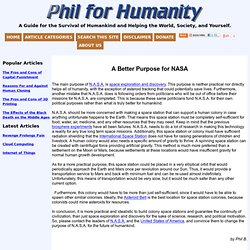 To this day, I am still surprised that there is a debate if space exploration should migrate from government programs to corporations.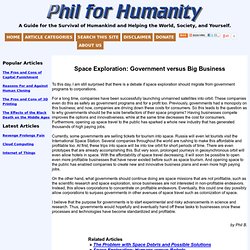 Space Exploration: Government versus Big Business « Phil for Humanity
Once in space, the biggest threat to astronauts and spacecrafts is space debris.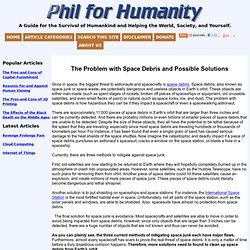 The Problem with Space Debris and Possible Solutions « Phil for Humanity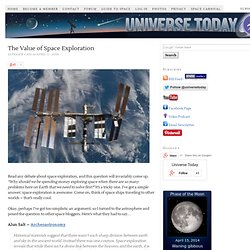 Read any debate about space exploration, and this question will invariably come up. "Why should we be spending money exploring space when there are so many problems here on Earth that we need to solve first?"
The Value of Space Exploration
Take part & help - World Wide Astronomy Efforts
Future Space Technologies
Benefits of Space Exploration