Softs
Mohawke's Best of the Best Free and Open Source Software Collection from Dark Artistry :: Windows :: Macintosh :: Internet :: Operating Systems :: Games :: Web-Sites :: OSSWIN CD :: For search features you can simply use the search feature in your browser; Ctrl+F or Apple+F - Firefox, or use table tools If you need these pages translated check out FoxLingo (This page contains no ads or cookies, but does require a javascript enabled browser for sorting.)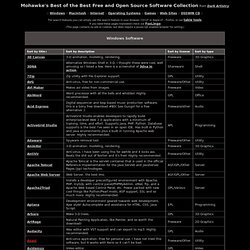 Orbit Downloader Alternatives and Similar Software
3 Fascinating Search Engines That Search For Faces
Search engines are becoming ever more smarter in managing the massive amounts of data they are facing. In fact, face search and facial recognition are just a few of the many tools. When used the right way, they quickly unravel what an individual has been up to. Here are three face search engines that may give you a thrill. Let's see what they reveal about you or your friends. facesearch – Face Search Engine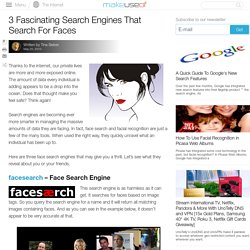 GraphicAll.org
What? GraphicAll.org is a community-run site dedicated to build and host open-source software . GraphicAll.org started in 2005 as a clear need was raising among the Blender community, this open-source 3D app showed such a fast development that was hard to keep up with all the changes, some developers would build and host their own builds, but back then that was already a hard task to mantain. With 6 years proof that this service actually works and helped the Blender community, we are inviting other open-source communities to join the party. Spread the word and get your favorite software to showoff its latest goodies!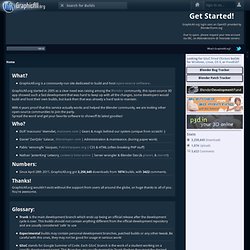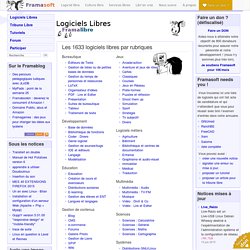 Nouvelles notices PyroCMS Un CMS pro, léger et personnalisable | FR 19 mars 2013 KeepNote Logiciel de prise de notes, multi-plateforme et paramétrable | FR | WIN | TUX | MAC | GPL 7 mars 2013 M 23 M23 est un assistant pour la gestion d'un parc de machines GNU/Linux. | TUX | GPL 1er mars 2013 Trisph TriSph est une calculatrice dont la fonction est de résoudre les triangles sphériques, capable de s'adapter aux différentes configurations propres aux domaines qui les utilisent. | FR | WIN | TUX | MAC 9 février 2013 974 Application Server IDE Java avec applications intégrées | FR | WIN | TUX | MAC 5 février 2013 Serie3D Serie3D est un logiciel de géométrie 3D dynamique de la famille de GeoGebra | FR 18 janvier 2013 Calenco Calenco est une plate-forme collaborative permettant de rédiger, mettre à jour et publier tous types de documents en multi-formats. | FR 9 janvier 2013 ViewTube Lire des vidéos sur Youtube, Dailymotion et d'autres… sans Flash Player !
Download Free Windows Scheduling Open Source Software - SourceForge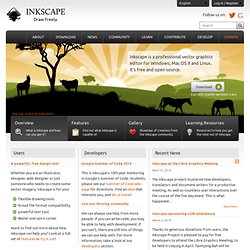 Inkscape est un logiciel libre d'édition de graphismes vectoriels, doté de capacités similaires à Illustrator, Freehand, CorelDraw ou Xara X, utilisant le format de fichiers Scalable Vector Graphics (SVG) standard du W3C . Les fonctionnalités supportées du format SVG incluent les formes, les chemins, le texte, les marqueurs, les clônes, les canaux alpha, les transformations, les motifs et les groupements. Inkscape supporte également les méta-données Creative Commons , l'édition de nœuds, les couches, les opérations de chemins complexes, la vectorisation des bitmaps, le texte suivant des chemins, le texte contournant des objets, l'édition XML directe et beaucoup plus. Il peut importer des formats tels que le Postscript, EPS, JPEG, PNG et TIFF, et exporte en PNG ainsi qu'en de nombreux formats vectoriels.
Image Editor | digiKam - Photo Management Program
phTagr