Ex-mormon Support
MormonThink.com: An objective look at Mormons / Mormonism / the LDS Church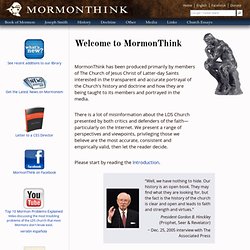 Top Current Stories Book of Mormon Translation - 12/30/13 The Church just released the 4th essay addressing troubling issues in its history. An essay on the mechanical process in which the Book of Mormon was translated is now in the topical guide of the LDS.org website. It is found here: Book of Mormon Translation The article is fairly brief and only superficially addresses the problem. For example the article states that a spectacle "urim & thummim" was used to translate the BOM as well as a common stone discovered in the ground.
The Lost Book of Abraham
Post Mormon Community
Dec 19, 2013 Episode 236: 2014 Studio Campaign Listen to John as he invites you to help him build the new studio and offices.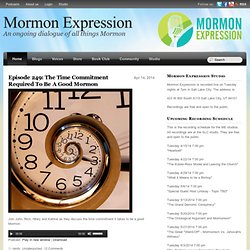 Mormon Expression
Top 10 Mormon Problems Explained
MormonThink.com: An objective look at Mormons / Mormonism / the LDS Church
A few years ago I was in the hospital and my dad offered me a blessing. I refused. I am all better. : exmormon
4.0 - Why I left Mormonism - Do We Filter Reality?