Darwin
Darwin's Birthday
Isn't it interesting that discussions about the truth of Evolution so often reach the ridiculous argument that Evolution does not explain the creation of life.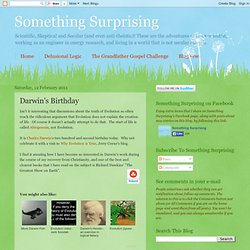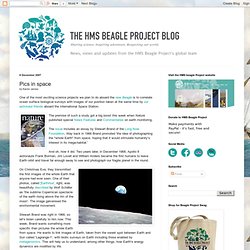 One of the most exciting science projects we plan to do aboard the new Beagle is to correlate ocean surface biological surveys with images of our position taken at the same time by our astronaut friends aboard the International Space Station. The premise of such a study got a big boost this week when Nature published special News Features and Commentaries on earth monitoring.
The Beagle Project Blog: Pics in space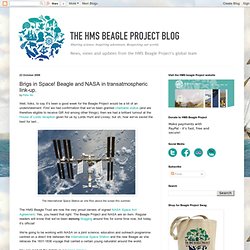 Well, folks, to say it's been a good week for the Beagle Project would be a bit of an understatement. First we had confirmation that we've been granted charitable status (and are therefore eligible to receive Gift Aid among other things); then we had a brilliant turnout at the House of Lords reception given for us by Lords Hunt and Livsey ; but oh, how we've saved the best for last... The International Space Station as she flies above the ocean this summer.
The Beagle Project Blog: Brigs in Space! Beagle and NASA in transatmospheric link-up.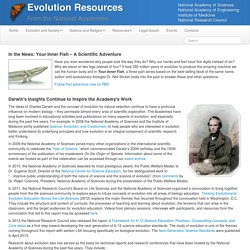 The National Academies
The ideas of Charles Darwin and the concept of evolution by natural selection continue to have a profound influence on modern biology – they permeate almost every area of scientific exploration. The Academies have long been involved in educational activities and publications on many aspects of evolution, and especially during the past five years. For example, in 2008 the National Academy of Sciences and the Institute of Medicine jointly published Science, Evolution, and Creationism , to help people who are interested in evolution better understand its underlying principles and how evolution is an integral component of scientific research and thinking. In 2009 the National Academy of Sciences joined many other organizations in the international scientific community to celebrate the 'Year of Science,' which commemorated Darwin's 200th birthday and the 150th anniversary of the publication of his masterwork On the Origin of Species .
by Lucas Laursen
Origins
Darwin's personal library and annotations online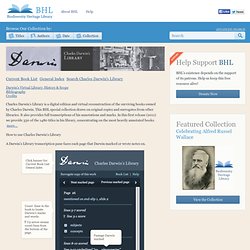 Current Book List General Index Search Charles Darwin's Library Charles Darwin's Library is a digital edition and virtual reconstruction of the surviving books owned by Charles Darwin.
Excerpt--lostworldt
Michael Shermer: Why Darwin Matters
International Darwin Day Foundation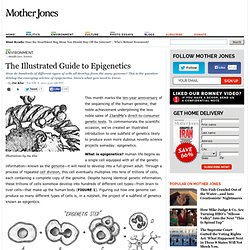 Illustrations by Joe Kloc
Charles Darwin Spotlight | Learn Science at Scitable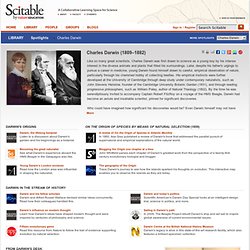 Like so many great scientists, Charles Darwin was first drawn to science as a young boy by his intense interest in the diverse animals and plants that filled his surroundings. Later, despite his father's urgings to pursue a career in medicine, young Darwin found himself drawn to careful, empirical observation of nature, particularly through his cherished hobby of collecting beetles.
Evolution - Charles Darwin's 200th Birthday - The New York Times
frameset?viewtype=side&itemID=F880