Articles
Author Affiliations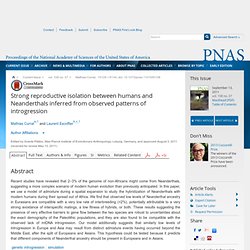 Strong reproductive isolation between humans and Neanderthals inferred from observed patterns of introgression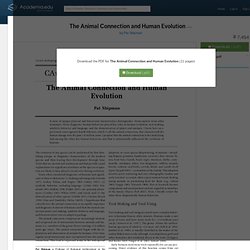 The Animal Connection and Human Evolution (Pat Shipman) - Academia.edu
Current Anthropology V olum e 51, Number 4, Augus t 2010 Tuesday Jun 29 2010 11:58 AM/CA300269/2010/51/4 /hensleys/ritterd/ritterd/Q C1 complete/use-graphics/narrow/default/ (Chaney 2008). In both the United States and Australia, 63% of households include pets, compared with 43% of British and 20% of Japanese households. In the United States, the proportion of households with pets is larger than those with children. The number of dogs in Japan exceeds that of chil- dren under the age of 12.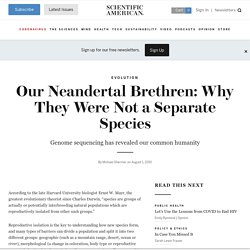 Our Neandertal Brethren: Why They Were Not a Separate Species
According to the late Harvard University biologist Ernst W.
The Neandertal Genome
Ancient DNA From Siberia Fingers a Possible New Human Lineage --