Mobile Technologies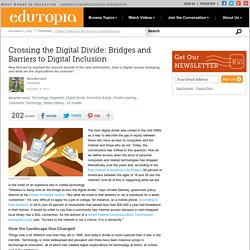 Crossing the Digital Divide: Bridges and Barriers to Digital Inclusion
Now that we've reached the second decade of the new millennium, how is digital access changing, and what are the implications for schools? Credit: iStockphoto
Finding a Voice Through Twitter
Digital Tools Matthew Williams Students at Burton High experiment with tweeting in class.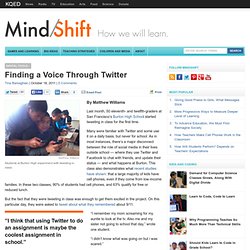 Tools for learning: Mobile phones and authentic learning tasks | edtalks.org
Text a Librarian: Text Messaging Reference Software | SMS Mobile Reference Technology | SMS Text Messaging in Libraries | Mobile Software for Public | Academic | Medical | Corporate | Law and Special Libraries | Mobile Lib | Mosio | Answers
Mobile Web Resources | Mobile Web Best Practices
More Google Wallet merchants are live. Now you can pay AND save in a single tap.
We're hearing from people at check-out counters throughout the country that paying with your phone is a little like magic. Just look at the ecstatic reaction on the faces of our friends who made their first Google Wallet purchases last Thursday. Today, our partners American Eagle Outfitters, The Container Store, Foot Locker, Guess, Jamba Juice, Macy's, OfficeMax and Toys"R"Us are rolling out an even better Google Wallet experience.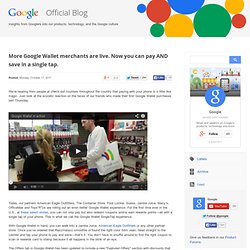 What Smartphone Internet Usage Means for Libraries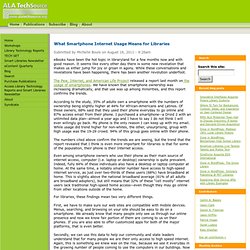 eBooks have been the hot topic in libraryland for a few months now and with good reason. It seems like every other day there is some new revelation that makes us either jump for joy or groan in agony. While these conversations and revelations have been happening, there has been another revolution underfoot.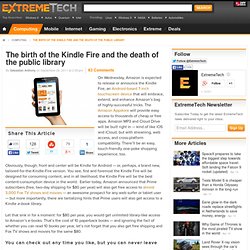 The birth of the Kindle Fire and the death of the public library
On Wednesday, Amazon is expected to release or announce the Kindle Fire, an Android-based 7-inch touchscreen device that will embrace, extend, and enhance Amazon's bag of highly-successful tricks.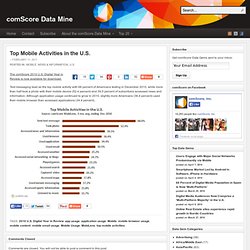 – February 11, 2011Posted in: Mobile, News & Information, U.S.
Top Mobile Activities in the U.S.
Mobile Ad Spending In The U.S. Expected To Grow 65 Percent In 2011 To $1.2 Billion
Millennials — that is, American consumers between ages 18 and 34 — are a mobile generation.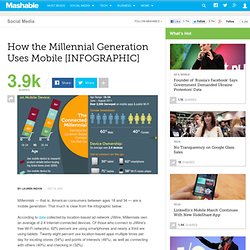 How the Millennial Generation Uses Mobile