Content curation
CollaborativeContentCuration
Excerpt from article written by Dennis Shiao and published on Scoop.it Blog:"Every time I visit the Museum of Modern Art (MoMA) in New York City, I see something I've never seen before.Wouldn't it be great if our content collections drew as much interest, respect and admiration as the collections at MoMA? In order to achieve this feat, we need to become highly effective content curators. Let's consider seven habits: 1.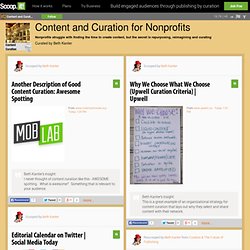 Content and Curation for Nonprofits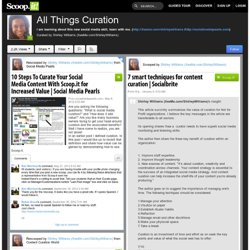 Robin Good: The Institute for the Future and the University of Phoenix have teamed up to produce, this past spring, an interesting report entitled Future Work Skills 2020. By looking at the set of emerging skills that this research identifies as vital for future workers, I can't avoid but recognize the very skillset needed by any professional curator or newsmaster. It should only come as a limited surprise to realize that in an information economy, the most valuable skills are those that can harness that primary resource, "information", in new, and immediately useful ways.
All Things Curation
Real-Time News And Content Curation: The Best 2010 Articles And Reports From MasterNewMedia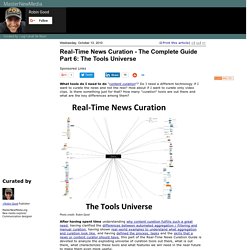 Real-Time News Curation: Part 6 - The Tools and Technologies In this part of the guide you will find: 1. A Brief History of News Curation Tools 2.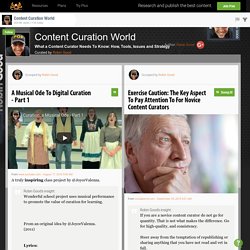 Excerpt from article by Mashable:"How each story is told is as important as the story itself," begins the promo video for Facebook's new much-hyped Paper app.The app mixes curated news feeds with your Facebook timeline to create a platform that integrates news discovery and sharing into your timeline. With its tiled layout and gesture-based user interface, it feels very similar to Flipboard's suite of apps. We put both apps side by side to see how the two stack up. Here's how they compare:
A few good scoops for us