21st century Library
Infonet. The 'Excellent Customer Service in Public Libraries - New Trends' seminar was held on Thursday 2 April 2009, at the State Library of Victoria.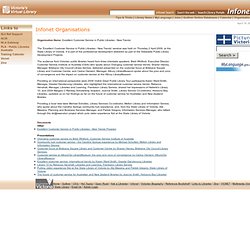 It is part of the professional development delivered as part of the Statewide Public Library Development Projects. The audience from Victorian public libraries heard from three interstate speakers: Brett Whitford, Executive Director, Customer Service Institute of Australia (CSIA) who spoke about Changing customer service trends; Sharan Harvey, Manager, Brisbane City Council Library Service, delivered presented on the customer focus at Brisbane Square Library and Customer Centre; and Carina Clement, Manager, Albury LibraryMuseum spoke about the pros and cons of convergence and the impact on customer service at the Albury LibraryMusuem.
Reading Future Trends, Libraries Reach Out to Older Adults. May 16, 2011; Source: SecondAct | Some enterprising public libraries around the country think there's much more they can do to serve aging baby boomers.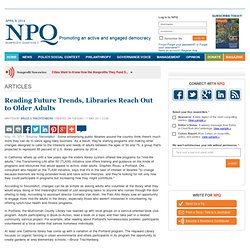 As a result, they're starting programs and making other changes designed to cater to the interests and needs of adults between the ages of 50 and 75, a group that's projected to represent 65 percent of U.S. library patrons by 2014. In California, where up until a few years ago the state's library system offered few programs for "mid-life adults," the Transforming Life after 50 (TLA50) initiative now offers training and guidance on the kinds of programs and resources that would appeal to active, older adults.
Stephen Risau, a Portland, Ore., consultant who helped on the TLA50 initiative, says that it's in the best of interest of libraries "to change because boomers are living extended lives and have active lifestyles, and they're looking for not only how they could participate in programs but increasing how they might contribute. " Getting deeply local at our libraries. In April I was at an event where I used the phrase get deeply local to describe a key strategy for libraries that want to survive.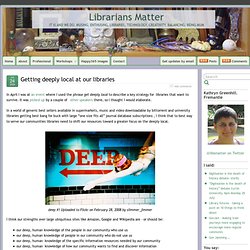 It was picked up by a couple of other speakers there, so I thought I would elaborate. In a world of generic best sellers available in supermarkets, music and video downloadable by bittorrent and university libraries getting best bang for buck with large "one size fits all" journal database subscriptions , I think that to best way to serve our communities libraries need to shift our resources toward a greater focus on the deeply local. JeromeDL - the Semantic Digital Library. Educational Technology and Libraries. Resourceful Curriculum for 21st Century Learning: Designing the School Library as a Garden. SUMMARY: To explore learning and change, the idea of the school library as a formal garden is cultivated.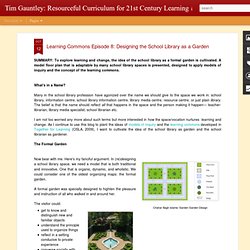 A model floor plan that is adaptable by many school library spaces is presented, designed to apply models of inquiry and the concept of the learning commons.What's in a Name? Many in the school library profession have agonized over the name we should give to the space we work in: school library, information centre, school library information centre, library media centre, resource centre, or just plain library. Libraries as Sites of Enchantment, Participatory Culture, and Learning. R. David Lankes. The topic of todays sermon is "hope."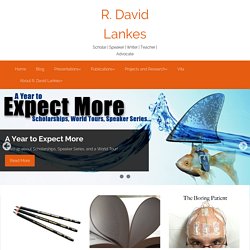 The audience for said sermon is me. You see I woke up this morning with good news. My white blood count had climbed from 0.1 to 0.3. New York's Public Architecture Gets a Face-Lift. Library 2.0 - the future of libraries in the digital age. Changing Spaces: Exploring Future User Needs, Sustainability, and Value | Library by Design. Sorry, but the article or page you're looking was not found. In May 2013, Library Journal underwent a major server migration for its archived web content, which happened slightly sooner than originally expected. As a result, much of the content from 2004 to 2012 is currently unavailable to the public. However, this content has not been lost, and our web staff is in the process of converting these past articles for integration into the WordPress-based website you see here, which was launched in 2012. Many of these older articles have already been restored, and more will continue to be restored on an ongoing basis as they are cleaned up.
BuildingAndFacilities. Design Institute: Six Space Challenges from Six Libraries | Library by Design. Digital library aims to expand kids' media literacy. CHICAGO – On the ground floor of the city's main library, an odd experiment is taking place, one that could determine what your neighborhood library looks like in 10 years.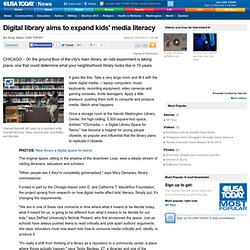 It goes like this: Take a very large room and fill it with the latest digital media — laptop computers, music keyboards, recording equipment, video cameras and gaming consoles. Invite teenagers. Apply a little pressure, pushing them both to consume and produce media. Coworking at the Public Library. Coworking is a modern work innovation where people in various creative professions share a common work space, synergizing their talents and making best use of fixed-cost resources.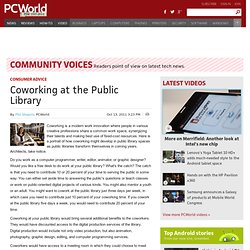 Here is a portrait of how coworking might develop in public library spaces as public libraries transform themselves in coming years. Architects, take notice. Do you work as a computer programmer, writer, editor, animator, or graphic designer?
---