21st century Library
Infonet
The 'Excellent Customer Service in Public Libraries - New Trends' seminar was held on Thursday 2 April 2009, at the State Library of Victoria. It is part of the professional development delivered as part of the Statewide Public Library Development Projects.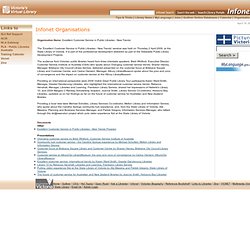 Reading Future Trends, Libraries Reach Out to Older Adults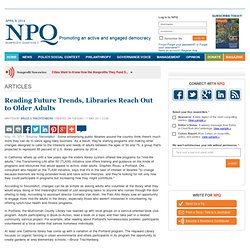 May 16, 2011; Source: SecondAct | Some enterprising public libraries around the country think there's much more they can do to serve aging baby boomers.
Getting deeply local at our libraries
JeromeDL - the Semantic Digital Library
Educational Technology and Libraries
Resourceful Curriculum for 21st Century Learning: Designing the School Library as a Garden
Libraries as Sites of Enchantment, Participatory Culture, and Learning
The short version: In December I will begin a new phase of treatment for my cancer. I will be going through intensive chemotherapy followed by an autologous (self) stem cell transplant. This process will in essence "reboot" my blood system.
R. David Lankes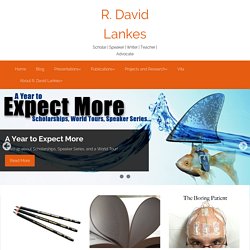 Tony Cenicola/The New York Times The Children's Library Discovery Center in Jamaica, Queens, is one of dozens of libraries, firehouses, police precincts and museums that have been built or refurbished by the city's Department of Design and Construction. More Photos »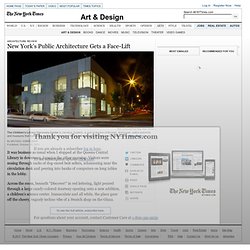 New York's Public Architecture Gets a Face-Lift Sorry, but the article or page you're looking was not found. In May 2013, Library Journal underwent a major server migration for its archived web content, which happened slightly sooner than originally expected. As a result, much of the content from 2004 to 2012 is currently unavailable to the public. However, this content has not been lost, and our web staff is in the process of converting these past articles for integration into the WordPress-based website you see here, which was launched in 2012. Many of these older articles have already been restored, and more will continue to be restored on an ongoing basis as they are cleaned up.
Digital library aims to expand kids' media literacy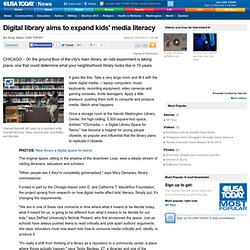 CHICAGO – On the ground floor of the city's main library, an odd experiment is taking place, one that could determine what your neighborhood library looks like in 10 years.
Coworking at the Public Library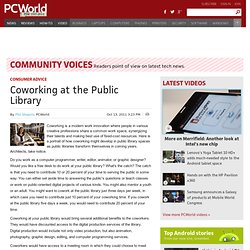 Coworking is a modern work innovation where people in various creative professions share a common work space, synergizing their talents and making best use of fixed-cost resources.