Events SocBiz
Lotusphere 2011 General Session Mon Jan 31 2011 on IBM Software Channel
Sociala Medier för Beslutsfattare - Social Business
The Pan-European summit on Enterprise Social 2.0: Rip or ROI? will be held on the 27 & 28 January 2010 in Amsterdam. This senior executive event will bring together decision makers from the Top Fortune companies to discuss innovative strategies on how to maximise business performance through social media engagement. The event will include keynote speeches, best-practice presentations as well as interactive discussion sessions.
Enterprise Social 2.0 : Rip or ROI? Schiphol-Oost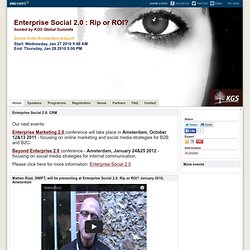 Ten Tips From The Enterprise 2.0 Conference
This year's Boston Enterprise 2.0 Conference highlighted good examples of how companies are tapping into social technologies to empower their employees. For example, Mitre Corporation showed how they have successfully developed a collaboration community using open source technology. The platform they developed enables them to deliver secure access to ideas, discussions and content for employees and guests. Meanwhile, CSC showed how they have driven greater collaboration across 49,000 of their employees in just 18 months, with a strategy focused on connect, communicate and collaborate. (Those of us in the audience even witnessed the in-field promotion of Claire Flanagan, CSC senior manager for knowledge management and enterprise social collaboration, to director – congratulations Claire!)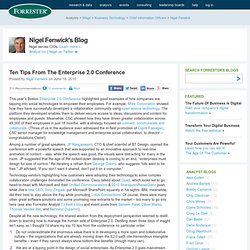 Did the Enterprise 2.0 Conference Have Too Much Vendor Messaging?
The Enterprise 2.0 conference is an important event for anyone interested in how social technologies fit into the enterprise. But I heard enough criticism this year that it's worth discussing what can be done about the perception that the event was a bit heavy at times on vendor messaging. Dion Hinchcliffe calls the Enterprise 2.0 conference a "must attend" event in the enterprise social software space. That's true. And we agree that it comes down to the people who attend.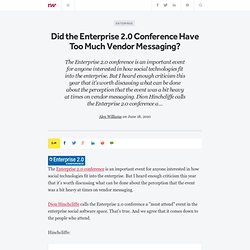 What is i Strategy? Topics explored at iStrategy span all digital media channels and online business models including social media, search engine marketing, search engine optimization, mobile, viral/word-of-mouth marketing, affiliate marketing, email marketing and display advertising for e-commerce, publishing, lead generation and customer service. The iStrategy experience combines keynote speakers, expert panel discussions, interactive workshops and networking opportunties. Attendees
iStrategy Global Digital Media Conference | N. America, Australia, Europe and Asia
Enterprise 2.0 Conference Call for Papers - Boston 2011
Enterprise 2.0 Conference Promotes Advances | Latest
Enterprise Social Media - Enterprise 2.0, Software, CRM, Knowledge Mangement, Bookmarking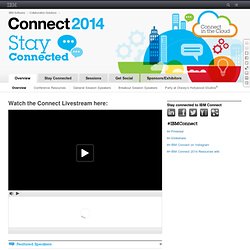 Join us at IBM Connect 2014 to gain insights into how game changing technology and strategies in social, mobile, cloud, smarter workforce, digital experience, cognitive systems, smarter commerce and business analytics are propelling companies to competitive heights. Alongside IBM Connect and the Lotusphere Technical Program, this year we are excited to include the Kenexa World Conference which will help you empower human resources, your workforce, and your business to ultimately drive real business results. IBM Connect is your opportunity to learn but it is also your opportunity to grow your business. Pamela Boyd, Business Unit Executive of IBM Collaboration Solutions Business Development, shares what's on tap for Business Partners at IBM Connect 2014 Learn more about Connect 2014 for Business Partners
Social Business Industries Symposium
Enterprise 2.0 Conference Presentations Channel
I januar arrangeres det en egen konferanse om sosiale medier og "social business" parallellt med Lotusphere 2011. Konferansen som, ikke nødvendigvis retter seg mot it-mennesker, men mer mot topp- og mellomledere i næringslivet og offentlig forvaltning, arrangeres i samarbeide med det anerkjente tidsskriftet Wired. Konferansen har fått navnet IBM Social Business Industries Symposium.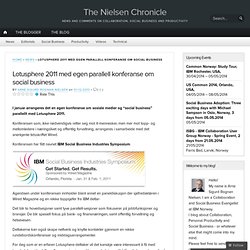 Lotusphere 2011 med egen parallell konferanse om social business « www.mynotesblog.com
Wisdom 2.0 Conference - Living with awareness, wisdom, and compassion - Register
Want to stay in touch about future events in San Francisco, NYC, and Europe ... and watch the free livestream of Wisdom 2.0 2014? Be the first to learn about Wisdom 2.0 News and Events Live in the Bay area? Register for Monday Intensives See all Wisdom Week events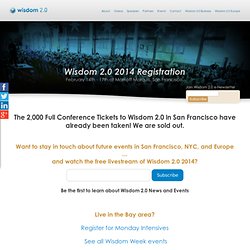 The Social Enterprise Conference hosts speakers and panelists with a wealth of knowledge and experience in innovative, cross-sectoral approaches to addressing social issues. Throughout the Conference, participants have opportunities to learn from experts, network, and explore a wide variety of career opportunities. The Conference is spread across two days, each with distinct style and content. We encourage you to attend both days, but you may find that one meets your needs or fits your schedule better than the other. This year's conference will feature: Two days of exciting social enterprise content 1,200 conference participants including students, alumni and professionals More than 100 panelists and speakers Approximately 30 panels on the latest topics in social enterprise A conference reception, small group lunches and workshops with leaders in the public, private and nonprofit fields Social Enterprise Career Fair Pitch for Change Business Plan Competition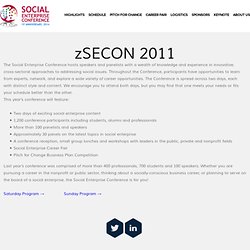 Social Enterprise Annual Conference | Content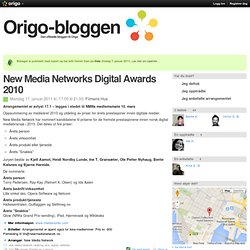 Arrangementet er avlyst 17.1 – legges i stedet til NMNs medlemsmøte 10. mars Oppsummering av medieåret 2010 og utdeling av priser for årets prestasjoner innen digitale medier. New Media Network har nominert kandidatene til prisene for de fremste prestasjonene innen norsk digital mediebransje i 2010. Det deles ut fire priser:
bloggen : New Media Networks Digital Awards 2010