Events SocBiz
Lotusphere 2011 General Session Mon Jan 31 2011 on IBM Software Channel
Sociala Medier för Beslutsfattare - Social Business
Partners
The Pan-European summit on Enterprise Social 2.0: Rip or ROI?
Enterprise Social 2.0 : Rip or ROI? Schiphol-Oost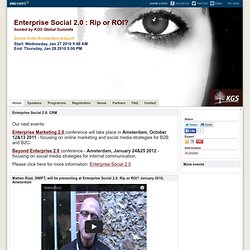 Ten Tips From The Enterprise 2.0 Conference
This year's Boston Enterprise 2.0 Conference highlighted good examples of how companies are tapping into social technologies to empower their employees.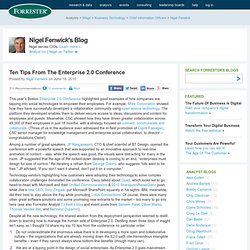 Did the Enterprise 2.0 Conference Have Too Much Vendor Messaging?
The Enterprise 2.0 conference is an important event for anyone interested in how social technologies fit into the enterprise.
iStrategy Global Digital Media Conference | N. America, Australia, Europe and Asia
Enterprise 2.0 Conference Call for Papers - Boston 2011
Enterprise 2.0 Conference Promotes Advances | Latest
Enterprise Social Media - Enterprise 2.0, Software, CRM, Knowledge Mangement, Bookmarking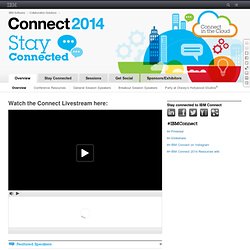 Alistair Rennie on IBM Connect 2013 Alistair Rennie, General Manager, IBM Social Business, shares what he is looking forward to at IBM Connect 2013.
Social Business Industries Symposium
Enterprise 2.0 Conference Presentations Channel
i Rate This I januar arrangeres det en egen konferanse om sosiale medier og "social business" parallellt med Lotusphere 2011.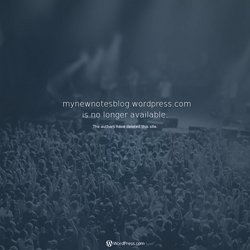 Lotusphere 2011 med egen parallell konferanse om social business « www.mynotesblog.com
Wisdom 2.0 Conference - Living with awareness, wisdom, and compassion - Register
The Social Enterprise Conference hosts speakers and panelists with a wealth of knowledge and experience in innovative, cross-sectoral approaches to addressing social issues. Throughout the Conference, participants have opportunities to learn from experts, network, and explore a wide variety of career opportunities.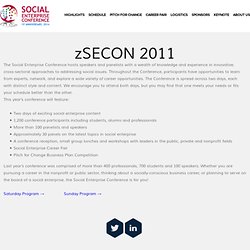 Social Enterprise Annual Conference | Content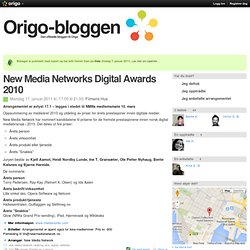 Arrangementet er avlyst 17.1 – legges i stedet til NMNs medlemsmøte 10. mars
bloggen : New Media Networks Digital Awards 2010