Conferences
Social Media & Community 2.0 Strategies
@ Social Media & Communities 2.0 client-side industry leaders show you how to set the strategy, operationalize, measure and make money off of your social media investment… Real brands, real business results, real case-studies, real actionable takeaways. NEW FOR 2011! Attendees of this year's Social Media & Community 2.0 Strategies Conference will have access to our new, exclusive networking platform. Meet your fellow attendees, set up meetings and create your own custom agenda all before the event.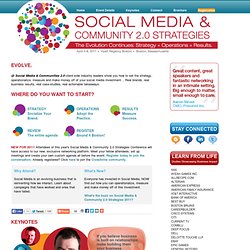 Social Media WF - Marketing, & Digital, Search, Mobile, TV Event & Conference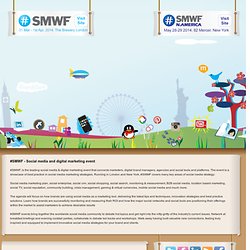 #SMWF - Social media and digital marketing event #SMWF, is the leading social media & digital marketing event that connects marketers, digital brand managers, agencies and social tools and platforms. The event is a showcase of best practice in social media marketing strategies.
iStrategy Global Digital Media Conference | N. America, Australia, Europe and Asia
What is i Strategy? Topics explored at iStrategy span all digital media channels and online business models including social media, search engine marketing, search engine optimization, mobile, viral/word-of-mouth marketing, affiliate marketing, email marketing and display advertising for e-commerce, publishing, lead generation and customer service. The iStrategy experience combines keynote speakers, expert panel discussions, interactive workshops and networking opportunties. Attendees
SXSW.com
LeWeb is the most talked-about international conference for startups and web entrepreneurs. Looking to kickstart your business, attract the global media or discover the next Big Idea? In just three days, you might meet the most valuable contacts of the year. LeWeb Paris is back in Paris December 09-11 2014, gathering today's brightest technological innovators and visionaries, we will explore several market segments and their potential trajectory, as well as technology as a whole.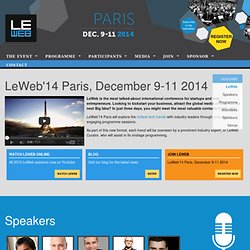 Get Involved Upcoming milestones for September 2014 conference: + APRIL 23: Event Submission Opens + JULY 18: Event Submission Closes + AUGUST 27: Attendee Registration Opens There are multiple ways in which you can participate in Social Media Week. Applying to submit an event to become an event partner is free. Social Media Week provides global brands with unique and compelling ways to engage with some of the industries most hyper-connected influencers in more than 26 local markets around the world.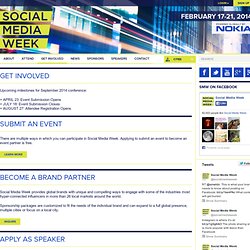 Social Media Week / Get Involved
Internet Week New York
Since 2007, Bloggers, Podcasters, Web TV and Video producers and other digital content creators have been gathering in Las Vegas to attend the biggest New Media eXpo in the World. Start-Ups have Launched, Businesses have Grown, history has been made and Lifelong Friendships have begun.Originally known as #BlogWorld, it began with a vision to create the gathering place where the publishers and broadcasters of the future could come and learn from each other, celebrate their achievements and change the world of media forever. Our goal was to bring together as diverse a group of content creators as possible. People who would never meet each other at any other event.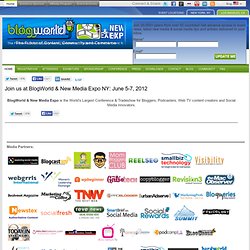 Blog World Expo
Welcome to BlogHer Conferences!
tech - The Event For Digital Marketing!
ad:tech is an interactive advertising and technology conference and exhibition - a marketplace for buying and selling, a community for networking, a forum for exchanging ideas and an opportunity for contributing to industry trends and initiatives. Ten annual events around the world focus on top-notch education through keynote speakers, topic-driven panels and workshops as well as showcase the latest products and services to help implement new knowledge and ideas. Attendees leave ad:tech with the tools and techniques they need to compete in an ever-changing world. For information on exhibiting at, sponsoring or attending an ad:tech event, please visit the respective website.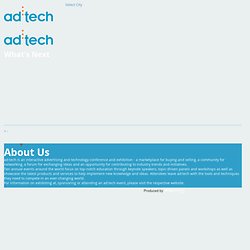 Pivot