Conferences
Social Media & Community 2.0 Strategies
@ Social Media & Communities 2.0 client-side industry leaders show you how to set the strategy, operationalize, measure and make money off of your social media investment… Real brands, real business results, real case-studies, real actionable takeaways.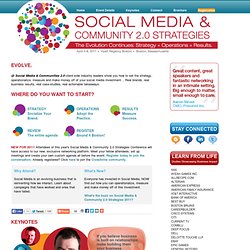 Social Media WF - Marketing, & Digital, Search, Mobile, TV Event & Conference
iStrategy Global Digital Media Conference | N. America, Australia, Europe and Asia
SXSW.com
Get Involved Upcoming milestones for February 2013 conference: + OCT 10: Event Submission Opens + DEC 6: Event Submission Closes + JAN 15: Attendee Registration Opens There are multiple ways in which you can participate in Social Media Week. Applying to submit an event to become an event partner is free. Social Media Week provides global brands with unique and compelling ways to engage with some of the industries most hyper-connected influencers in more than 26 local markets around the world.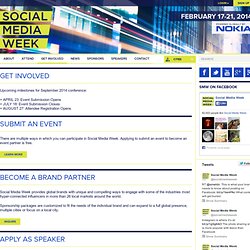 Social Media Week / Get Involved
Internet Week New York
Blog World Expo
Welcome to BlogHer Conferences!
tech - The Event For Digital Marketing!
Pivot