EVE
Eve Radio :: Where We Play Music For The Masses. Loadout browser. DUST514.
EVE Online is a Massive Multiplayer Online Roleplaying Space Game. CCPGAMES's Channel. Our Mission. The pages are still on the old host and stable.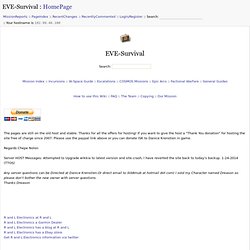 Thanks for all the offers for hosting! If you want to give the host a "Thank You donation" for hosting the site free of charge since 2007. Please use the paypal link above or you can donate ISK to Danice Krenstien in game. Regards Chepe Nolon. EVE Online | EVE Insider | Forums. Here is the FAQ on Account management and billing: Q: If I do something on Singularity will that affect my TQ character/account?
A: No. Eve[geek] EVE Online | EVE Gate - Log On. Massively : Eve Online. Eurogamer recent talked to CCP chief marketing guru David Reid about the company's place at the forefront of the fledgling virtual reality movement.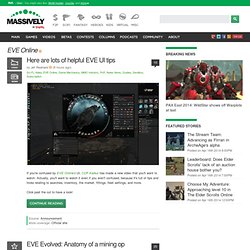 EVE Valkryie was the first title to be publicly played on both the Oculus Rift (PC) and Sony's Morpheus (PS4), which puts CCP in the driver's seat in terms of VR game development. "There aren't a lot of white papers and APIs and ways of doing these things yet," Reid explained. EVE IS REAL.
» Eve in 2d…
---