Democratic Issues
The euro crisis: An ever-deeper democratic deficit
And politicians ? They have a limited scope (and this damned treaty take again the so little power they have !) even if it doesn't prevent any for being greedy. Psss ! by alwen Jun 9
Greedy indeed, this is the point. Have you seen that ? http://www.youtube.com/watch?v=DwHW9RLuKIg&feature=share by alwen Jun 9
In a dreamed world maybe. ;) The debt is too useful to gain profit, it's like a financial long term pension. And it will be difficult to put back meters to 0. But you're right it's not because it's difficult that we have to give up any hope. "On lâche rien", we are still there. :p by alwen Jun 9
With local and complementary currency ? by alwen Jun 9
En effet ! A croire que cette crise tombe parfaitement pour controler un peu plus le peuple.
Indeed ! It's seem that this crisis falls perfectly to control a little more the people.
The new treaty of financial stability comes at it !
Thanks I'm taking this pearl. by alwen Jun 8
The Worst and the Best of Austerity - Jean Pisani-Ferry - Project Syndicate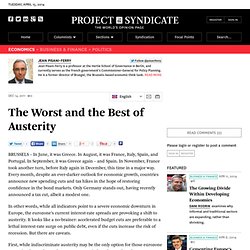 Exit from comment view mode.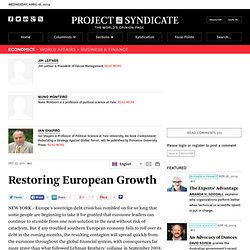 Restoring European Growth - Jim Leitner, Nuno Monteiro and Ian Shapiro - Project Syndicate
Exit from comment view mode. Click to hide this space NEW YORK – Europe's sovereign-debt crisis has rumbled on for so long that some people are beginning to take it for granted that eurozone leaders can continue to stumble from one non-solution to the next without risk of cataclysm.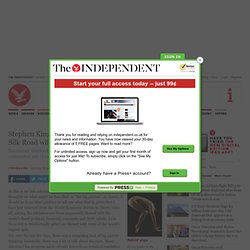 Yet, over the last few days, there was a surprising lack of big picture thinking.
Stephen King: A thousand years on,an updated Silk Road will bypass the West - Stephen King - Business Comment
Exit from comment view mode. Click to hide this space
Capturing the ECB - Joseph E. Stiglitz - Project Syndicate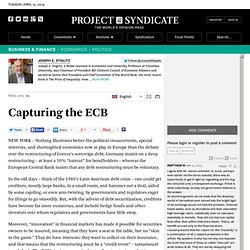 The Road to Serfdom
A Financial Coup d'etat in the Making?
Habermas, the Last European: A Philosopher's Mission to Save the EU - SPIEGEL ONLINE - News - International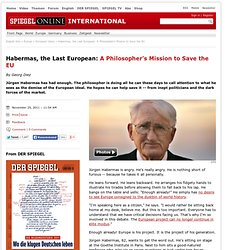 Jürgen Habermas is angry. He's really angry.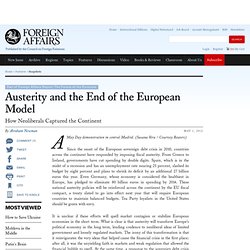 A May Day demonstration in central Madrid. (Susana Vera / Courtesy Reuters) Since the onset of the European sovereign debt crisis in 2010, countries across the continent have responded by imposing fiscal austerity. From Greece to Ireland, governments have cut spending by double digits. Spain, which is in the midst of a recession and has an unemployment rate nearing 25 percent, slashed its budget by eight percent and plans to shrink its deficit by an additional 27 billion euros this year.
Austerity and the End of the European Model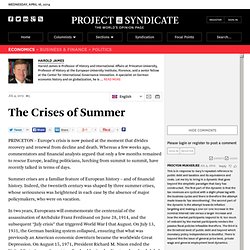 Exit from comment view mode.
"The Crises of Summer" by Harold James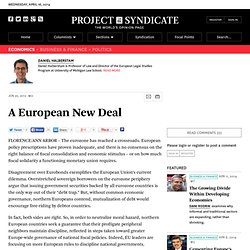 "A European New Deal" by Daniel Halberstam and Miguel P. Maduro
Exit from comment view mode. Click to hide this space FLORENCE/ANN ARBOR – The eurozone has reached a crossroads. European policy prescriptions have proven inadequate, and there is no consensus on the right balance of fiscal consolidation and economic stimulus – or on how much fiscal solidarity a functioning monetary union requires. Disagreement over Eurobonds exemplifies the European Union's current dilemma.