Democratic Issues
The euro crisis: An ever-deeper democratic deficit. The Worst and the Best of Austerity - Jean Pisani-Ferry. Exit from comment view mode.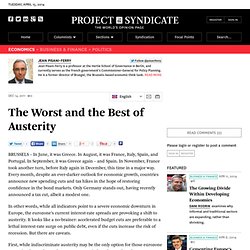 Click to hide this space BRUSSELS – In June, it was Greece. In August, it was France, Italy, Spain, and Portugal. Restoring European Growth - Jim Leitner, Nuno Monteiro and Ian Shapiro. Exit from comment view mode.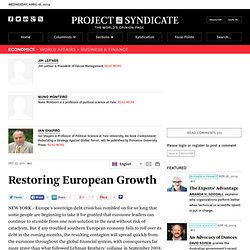 Click to hide this space NEW YORK – Europe's sovereign-debt crisis has rumbled on for so long that some people are beginning to take it for granted that eurozone leaders can continue to stumble from one non-solution to the next without risk of cataclysm. Stephen King: A thousand years on,an updated Silk Road will bypass the West - Stephen King - Business Comment.
Yet, over the last few days, there was a surprising lack of big picture thinking.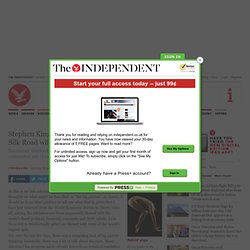 Inevitably, there was a lot of talk about the euro. Many discussed the progress made already towards an eventual resolution – the bailout fund, the austerity commitments, the European Central Bank's recent actions in the money markets – but there was a strong sense that more work had to be done. Then again, no one needed to go to the top of a mountain to reach that particular conclusion. There was growing confidence in the US economic outlook. Capturing the ECB - Joseph E. Stiglitz. Exit from comment view mode.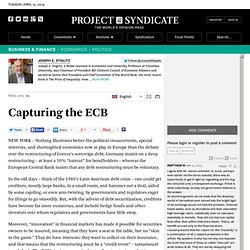 Click to hide this space NEW YORK – Nothing illustrates better the political crosscurrents, special interests, and shortsighted economics now at play in Europe than the debate over the restructuring of Greece's sovereign debt. Germany insists on a deep restructuring – at least a 50% "haircut" for bondholders – whereas the European Central Bank insists that any debt restructuring must be voluntary. In the old days – think of the 1980's Latin American debt crisis – one could get creditors, mostly large banks, in a small room, and hammer out a deal, aided by some cajoling, or even arm-twisting, by governments and regulators eager for things to go smoothly.
But, with the advent of debt securitization, creditors have become far more numerous, and include hedge funds and other investors over whom regulators and governments have little sway. The Road to Serfdom. A Financial Coup d'etat in the Making? Habermas, the Last European: A Philosopher's Mission to Save the EU - SPIEGEL ONLINE - News - International.
Jürgen Habermas is angry.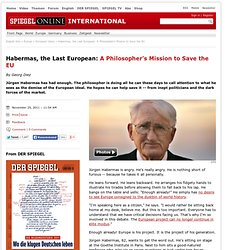 He's really angry. He is nothing short of furious -- because he takes it all personally. He leans forward. He leans backward. He arranges his fidgety hands to illustrate his tirades before allowing them to fall back to his lap. Austerity and the End of the European Model. A May Day demonstration in central Madrid.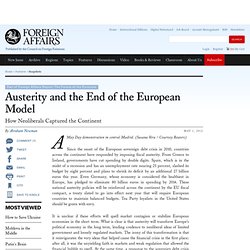 (Susana Vera / Courtesy Reuters) Since the onset of the European sovereign debt crisis in 2010, countries across the continent have responded by imposing fiscal austerity. From Greece to Ireland, governments have cut spending by double digits. Spain, which is in the midst of a recession and has an unemployment rate nearing 25 percent, slashed its budget by eight percent and plans to shrink its deficit by an additional 27 billion euros this year. "The Crises of Summer" by Harold James. Exit from comment view mode.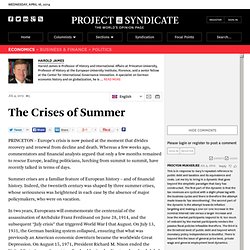 Click to hide this space PRINCETON – Europe's crisis is now poised at the moment that divides recovery and renewal from decline and death. Whereas a few weeks ago, commentators and financial analysts argued that only a few months remained to rescue Europe, leading politicians, lurching from summit to summit, have recently talked in terms of days. "A European New Deal" by Daniel Halberstam and Miguel P. Maduro. Exit from comment view mode.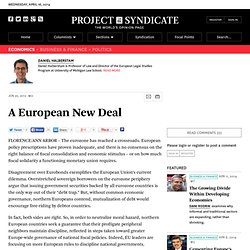 Click to hide this space FLORENCE/ANN ARBOR – The eurozone has reached a crossroads. European policy prescriptions have proven inadequate, and there is no consensus on the right balance of fiscal consolidation and economic stimulus – or on how much fiscal solidarity a functioning monetary union requires. Disagreement over Eurobonds exemplifies the European Union's current dilemma.
---