Corporate Lobbying - Trade Regulation
Economic Governance for People or for the Banks?
Is stronger economic and social policy coordination necessary at EU level? What effect will these measures have on societies within member states? Is austerity really the best way out of the crisis?
Brussels, Friday 23 September – Corporate Europe Observatory (CEO) today launched its unique new guide to the hidden world of corporate lobbying in Brussels, highlighting the key players, the locations and the tactics used by big business to influence decision making in the European Union. The new edition of the Lobby Planet to Brussels' EU quarter features a guide to some of the biggest lobby players operating in Brussels, as well as three thematic tours, highlighting the carbon lobby, the finance lobby and the agribusiness lobby.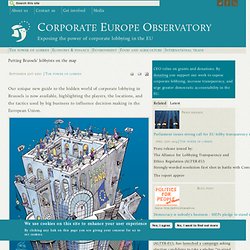 Putting Brussels' lobbyists on the map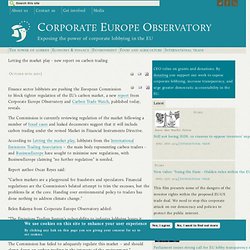 Finance sector lobbyists are pushing the European Commission to block tighter regulation of the EU's carbon market, a new report from Corporate Europe Observatory and Carbon Trade Watch, published today, reveals. The Commission is currently reviewing regulation of the market following a number of fraud cases and leaked documents suggest that it will include carbon trading under the revised Market in Financial Instruments Directive. According to Letting the market play, lobbyists from the International Emissions Trading Association – the main body representing carbon traders - and BusinessEurope have sought to minimise new regulations, with BusinessEurope claiming "no further regulation" is needed. Report author Oscar Reyes said: "Carbon markets are a playground for fraudsters and speculators. Financial regulations are the Commission's belated attempt to trim the excesses, but the problems lie at the core.
Letting the market play - new report on carbon trading
Graham Readfearn | Lobby Planet report shows Brussels spinning with corporate influence
Statement from the conference organised by Corporate Europe Observatory and Transnational Institute on the 5-6th of May. The Austerity Treaty – or the so called Fiscal Compact - if implemented, would pose a direct threat to the welfare state across Europe and be a major obstacle to redistributive, progressive and socially just economic policies in the future. It also represents the latest attempt to turn economic policy into a technocratic endeavour outside of democratic control, with unelected bureaucrats in a powerful, decision making role.
Austerity forever