Espaces coworking étranger
Cartographie | Smart Work Centers | Bureaux partagés en Wallonie
16 Cool Coworking Spaces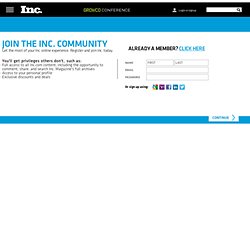 You're automatically signed up for the Inc. Wire, so you never miss a single day's most important news, tips, or ideas. Roll over the name of the other Inc. newsletters to see how you can get great Inc. articles on the topics that matter most to you.
So wie man zur Bank geht, um Geld zu überweisen oder ins Hotel geht, um zu übernachten, gehen Freiberufler und Unternehmen ins CLUBOFFICE um sich zu treffen und um komplett ausgestattete Büros und Konferenzräume stundenweise oder fest zu mieten.CLUBOFFICE ist ein Anbieter von Coworking-Arbeitsplätzen, möblierten Einzel- und Teambüros sowie modern ausgestatteten Konferenz- und Eventräumen. Ja, aber nicht nur! Bei CLUBOFFICE können Coworking-Arbeitsplätze fest oder flexibel gemietet werden. Dabei leget CLUBOFFICE Wert auf die sog. Coworking-Werte wie Zugänglichkeit, Offenheit, Gemeinschaft, Kollaboration, Teilen und Nachhaltigkeit.
CLUBOFFICE: Coworking, Büros, Konferenzräume > Berlin, Frankfurt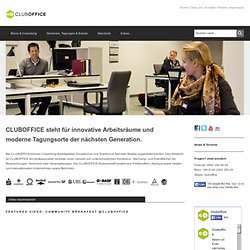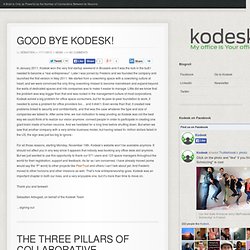 Peer-to-Peer Office Sharing - Kodesk - Peer-to-Peer Office Sharing - Kodesk
Ever since I discovered AirBnB, I have been fascinated by collaborative consumption and the potential it has to radically transform our economy and the very fabric of our society. I love the way Rachel Botsman characterizes it: Reputation over credit.Community over advertising.Shared access over individual ownership. What is even more interesting now, with the advent of collaborative consumption successes like AirBnB, Getaround, TaskRabbit and others, is that we are starting to see trends in terms of the generic problems they all face.
New Work : Community Coworking Center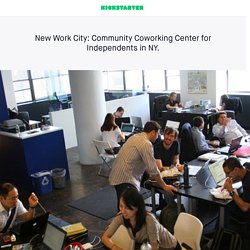 With five days to go, 225 people have come together to get us to our $15k goal! Incredible! As we build our space, we've got all sorts of great things to build that are just waiting for sufficient budget.
Jamie Zigelbaum | Reality-BasedInteraction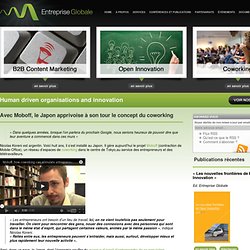 Moboff au Japon
« Dans quelques années, lorsque l'on parlera du prochain Google, nous serions heureux de pouvoir dire que leur aventure a commencé dans ces murs » Nicolas Koreni est argentin. Voici huit ans, il s'est installé au Japon. Il gère aujourd'hui le projet Moboff (contraction de Mobile-Office), un réseau d'espaces de coworking dans le centre de Tokyo,au service des entrepreneurs et des télétravailleurs. « Les entrepreneurs ont besoin d'un lieu de travail.
Coworking workspaces in Fullerton, Orange County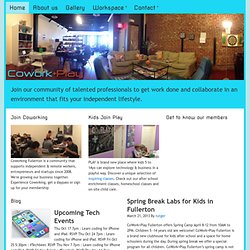 Upcoming Tech Events Thu Oct 17 7pm : Learn coding for iPhone and iPad. RSVP Thu Oct 24 7pm : Learn coding for iPhone and iPad.
Espace Exeko | Exeko
Hirwa, un espace de coworking en Beaujolais !
La caravane, toujours intéressée par les pro­jets de tiers-lieux, donne aujourd'hui la parole à Franck Pothé à l'origine du pro­jet d'es­pace Hirwa, dans le Be­aujolais. N-N : Bon­jour Franck ! Pour les lec­teurs avides du blog, pourrais-tu com­menc­er par te présent­er en quel­ques mots, et nous ex­pliqu­er com­ment l'idée de mont­er un es­pace de co­work­ing t'est venu ?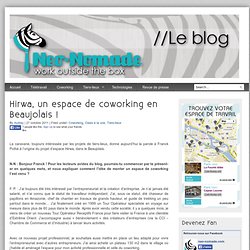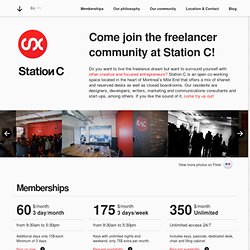 Brendan Rahman Community Data Curator Community Data Curator at Acacia Consulting & Research Charles-André Gaudreau
Le commerce électronique profiterait-il de la crise ? En dépit d'un contexte économique difficile, 86 % des internautes ont en tout cas commandé ou acheté au moins un article sur Internet au cours des douze derniers mois, selon cette étude de l'Ifop pour L4 Logistics. 17 % des répondants en ont commandé 15 ou plus. Pour l'ensemble de la population internaute, la moyenne annuelle atteint 9,4 produits.
TheOffice(Green+Coworking)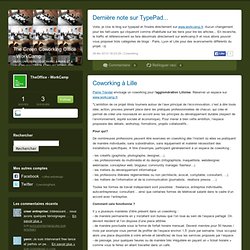 Coworking Belgium Actualités sur le groupe
Avec Moboff, le Japon apprivoise à son tour le concept du cowork
Le coworking, ou l'utilisation d'espaces de travail collaboratifs, est un mouvement mondial en constante progression et le Japon n'y fait pas exception. Même si le Japon est plus connu pour ses longues journées de travail et une organisation du travail centrée autour du siège physique de l'entreprise, repères bien enracinés dans la psyché du salarié japonais, l'évolution vers des espaces de travail partagés n'est peut-être pas aussi surprenante qu'il y parait. L'expression "travailleurs nomades" est devenue populaire avec la publication du livre "Vous n'avez pas besoin d'un bureau pour travailler : le travail nomade" (仕事するのにオフィスはいらない – ノマドワーキングのすすめ), du célèbre spécialiste des nouvelles technologies Toshinao Sasaki, en juillet 2009.
Japon : Les espaces de coworking et le travail nomade