Video
Anglais TV - Regarder la télévision gratuite sur internet, bouquet chaine tv 100% gratuite en direct streaming. Practice speaking English while you watch great videos. Featured Videos. Subtitles in English - YouTube Subtitler. Movie Trailers: Free EFL / ESL Listening exercises. Movie trailer exercises for learning English Click on a picture to find the exercise.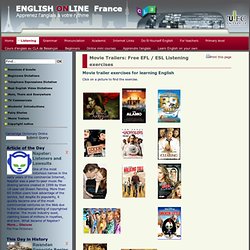 When you have found the text, practice reading the text aloud with the video. Do not "repeat afterwards" because it brings in an element of memorisation. Let your voice be guided naturally by the voices in the video - just as if you were learning a song. To do these online listening exercises you will need a recent browser (Firefox, Opera, Internet Explorer 7 ...) and Flash to hear the recordings. Watch. Learn. Speak. A truly unique way to learn English.
LingualNet - Learning English Through Media. Page 1: Interactive video clips, movies and songs with original text and translations, interactive and free. Free Educational Movies. Our Free Educational Movies bring your student on a fun and interactive journey through the world around us.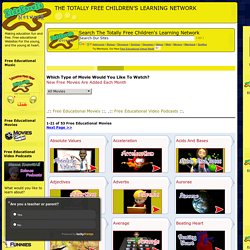 Each movie begins by introducing students to the topics that they will be learning about, and ends with an online quiz. In order to successfully complete each online video, your student must watch, and then successfully answer the quiz questions with 80% or higher accuracy. Students who do not obtain 80% comprehension will be instructed to watch the movie a second time, and then again try to answer the quiz questions.
---