Langue vivante étrangère
ESL Kids Flashcards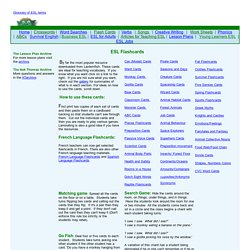 Matching game: Spread all the cards on the floor or on a table. Students take turns flipping two cards and calling out the cards that they flip. If it's a pair then they keep it and get a point.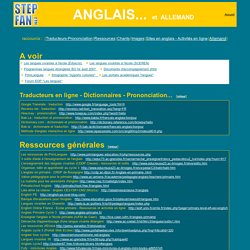 Les langues, Anglais, Allemand l' cole primaire : sites de ressources, fiches ...
Les ressources de PrimLangues http://www.primlangues.education.fr/php/ressources.php 3 outils d'aide à l'enseignement de l'anglais http://educ73.ac-grenoble.fr/nectar/nectar_enseignant/docs_pedas/ebcu2_lve/index.php?num=817 L'enseignement des langues vivantes (CDDP Creuse) : ressources et outils http://www.educreuse23.ac-limoges.fr/elve/edito.htm Organiser, bâtir et approfondir au cycle 3 http://www.educreuse23.ac-limoges.fr/elve/peda/C3/batir/batir.htm L'anglais en primaire : CRDP de Bourgogne http://crdp.ac-dijon.fr/-Anglais-en-primaire-.html
LearnEnglish Kids has lots of free online games, songs, stories and activities for children to have fun and learn English too. Kids You can become a member, make your own cool character and enter competitions. When you are a member you can comment across the site and answer questions in your turn to practise your reading and writing. Parents and teachers You can become a member of LearnEnglish Parents to download learning resources.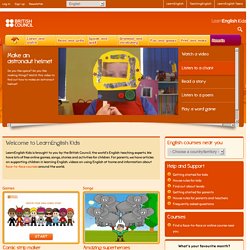 anglaiscycle3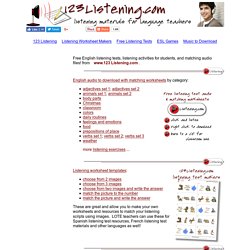 123Listening.com is a website built and maintained by MES-English.com and Dream English.com. Many different audio downloads and many different worksheets that can be combined to be very simple for young learners or more difficult for older students. DreamEnglish.com offers free mp3 downloads with chants and songs for children, lesson and games ideas, 2 CDs packed with great songs for children. Let's sing! The listening scripts and worksheets from 123Listening.com were designed around vocabulary sets from MES-English.