BREEDS ASSOCIATIONS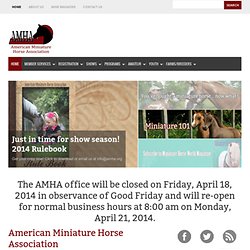 Welcome to the exciting world of the American Miniature Horse. As a member of AMHA, you will become an integral part of one of the world's fastest growing equine associations, joining more than 12,000 enthusiasts in over 30 countries already enjoying membership. The American Miniature Horse Association promotes the breeding, use and perpetuation of a standard of equine excellence in miniature. Horses registered with AMHA must meet the Association Standard of Perfection and cannot exceed 34 inches in height measured from the last hairs of the mane. Whether your interest is showing, breeding or recreation, AMHA offers rewarding programs, opportunities and a wide variety of resources to expand your involvement with this special equine known as the American Miniature Horse.
AMERICAN MINIATURE HORSE ASSOCIATION
Home of the Arabian Horse Association
Association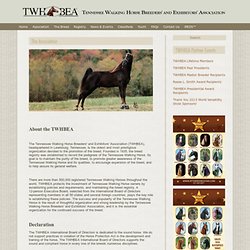 The Tennessee Walking Horse Breeders' and Exhibitors' Association (TWHBEA), headquartered in Lewisburg, Tennessee, is the oldest and most prestigious organization devoted to the promotion of the breed. Founded in 1935, the breed registry was established to record the pedigrees of the Tennessee Walking Horse. Its goal is to maintain the purity of the breed, to promote greater awareness of the Tennessee Walking Horse and its qualities, to encourage expansion of the breed, and to help assure its general welfare. There are more than 500,000 registered Tennessee Walking Horses throughout the world.
Cloning Lawsuit UpdateAQHA appreciates the support of other breed organizations in the effort to have the final judgement reversed. Lifetime of Outstanding Achievement American Quarter Horse Hall of Fame member will be honored with the Eclipse Award of Merit for a lifetime of outstanding achievement in the Thoroughbred industry. Vacation of a LifetimeAQHA congratulates horseback riding member Bonnie Earnhardt, winner of the Dude Ranch Vacation Sweepstakes.AQHA Ranching Heritage ChallengesAQHA unveils the dates and locations of the 2014 Zoetis AQHA Ranching Heritage Challenges, as well as the added money on the line. Thank You, AQHAAQHA member Merrill E. Kidder III, a retired U.S.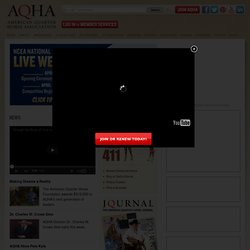 AQHA: Home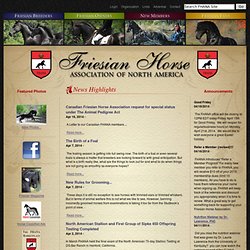 Friesian Horse Association of North America - FHANA
2014 KFPS Hengsten Keuring Jan 11, 2014 - Norbert 444 does it again... Read more... FHANA Conducts ABFP Testing