Equal Marriage
ACLU Files Suit Challenging NC Second Parent Adoptions Ban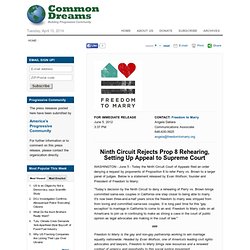 WASHINGTON - June 5 - Today the Ninth Circuit Court of Appeals filed an order denying a request by proponents of Proposition 8 to refer Perry vs. Brown to a larger panel of judges. Below is a statement released by Evan Wolfson, founder and President of Freedom to Marry: "Today's decision by the Ninth Circuit to deny a rehearing of Perry vs. Brown brings committed same-sex couples in California one step closer to being able to marry. It's now been three-and-a-half years since the freedom to marry was stripped from from loving and committed same-sex couples.
Ninth Circuit Rejects Prop 8 Rehearing, Setting Up Appeal to Supreme Court
By Tyler Q. Houlton Posted: 05/18/2012 04:00:00 PM MDT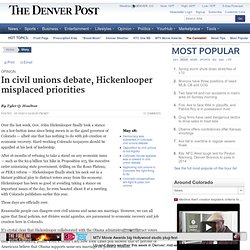 In civil unions debate, Hickenlooper misplaced priorities
Former New Mexico Gov. Gary Johnson makes a statement in the Fox News/Google GOP Debate at the Orange County Convention Center on September 22, 2011 in Orlando, Florida. (Photo by Phelan M.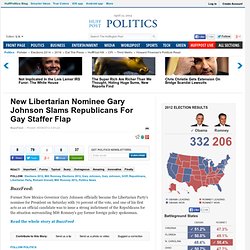 New Libertarian Nominee Gary Johnson Slams Republicans For Gay Staffer Flap
Libertarian presidential candidate Gary Johnson said on Steve Cochran's radio show yesterday that he will "be unequivocally supporting gay marriage" and criticized both President Obama and Mitt Romney for their records on the issue. "I think I do better than Obama on civil liberties, I think I crush him when it comes to dollars and cents," Johnson said. "I think I do a lot bettrer than Romney on dollars and cents but I think I crush him on civil liberties." Asked if he was the best candidate on gay marriage, Johnson said "There's no question unabashedly let's have marriage equality now, gay rights are constitutionally guaranteed." A Johnson presidency would ensure a "libertarian president who's going to challenge Democrats to fix things when it comes to civil liberties and then get a libertarian president who's going to challenge the Republicans on dollars and cents, something they're horrible on."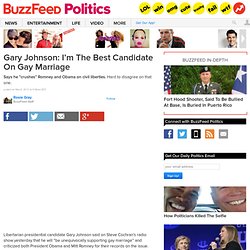 Gary Johnson: I'm The Best Candidate On Gay Marriage
Michael Bennet for U.S. Senate
BREAKING: Joe Biden Endorses Same-Sex Marriage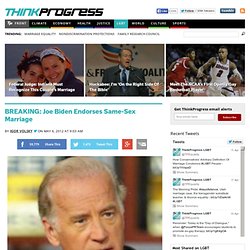 By Igor Volsky on May 6, 2012 at 9:03 am "BREAKING: Joe Biden Endorses Same-Sex Marriage" Vice President Joe Biden has endorsed same-sex marriage, becoming the highest ranking American official to back marriage for gay and lesbian people.
Could marriage equality become a dog whistle issue for the conservative base?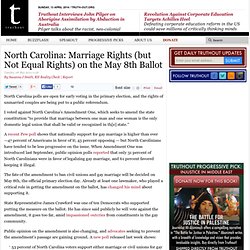 North Carolina: Marriage Rights (but Not Equal Rights) on the May 8th Ballot
North Carolina polls are open for early voting in the primary election, and the rights of unmarried couples are being put to a public referendum. I voted against North Carolina's Amendment One, which seeks to amend the state constitution "to provide that marriage between one man and one woman is the only domestic legal union that shall be valid or recognized in th[e] state." A recent Pew poll shows that nationally support for gay marriage is higher than ever —47 percent of Americans in favor of it; 43 percent opposing — but North Carolinians have tended to be less progressive on the issue. When Amendment One was introduced last September, public opinion polls reported that only 31 percent of North Carolinians were in favor of legalizing gay marriage, and 61 percent favored keeping it illegal. The fate of the amendment to ban civil unions and gay marriage will be decided on May 8th, the official primary election day.
Backers of North Carolina gay marriage ban: State no longer 'vulnerable'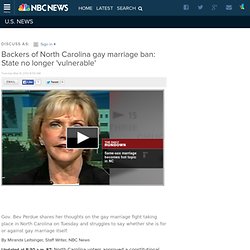 Gov. Bev Perdue shares her thoughts on the gay marriage fight taking place in North Carolina on Tuesday and struggles to say whether she is for or against gay marriage itself. By Miranda Leitsinger, Staff Writer, NBC News Updated at 8:30 a.m. ET: North Carolina voters approved a constitutional amendment Tuesday night banning gay marriage, but the measure also goes one step further by not allowing civil unions.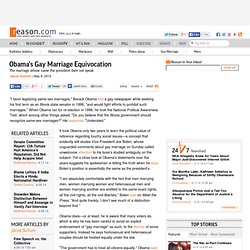 "I favor legalizing same-sex marriages," Barack Obama told a gay newspaper while seeking his first term as an Illinois state senator in 1996, "and would fight efforts to prohibit such marriages." When Obama ran for re-election in 1998, he took the National Political Awareness Test, which among other things asked, "Do you believe that the Illinois government should recognize same-sex marriages?" His response: "Undecided." It took Obama only two years to learn the political value of reticence regarding touchy social issues—a concept that evidently still eludes Vice President Joe Biden, whose unguarded comments about gay marriage on Sunday called unwelcome attention to his boss's studied ambiguity on the subject. Yet a close look at Obama's statements over the years suggests his spokesman is telling the truth when he says Biden's position is essentially the same as the president's.
Obama's Gay Marriage Equivocation - Reason.com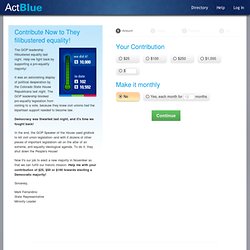 Contribute now to They filibustered equality!
The GOP leadership filibustered equality last night. Help me fight back by supporting a pro-equality majority! It was an astonishing display of political desperation by the Colorado State House Republicans last night.
Health rights at the core of dead civil unions bill | Health Policy Solutions
By Edie Sonn At the risk of sounding like a heretic and being forced to revoke my lifetime membership in the Health Policy Wonk Association, I confess that I'm tired of reading about Obamacare. By Kristin Jones I-News at Rocky Mountain PBS For people with the dual diagnoses of developmental disability — which can range from Down syndrome or autism to cerebral palsy — and mental illness, getting treatment means navigating a fragmented system. By Katie Kerwin McCrimmon