Other interesting things
Fermi Bubbles Are Burps from a Star-Eating Black Hole | Today's Science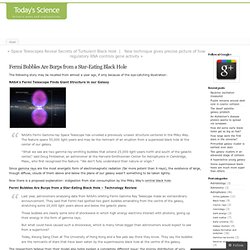 The following story may be recalled from almost a year ago, if only because of the eye-catching illustration: NASA's Fermi Telescope Finds Giant Structure in our Galaxy
Plasmonic Nanoparticle Chain in a Light Field: A Resonant Optical Sail - Nano Letters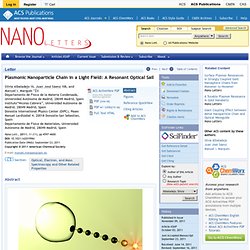 Departamento de Física de la Materia Condensada, Universidad Autónoma de Madrid, 28049 Madrid, Spain Instituto"Nicolás Cabrera", Universidad Autónoma de Madrid, 28049 Madrid, Spain
Optically and Biologically Active Mussel Protein-Coated Double-Walled Carbon Nanotubes - Jung - 2011 - Small
Statistical physics: Self-aware particles : Nature
Materials: A maglev construction kit : Nature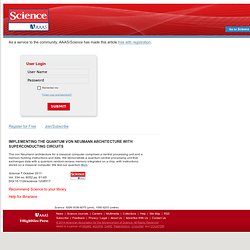 Science Magazine: Sign In
The von Neumann architecture for a classical computer comprises a central processing unit and a memory holding instructions and data. We demonstrate a quantum central processing unit that exchanges data with a quantum random-access memory integrated on a chip, with instructions stored on a classical computer.
Extrasolar planets: Homing in on another Earth : Nature
MicroRNAs are a class of short (~18–22 nucleotides) non-coding RNAs that are important in development and cell differentiation, the regulation of the cell cycle, apoptosis and signalling pathways 1 , 2 . Since its initial discovery in Caenorhabditis elegans in 1993 (ref. 3 ), over 17,000 microRNAs have been identified across different species, including humans 4 . In the cytoplasm, mature microRNAs are associated with an RNA-induced silencing protein complex to bind with the 3′-untranslated region of target messenger RNAs 1 , 5 , 6 .
Nanopore-based detection of circulating microRNAs in lung cancer patients : Nature Nanotechnology
Using Polymer Conformation to Control Architecture in Semiconducting Polymer/Viral Capsid Assemblies - ACS Nano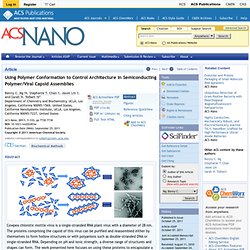 Department of Chemistry and Biochemistry, UCLA , Los Angeles, California 90095-1569, United States, California NanoSystems Institute, UCLA , Los Angeles, California 90095-7227, United States
Superfast-Response and Ultrahigh-Power-Density Electromechanical Actuators Based on Hierarchal Carbon Nanotube Electrodes and Chitosan - Nano Letters
Jinzhu Li †