Forums
SHU RULE OF LAW
Coalition of the International Criminal Court
SOUTHERN AFRICAN CHIEF JUSTICES FORUM-SACJF
The European ECO Forum
International Association of Impact Assessment
Publications | Events | Press Releases
Global Policy Forum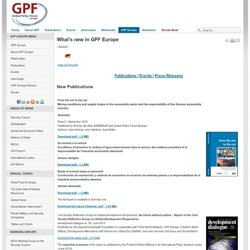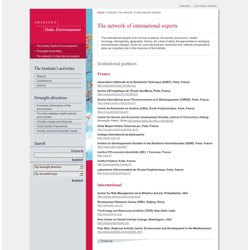 Home Institute The network of international experts The international experts from various academic disciplines (economics, health, sociology, demography, geography, history, etc.) help multiply the approaches to emerging environmental changes.
Institut Veolia Environnement - Experts Network
Asia-Europe Environment Forum - Home
Europe's Forum on International Cooperation
IDLO Microfinance Forum - Official forum of the IDLO Microfinance Initiative
World Economic Forum - Partnering Against Corruption Initiative-PACI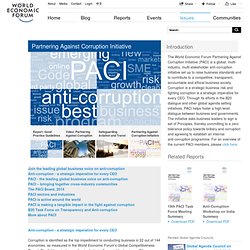 Anti-corruption - a strategic imperative for every CEO Corruption is identified as the top impediment to conducting business in 22 out of 144 economies, as measured in the World Economic Forum's Global Competitiveness Report. The fight against corruption is strategically crucial for business.