Forums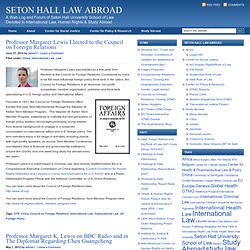 Professor Margaret Lewis was elected as a five-year Term Member to the Council on Foreign Relations. Considered by many to be the most influential foreign policy think-tank in the nation, the Council on Foreign Relations is an American non-profit, nonpartisan member organization, publisher and think tank specializing in U.S. foreign policy and international affairs. Founded in 1921, the Council on Foreign Relations offers elected five-year Term Memberships through the Stephen M. Kellen Term Member Program. "The Stephen M.
SHU RULE OF LAW
Coalition of the International Criminal Court
Coalition Launches #globalJUSTICE Blog The Coalition's new blog, #GlobalJustice, aims to provide experts and non-experts alike with the latest news and civil society views on the ICC and Rome Statute system of international justice. It will host regular updates on all ICC cases and situations as well as developments in the fight against impunity for grave crimes around the world, acting as a platform for our member organizations, particularly those operating at the local or national level. Sign up for our email updates.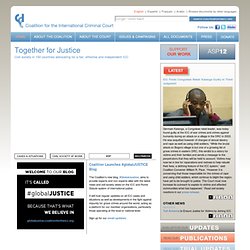 SOUTHERN AFRICAN CHIEF JUSTICES FORUM-SACJF
The European ECO Forum
International Association of Impact Assessment
Impact assessment is the tool. Environmental quality & social equity are the results. "Lucky Robin and Poor Dragonfly" - Guihong Zhang, Inspired by Nature contest entry
Europe's Forum on International Cooperation
IDLO Microfinance Forum - Official forum of the IDLO Microfinance Initiative
World Economic Forum - Partnering Against Corruption Initiative-PACI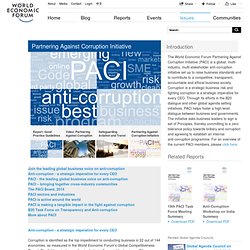 Anti-corruption - a strategic imperative for every CEO Corruption is identified as the top impediment to conducting business in 22 out of 144 economies, as measured in the World Economic Forum's Global Competitiveness Report. The fight against corruption is strategically crucial for business.