The Better Food Movement
The Corn Conundrum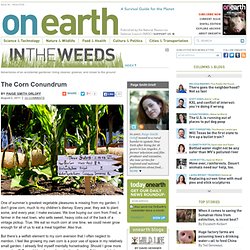 One of summer's greatest vegetable pleasures is missing from my garden. I don't grow corn, much to my children's dismay. Every year, they ask to plant some, and every year, I make excuses: We love buying our corn from Fred, a farmer in the next town, who sells sweet, heavy cobs out of the back of a vintage pickup.
Guide to Coconuts
From its butter to its water—the mighty coconut may be the perfect food. Considered a fruit, a nut, and a seed (though technically in the drupe family), the coconut is one of those addicting foods that you can never get enough of. The palm is also called the "Tree of Life" because every single part of the plant can be used to make everything from milk to musical instruments. It's a good thing the coconut lives up to its weighty name, providing the world with delicious retreats into coconut-food heaven. Here's the low-down on the health benefits, how to bake up delicious coconut cake, and whip up beauty applications, and why everyone is obsessing over this fuzzy, brown food. Quenching Thirst Coconut water is getting more grocery attention, and not only at the health-food stores.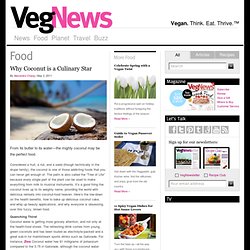 Changing the way our economy operates starts with a single person. It starts with you. We believe that real national prosperity — even global prosperity — begins at the local level and that by connecting entrepreneurs who are re-thinking their industries, funders who are investing in the local economy movement, and network organizers who can mobilize on a broad scale, we can — and will — create a stronger, more resilient, and fair economy.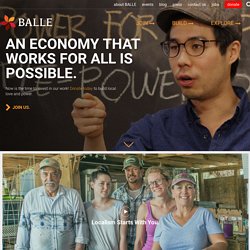 Image: Will Etling's "Sustain," originally for GOOD magazine and contributed to Green Patriot Posters. Farmer Bob Comis recently suggested that the food movement is suffering from "multiple personality disorder." He argued that several vocal factions — foodies, locavores, and "smallists" — tend to dominate the food movement discussion, unrealistically distracting us from our ultimate objective: bringing affordable, organic food to all as part of a broader commitment to social justice.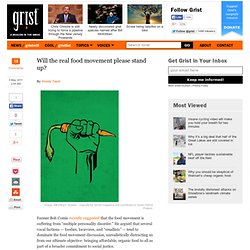 Will the real food movement please stand up?
Shepherd's Way Farms
gather restaurant - home
Dinner Every Night: 5:00-10:00pm Weekday Lunch: 11:30-2:00pm Weekend Brunch: 10:00-2:30pm 2200 Oxford Street Berkeley CA 94704 Michael Bauer, SF Chronicle Gather is a place to experience Northern California food, West Coast wines, and innovative organic cocktails. Our daily-changing menus range from braised meats and whole-roasted fish to brick-oven pizzas and composed vegetable dishes. Our food is inspired by the local farmers, ranchers and artisan food producers.
People's Grocery - Healthy food for everyone!
Welcome - Revolution Foods
Mamma Chia - Seed Your Soul
Greenling - Local food and Organic produce and groceries home delivered - Austin and San Antonio