Entrepreneurship
In this tree we aim to put together various informative pearls capturing interesting aspects of opening a startup, poised to be successful.
How To Treat Your Employees. Editor's note: James Altucher is an investor, programmer, author, and entrepreneur.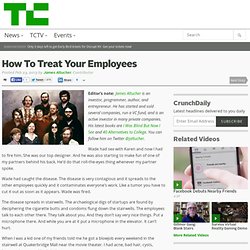 He has started and sold several companies, run a VC fund, and is an active investor in many private companies. His latest books are I Was Blind But Now I See and 40 Alternatives to College. You can follow him on Twitter @jaltucher. Wade had sex with Karen and now I had to fire him. 10 YouTube Videos Every Entrepreneur Should Watch. This YouTube video seeks to help aspiring executives prepare themselves to be strong CEO candidates in the future.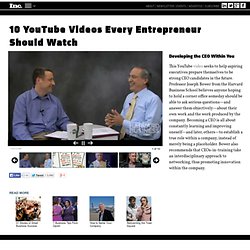 Professor Joseph Bower from the Harvard Business School believes anyone hoping to hold a corner office someday should be able to ask serious questions—and answer them objectively—about their own work and the work produced by the company. Becoming a CEO is all about constantly learning and improving oneself—and later, others—to establish a true role within a company, instead of merely being a placeholder. Bower also recommends that CEOs-in-training take an interdisciplinary approach to networking, thus promoting innovation within the company. Open enterprise manifesto | bettermeans.org.
Small Business Website Design: Ditch the Templates. A report this week from Forrester Research confirmed what just about everybody in business already knew: Americans are buying online and they are buying a lot.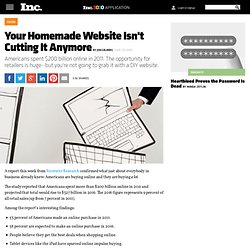 The study reported that Americans spent more than $200 billion online in 2011 and projected that total would rise to $327 billion in 2016. The 2016 figure represents 9 percent of all retail sales (up from 7 percent in 2011). Among the report's interesting findings: 4 Characteristics of a Winning Social Enterprise Strategy.
Bill Kalma is VP of technical services at Model Metrics, an enterprise cloud computing services company.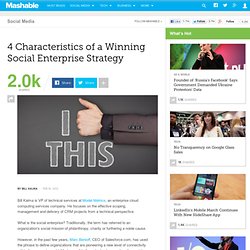 He focuses on the effective scoping, management and delivery of CRM projects from a technical perspective. What is the social enterprise? Traditionally, the term has referred to an organization's social mission of philanthropy, charity or furthering a noble cause. However, in the past few years, Marc Benioff, CEO of Salesforce.com, has used the phrase to define organizations that are pioneering a new level of connectivity within the corporate world. Made possible through cloud computing, the social enterprise mirrors personal social networks like Facebook that leverage the social grid to share information and ideas.
Become Your Own Boss in 24 to 36 Months. Have you ever wished that you could become your own boss, and just be able to pay yourself for the work that you do?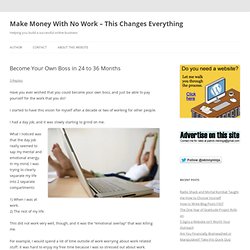 I started to have this vision for myself after a decade or two of working for other people. I had a day job, and it was slowly starting to grind on me. What I noticed was that the day job really seemed to sap my mental and emotional energy. Quotes. Fantasies vs. Realities of a Startup [Comic] | Grasshopper Group. CTO. CMO. CEO. How Entrepreneurs Can Create Their Own Luck. Editor's note: James Altucher is an investor, programmer, author, and entrepreneur.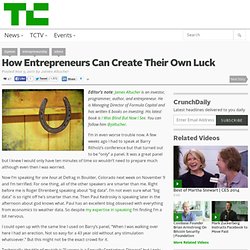 He is Managing Director of Formula Capital and has written 6 books on investing. His latest book is I Was Blind But Now I See. You can follow him @jaltucher. I'm in even worse trouble now. Research Data Services » Where are the data? Why is data management hard? Why You Should Embrace Opposing Views at Your Startup. What could you learn from looking at your competitors or other tech startups in a different way?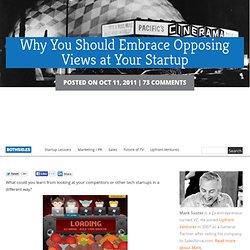 Are you cynical about their chances in the market just because they seem to be hot in the press and that bugs you? Or you think their startup is a passing fad and yours is the real deal? Subroto Bagchi Blogs.
---