Going to market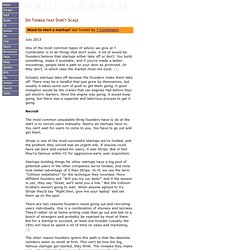 July 2013 One of the most common types of advice we give at Y Combinator is to do things that don't scale. A lot of would-be founders believe that startups either take off or don't.
How to nail your product market fit and sales pitch with a value proposition diagram | tomasz by Tomasz Tunguz
Products aren't sold in isolation - they exist within ecosystems. Great product market fit and sales pitches hinge on understanding and serving all the members of an ecosystem. Should a product fail to meet the needs of any one member, company success and sales velocity will falter. One tool I use with portfolio companies is the Value Proposition Diagram (VPD) which shows why a product is compelling to every customer - and most products are sold to more than one customer at the same time.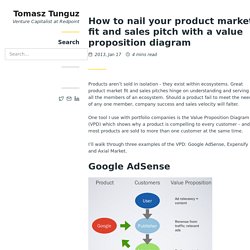 (88) Startups: How do you beat the network effect
Pre-network effect startups have I a Catch 22 situation: how do you have activity without users and how can you make users stick if there's no activity. I've analyzed this problem extensively and write regularly about it athttp://platformed.info but here are a few things that come to mind: 1) Create tools of self-expression which are really easy to use: No matter what your platform does, users should be able to create something there which they would want to spread. A user may not want to spread the word about your platform but would definitely want to spread the word about what she created on it. E.g.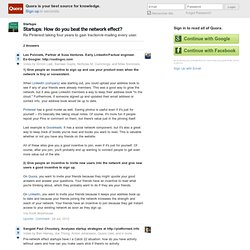 » How to launch a new product Calacanis
Location: CalaCompound, Brentwood, CA Monday, December 22nd, 5:50PM PST. Word Count: 2,986 Jason's List Subscriber Count: 11,858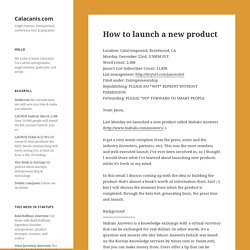 The best launch is if you have a product that other people like using so much that they tell other people about it. There is no real way to get around that. I've seen it over and over again. Companies that get lots of PR, like Color, end up really sucking in the marketplace, but other companies, like Instagram, end up taking off like a rocket and never slowing down. They both are photo apps for iPhones, so what did they do differently?
What's the best launch strategy for a web startup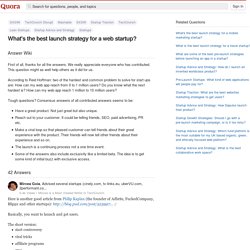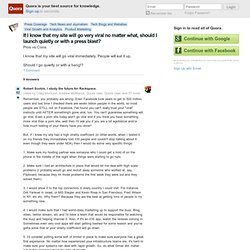 Remember, you probably are wrong. Even Facebook took years to get to 500 million users and last time I checked there are seven billion people in the world, so most people are STILL not on Facebook. I've found you can't really trust your "viral" instincts until AFTER something's gone viral, too. You can't guarantee something will go viral. Even a porn site today won't go viral and if you think you have something more viral than a porn site, well then I'd ask you if you are a bit egotistical and/or how much testing of your theory have you done? But, if I knew my site had a high virality coefficient (in other words, when I tested it on my friends they immediately told 100 people and couldn't stop talking about it even though they were under NDA) then I would do some very specific things:
(3) If I know that my site will go very viral no matter what, should I launch quietly or with a press blast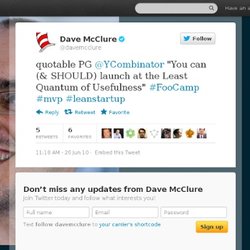 Have an account? Sign in New to Twitter? Join Today » Forgot password?
Dave McClure: quotable PG @YCombinator "
Marketing, startups and the importance of achieving a lot with a little (for startups) « The Equity Kicker
Over the weekend I was talking with an early stage VC about how much traction he likes to see in a company before he invests (answer: enough to have some confidence that the product works, the go to market works and there is some demand). Subsequently I was thinking through how companies would get themselves to that stage without needing the sort of funding he provides. There are a number of answers of course, including true seed stage friends and family and angel funding, but the most important answer to to find a way to achieve a lot with a little. This morning I have been reading through Fred Wilson's three recent posts on marketing and the responses from Alan Patrick and randfish of seoMOZ which discuss the pitfalls, benefits and likely trends in marketing spending at startups and I have been thinking back to my conversation of the weekend.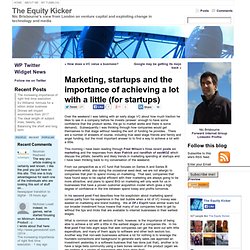 Marketing and The Bubble
Rand Fishkin has a good post in response to my marketing posts over the past two days. In it he makes this assertion: For the first few years that I was in the "web world," 1997-2001, there was a dangerous and obvious bias in startups toward sales and marketing – and branding in particular. But, in the past few years, that pendulum has swung to the equally dangerous paradigm that product is everything.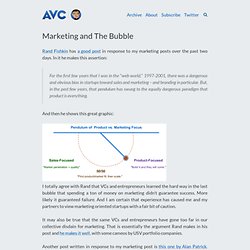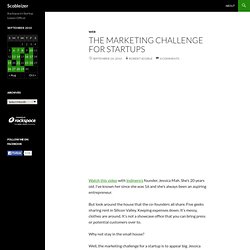 The marketing challenge for startups
Watch this video with Indinero's founder, Jessica Mah. She's 20 years old. I've known her since she was 16 and she's always been an aspiring entrepreneur. But look around the house that the co-founders all share. Five geeks sharing rent in Silicon Valley.
Update added to end of post When your startup accepts outside money (such as venture capital), you are obligated to focus on maximizing long-term shareholder value. For most startups this is directly based on your ability to grow (customers, revenue and eventually profit). Most entrepreneurs understand the importance of growth; the common mistake is trying to force growth prematurely.
Thanks for the StumbleUpon advice. I was going to send stumblers onto a landing page, but I wont now. My home page should do the trick if it has flow charts and uses slidedeck.com right? HA!